Gillespie's is an Artisan Craft Distillery located in Squamish, BC. One of the newest in the wave of artisan spirit producers in the Pacific Northwest.

They currently make 4 products from BC grown grain:  Aphro, a chili chocolate aphrodisiac elixir, "Lemoncello" a west coast version of the Italian classic, Sin Gin, a new American style gin that contains locally foraged botanicals as well as traditionals and Gastown Shine Vodka, named after Gassy Jack Deighton who settled Vancouver. Soon to be released: V Twin Rye vodka, Sumac gin, and Café Crema, a coffee cream liqueur in partnership with Counterpart Coffee, a coffee roaster also local to Squamish. Their whiskies and brandies are currently being barreled to be released when they are just right. Their cocktail lounge is opening December 2015. Gillespie's is a proud participant in British Columbia Farmer's Markets and their products are available in fine bars, restaurants and private liquor stores from New Westminster to Whistler. Their Tasting Room in Squamish is open most weekends 12-6 with tours by appointment. They have recently released a line of "Boozewitch" sipping vinegars and will have their tonic syrup and apple cider vinegar available for purchase in 2016.
Distiller John McLellan hails from Scotland and has over ten years experience in distilling. His partner Kelly Ann Woods, director of operations, is an award winning Sommelier, Mixologist, bar consultant and is the food and drink columnist for the Squamish Chief. She regularly appears on Global TV mixing up cocktails.
Their products are well respected by industry professionals and highly sought after by the home bartender.
Gillespie's mantra is LOCAL AWESOME BOOZE!  Started by John and Kelly, partners in life and in business. Inspired by friends and the want and desire to create a greener, more sustainable business model for a product that we have a great love and affinity for i.e. booze.
Social media:
https://www.facebook.com/GillespiesFineSpirits
https://twitter.com/gillespies1
https://instagram.com/gillespiesfinespirits/
About Kelly and John – Gillespie's Fine Spirits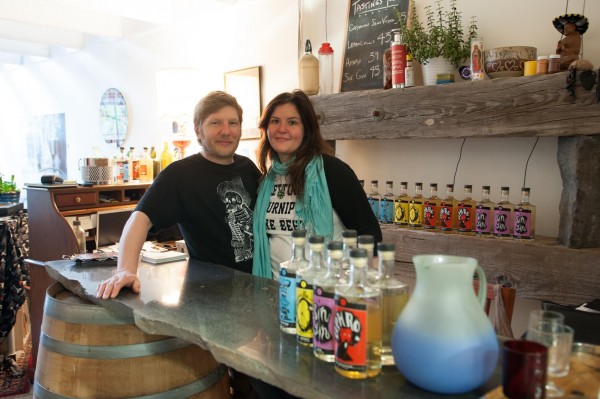 Partners in life and business, Kelly Ann Woods and John McLellan are co-owners and sole operators of Gillespie's Fine Spirits, an artisan craft distillery in Squamish, BC.
Kelly first cut her teeth in the Toronto food and beverage scene where she obtained a Sommelier certification from Algonquin College. In 2005 when the wave of the cocktail revolution started to really hit the Pacific Northwest, she turned her wine knowledge to spirits knowledge and quickly climbed the ranks to one of the best female bartenders in Vancouver's hotbed of cocktaildom. Recent accolades include an original recipe in Elle Magazine in the summer of 2014 and winner of the Pierde Almas Mezcal cocktail competition in the fall of 2014 and 2013 cocktail maker of the year with Vancouver Foodster. Kelly is currently an internationally recognized beverage coach, teacher, consultant and is a regular food and beverage columnist for the Squamish Chief. John is the brad, bones and braun of the operation. Having grown up in Scotland, his parents would take their brood sailing around to distilleries. One could say that the booze biz is in his blood. He has been distilling for the better part of 8 years. He was trained as a mechanic in Scotland, so not only is he a respected spirit crafter, he also fabricated all of the Gillespie's equipment himself. They are introducing a line of shrubs (aka sipping vinegars) and apple cider vinegar to the market in October. As well as a number of other products by the end of the year (including their first distillery baby in January 2016!)