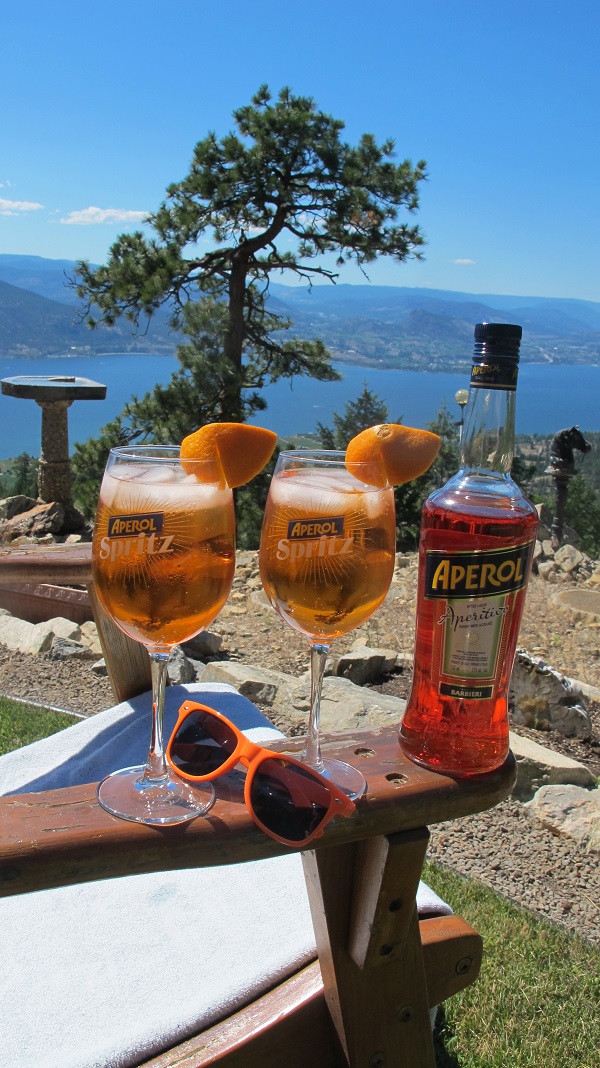 Summer is fleeting so when the sun is sizzling my skin and I'm wiping the sweat from my brow rather than complain I'm open to cooling suggestions. One welcome recommendation this year comes from the iconic Italian aperitif Aperol in the form of its Aperol Spritz cocktail.
Festive with its bright orange colour, the Aperol Spritz is deliciously refreshing and in keeping with those "lazy, hazy days of summer", it's easy to make. As a launch to the Aperol Spritz summer sampling tour travelling across Canada through Montreal, Toronto and Vancouver markets, I received a kit to get me started. My kit included a bottle of Aperol, two logo glasses perfectly suited to display the Aperol Spritz, a recipe card, funky orange sunglasses and a Aperol Spritz-themed Bluetooth portable speaker to enjoy tunes along with my cocktail. What fun!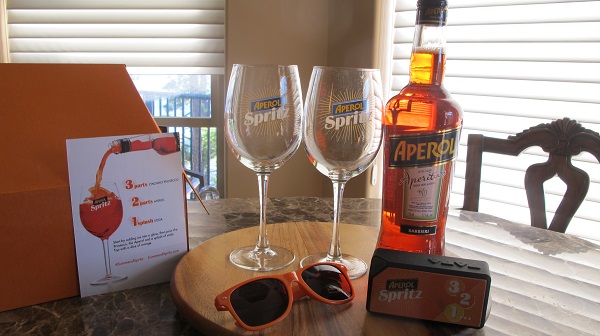 Select venues across the country will house stationary grandfather clocks that will provide chances to win prizes. Tickets dispensed amid a warm orange glow, and given to the in-house bartenders, will be valid for items such as the thirst-quenching Aperol Spritz itself or summer survival items such as sunglasses, flip flops, watches and t-shirts. Watch for roaming Italian Vespas repurposed as a sampling bar cart delivering a taste of Italy's buzzing city culture tableside. For Vancouver, the Summer of Spritz activities are highlighted July 16 to August 9, 2015.
The Summer of Spritz will culminate with a Celebration of Summer crowd-sourced party, hosted in Toronto, late August. Help create the final vibe by visiting SummerofSpritz.com and voting weekly on a revolving choice of three party enhancing elements to be featured.
How easy is it to mix an Aperol Spritz? It's just 3, 2, 1: That's three parts Cinzano Prosecco, two parts Aperol, and one splash soda. Start by adding ice into a glass, then pour the Prosecco, the Aperol, and a splash of soda. Top with a slice of orange.
It's so pretty I captured mine with the backdrop of Okanagan Lake – scene of another cooling option, my summer swim. If you're game to embrace the Summer of Spritz, Salut! Mix one yourself or get your favourite bartender to make you one, grab a photo and tweet, Facebook or Instagram #SummerofSpritz before you sip it!
-Roslyne Buchanan