Have you ever heard of Les Dames d'Escoffier? Probably not. Let me help. From Wikipedia, "Les Dames d'Escoffier was founded in New York City in 1976, in honour of Auguste Escoffier, whom Les Dames' mission statement credits with having "single-handedly brought the culinary art into the modern era." Escoffier "elevated the role of cooks from that of laborers to artists;" when he died, he "left the world a new art, that of dining." With expansion to other cities, Les Dames d'Escoffier International (LDEI) was formed in 1985 to operate as an umbrella organization. Membership is by invitation only and exclusive to women who have distinguished themselves in the respective fields with which Les Dames is concerned."
And from their BC web site, "Les Dames d'Escoffier is a society of professional woman. Its purpose is to promote the understanding, appreciation and knowledge of food, wine, hospitality, nutrition, food technology, the arts of the table and other fields as they relate to these disciplines. Women in BC are invited to apply for scholarships annually to pursue their education in these fields."
The BC chapter has been around since 1992 and currently has 74 members. One of these, Mireille Sauvé, was Canada's youngest sommelier when she became certified at the tender age of 22. Mireille is the founder and president of The Wine Umbrella, a Vancouver based wine industry consulting agency (checkout her informative videos on You Tube).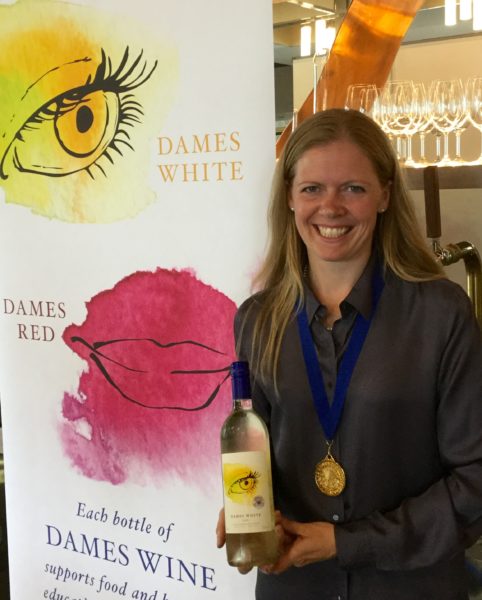 During her time with Les Dames, she has spent many years helping with their fundraisers. After too many years of silent auctions and raffles, she decided that there had to be a better way. Why not make wine?
I asked Mireille where the inspiration came to make these wines. Many years ago, she had worked in the wine business, working a vintage at Hawthorne Mountain (now See Ya Later) in Okanagan Falls where she worked under Eric Von Krosnik. Then she headed south to do a vintage in Washington State. She had the winemaking itch again and decided to make some wine. This would be something she'd enjoy and could sink her teeth into and would draw upon her strengths. This recent venture, the first of its kind in Canada, will help support women who choose to further their food and beverage education
This project was planned as a one-time fundraiser. When I asked Mireille if there might be a second vintage, her reply was a somewhat hesitant and uncommitted, "Maaybee". She said she would determine that when she sees how this release is received. After tasting these wines with their eye-catching labels, I would have to say she has succeeded in spades.
Mireille describes the wine white as; "The Dames White is a light straw colour with aromas of apricot, apple, pineapple and a hint of lime zest and mineral undertones. On the palate — light-bodied with lively acidity, racy lemon and lime. Pear, apricot and lychee fruit flavours. A beautiful BC blend of 80% Pinot Blanc from Sperling Vineyard in Kelowna, 10% Riesling from Sperling Vineyard in Kelowna, and 10% Gewurztraminer from Meyer Family Vineyards in Okanagan Falls."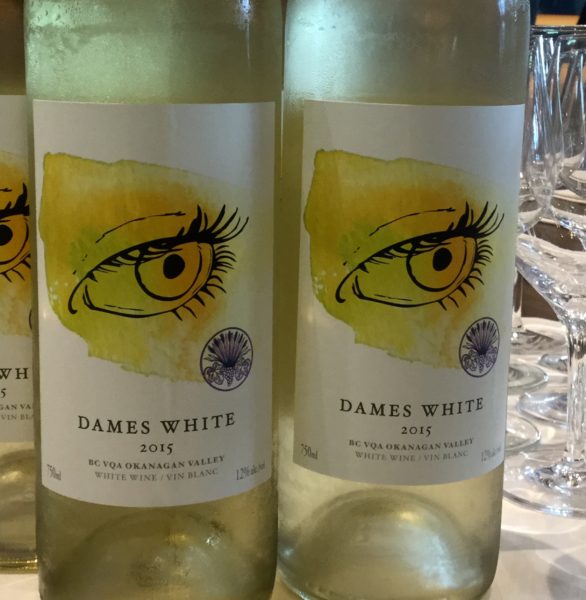 Mmmm. Where are the prawns and scallops? This wine is delicious right now and is also suitable for cellaring for perhaps ten years or more. Better buy a case.
She continues, "The Dames Red is a great 'fireplace wine', enjoyed on its own with friends or alongside assorted charcuterie and cheese plates, burgers or stew. Deep crimson with a burgundy hue, with rich vanilla-infused mulled berry aromas joined by bright red cherry juice and a toasty star anise spicy note. A beautiful BC blend of 70% Merlot and 30% organic Syrah, both sourced from vineyards in the south Okanagan."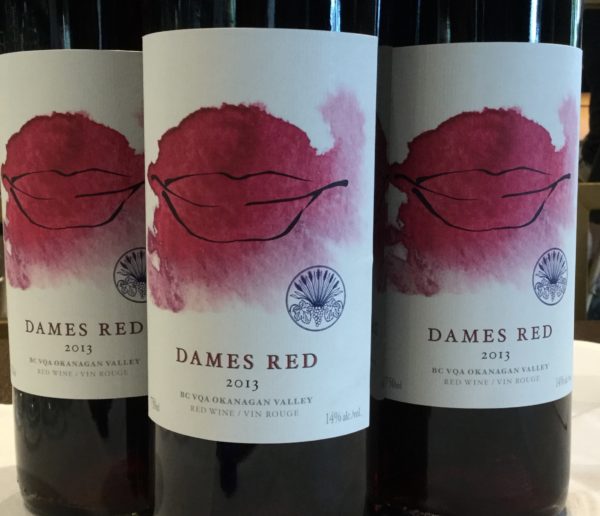 This wine is very food friendly and would work well with many dishes. Give it a slight chill if enjoying it on a hot summer day.
Both wines sell for $25 online. Prices will vary at retail outlets. There were only a little more than 500 cases made, so be sure to get yours soon before it is all gone and help fund food and beverage education. "A number of extraordinary women have benefited from scholarship funds provided by Les Dames d'Escoffier, and many are now taking part in this project to raise funds for future scholarships," says Sauvé. "Everyone who buys this wine can savour each sip while supporting dynamic women."
Dames' wines can be found at many private liquor stores and restaurants throughout the Okanagan. In Vancouver you can find them at Legacy Liquor Store and at the following restaurants – Fable, Le Crocodile and the Pear Tree (Burnaby).
"Now, if you do decide on a second kick at the can Mireille, what will you make? Will it be something different or the same? Perhaps a nice Rosé might be interesting. May I suggest a Chardonnay and a Pinot Noir?" Well, we'll have to wait and see, but I have no doubt that with the success of this initial venture will see her back in the winery.
Making a wine to support Les Dames, would serve another, equally important purpose and that would be to showcase women in the industry who often don't get the recognition they deserve. So she launched the project with an all female team, from grape growers to communications, to graphic design.
This project has created an excellent way for wine lovers to get behind a great cause but it has also another added benefit. In the spirit of Les Dames d'Escoffier, Mireille assembled an amazing team of talented women who were involved in all aspects of the project, from growing the grapes, to making the wine, to graphic design and marketing. As Mireille said, this was most certainly not a one-woman venture. To give credit where credit is due, here is a list of those who were involved in the creation of Les Dames wines:
Dame Mireille Sauvé, Winemaker / Project Director
Cheryl Bishop, Assistant Winemaker, Meyer Family Vineyards
Ann Sperling, Viticulturalist
Katie Holmes, Viniculturalist, Summerhill Organic Winery
Janice Meyer Stevens, Co-owner of Meyer Family Vineyards
Christine Moulson, Branding Consultant and Designer
Dame Allison Markin, Marketing and Digital Content Consultant
Dame Jennifer Schell, Media Consultant
Ronnie Lee Hill, Photographer
Adele Gougeon, OKLP (label) Production
Ramona Lehnert, By the Glass Wine Dispenser Canada
To order, visit www.dameswine.com