26th Annual Celebration of Contemporary & Traditional Flamenco
 Honours Art Form's Spanish Gypsy Roots
The Vancouver International Flamenco Festival announces its spellbinding 2016 lineup of local and international flamenco artists, September 10 – 20, 2016, with free workshops and ticketed performances at various Vancouver venues. This year, the festival celebrates flamenco's Spanish Gypsy origins with the Vancouver premiere of Mercedes Amaya Company (Mexico/Spain), the ensemble belonging to the niece of legendary Romani dancer Carmen Amaya. Audiences can also look forward to sizzling performances by Vancouver's own Flamenco Rosario & Toque Flamenco, Calgary's Rosanna Terracciano, and Saskatoon-based ¡ARTE! Flamenco, among others. Festival tickets will go on sale August 13.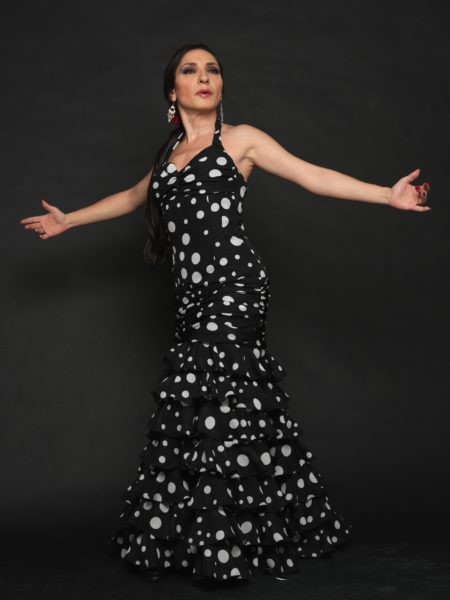 "We return for the 26th season with a passionate and fiery lineup of some of the most innovative and revered flamenco artists of our time," says Rosario Ancer, Artistic Director and Founder, Vancouver International Flamenco Festival. "Furthering our legacy of exposing audiences to premiere traditional & contemporary flamenco, we proudly present Mercedes Amaya Company as the festival's headline event. Mercedes (also known as 'La Winy') and her company follow in the footsteps of one of the world's most famous Gypsy flamenco dancers – the late Carmen Amaya. While flamenco's roots are tied to cultures throughout Spain, the Gypsy or Gitano people are widely linked to its preservation. Carmen, in particular, played a key role in sparking North America's love for the hypnotic vocals, thrilling guitar flourishes, and fierce rhythmic movement that underscore this evocative art form. We look forward to introducing the gifted member of Amaya lineage and her exalted ensemble to Vancouver for the first time."2016 Vancouver International Flamenco Festival Highlights include:
Bajo La Influencia by Toque Flamenco (Vancouver)
Centro Flamenco: September 14, 8pm
This esteemed Vancouver flamenco troupe (regular performers at Kino Café) will share an eclectic, tongue-in-cheek twist on traditional flamenco palos (song forms). Drawing from classic rock influences, including Pink Floyd, Led Zeppelin, Kansas, U2 and The Police, the artists will nod to their musical idols.
We All Need To Say GOODBYE/ADIOS by Rosanna Terracciano (Calgary)
Centro Flamenco: September 15, 8pm
Lauded for her experimental approach to flamenco, Terracciano fuses traditional & contemporary dance with short film. The independent artist will offer a poignant meditation on loss with the incorporation of flamenco objects, including peinetas (hair pieces) and abanicos (fans), all to music by acclaimed percussionist Chris Dadge.
De Cal, Canto Y Arena by ¡ARTE! Flamenco (Saskatoon) – Opening for Mercedes Amaya Company
Vancouver Playhouse Theatre: September 16, 8pm
Saskatoon's celebrated flamenco instructor and performer, Kari Alba, joins forces with internationally renowned artists Celedonio Garrido (singer), Ricardo Diaz (guitarist), and Alejandro Sie (dancer). Together they will explore the interconnected significance of three of life's most vital elements – "the salt, the song, the sand" – accompanied by a mix of percussive effects & illuminated projections.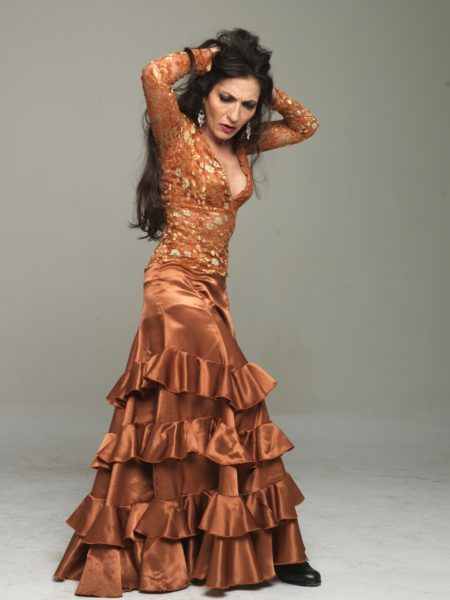 Templanza by Mercedes Amaya Company (Mexico/Spain)
Vancouver Playhouse Theatre: September 16 & 17, 8pm
Led by a famed member of flamenco royalty, the niece of legendary Spanish Gypsy dancer Carmen Amaya, the award-winning company will take audiences on a mesmerizing journey through flamenco's history. Described as "sublime" and "seductive", the group will showcase the beguiling & powerful connection between artist and the stage.
Flamenqueando by Flamenco Rosario (Vancouver) – Opening for Mercedes Amaya Company
Vancouver Playhouse Theatre: September 17, 8pm
Five stunning local bailaoras will embody the playful spirit of flamenco in a raucous improvisational work embracing the pure joy of dance. Three generations of Flamenco Rosario students will perform alongside their mentors, Rosario Ancer and Music Director Victor Kolstee while accompanied by Italian percussionist Davide Sampaolo, and Venezuelan vocalist Jafelin.
La Musica Del Flamenco hosted by Victor Kolstee (Guitar) featuring Jose 'Cachito' Diaz (Cantaor), and Santiago Aguilar (Guitar) (Spain/Mexico)
Centro Flamenco: September 18, 8pm
Flamenco Rosario's illustrious Music Director and guitarist, Victor Kolstee, will host an intimate evening of sensuous and impassioned flamenco works, featuring several venerated artists of the Mercedes Amaya Company.
The Vancouver International Flamenco Festival also offers a variety of flamenco workshops, demonstrations, and master classes. For the complete festival lineup, visit: vancouverflamencofestival.org
ABOUT VANCOUVER INTERNATIONAL FLAMENCO FESTIVAL (vancouverflamencofestival.org)
The Vancouver International Flamenco Festival is one of few celebrated festivals devoted to Flamenco Art outside of Spain. Since its beginnings in 1990, the festival has developed a mature understanding of Vancouver's multicultural audiences by nurturing the form's hybridized roots in Sephardic, Persian, Gypsy and Indian cultures. The festival strives to reflect and connect diverse sociocultural identity through work narratives underlining flamenco's universal message of humanistic tolerance. Now a two-week long annual event, the festival remains visible presenting work at multiple venues throughout Vancouver, such as Granville Island's Picnic Pavillion, the Playhouse Theatre, Scotiabank Dance Centre, Vancouver Public Library, and Lower Mainland's Centro Flamenco with more than a quarter century of flamenco presence behind it, the festival shines a stronger light on Vancouver for younger generations of dancers all around the world, while celebrating new relationships with sister organizations across the nation, helping to forge a more integrated Canadian identity of flamenco.
LISTING INFORMATION
Vancouver International Flamenco Festival
Date:

September 10 to 20, 2016

Address:
Various Vancouver Venues
Tickets:
Free to $60. On Sale as of 

August 13

.
Box Office:
vancouverflamencofestival.org or 604.568.1273