Vancouver's Torafuku among enRoute's 2016 Best Restaurants in Canada nominees
The ballots are out and Vancouver's Torafuku (958 Main Street) is thrilled to be amongst 35 top nominees for enRoute's coveted 2016 Best Restaurants in Canada list. The 2,200 square feet, 48-seat modern-Asian is known to deliver bold interpretations on flavours traditionally found in Japanese, Taiwanese, Korean, and Vietnamese cuisine.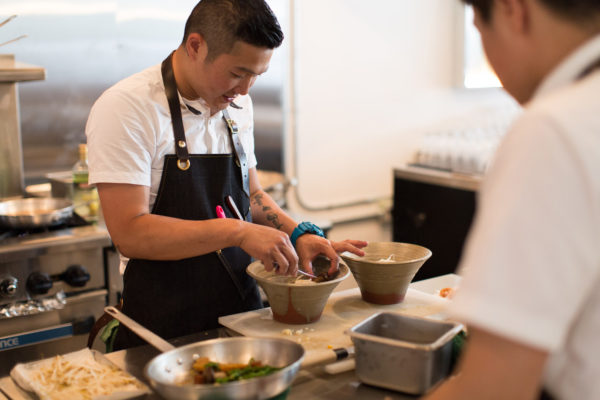 "What a journey it has been this past year," says Clement Chan, chef and co-owner of Torafuku. "When Steve (Kuan) and I opened Torafuku last summer, all we wanted to do was bring playful and elevated modern-Asian food to the city. This nomination from enRoute is definitely icing on the cake, and we couldn't be more proud. We thank our dedicated staff and all our loyal supporters for helping to make this happen."
enRoute's top 10 list will be released in its November issue. However, the public can now vote for Torafuku as one of their favourite new restaurants through EnRoute's Eat & Vote campaign at eatandvote.com until September 30, 2016. The winner is crowned people's choice and will also have the opportunity to attend the awards ceremony in Toronto.
Torafuku continues to develop dishes sourced from local ingredients every season. New items on menu include: The World is Your Oyster, Chan's take on the oyster motoyaki with shallot and ginger salsa, crispy tempura bites, bonito flakes, and smoke; Miso Corny with hickory smoked corn, miso butter, and togorashi; Skaterboy featuring brown butter poached skate, trumpet mushrooms, and a sour apple and cucumber nage; and for those who love marrow, Give a Dog a Bone, with smoked bone marrow, beef luck lac, pickled greens, and crispy potato noodles. Prices currently range from $3 to $16.
Torafuku is open from Tuesday to Sunday for dinner, starting at 5:30 p.m. Reservations welcome. For more information, please visit www.torafuku.ca.
Torafuku | 958 Main Street | www.torafuku.ca | Facebook: /torafukuyvr | Twitter: @torafukuyvr | Instagram: torafukuyvr
About Torafuku
Meaning "lucky tiger" in Japanese, Torafuku (958 Main Street) is a modern-Asian restaurant by Le Tigre food truck owners Clement Chan and Steve Kuan. The menu is designed for sharing. Dishes are playful yet skillfully prepared, delivering bold interpretations on flavours traditionally found in Japanese, Taiwaness, Korean, and Vietnamese cuisine. Every plate features seasonal ingredients, straight from local farmers. Torafuku was recently awarded Where Vancouver's 2016 Best New Restaurant. www.torafuku.ca