Collaboration Between Araxi Alumni, Chef Jeff Park and Sommelier Pat Allan, Offers Seasonal, Locally Sourced Share Plates and Expertly Curated Beverage Program 
A new off-ramp to contemporary Pacific Northwest cuisine opens up on the Sea-to-Sky Highway when The Salted Vine Kitchen + Bar introduces upscale dining to the heart of historic downtown Squamish later this summer.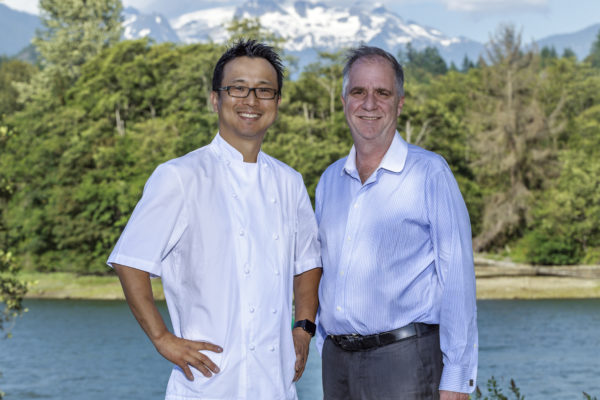 The Salted Vine represents a collaboration between industry veterans and longtime friends and colleagues Jeff Park — who will take the reins in the kitchen as executive chef — and Pat Allan, who will lead the front-of-house team as restaurant director and sommelier. Allan, a fixture in the Whistler restaurant scene for the better part of three decades, served most recently as restaurant manager and sommelier at award-winning Araxi Restaurant + Oyster Bar since 2002, while Park began his career at Araxi in 2003 as chef de partie and went on to oversee the back of house at Calgary's Blink Restaurant & Lounge and Chef's Table at Kensington Riverside Inn before returning to Araxi in 2011 for a four-year term as chef de cuisine.
Located at 37991 Second Ave., The Salted Vine boasts a 70-seat dining room and lounge and 20-seat patio, a full bar featuring housemade cocktails, an array of notable wines selected from BC and around the globe and local craft beer on tap as well as a diverse seasonal menu of share plates comprising locally sourced ingredients that showcase the very best of the Pacific Northwest. While the restaurant will initially open for happy hour and dinner service, lunch and weekend brunch service will be introduced in the fall.
"As both of us already call Squamish home, it's been a real labour of love for us to work within this truly vibrant and close-knit community, while introducing a new dining experience for our friends, neighbours and visitors," said Park. "We're thrilled to be able to open a restaurant that offers a unique space for all sorts of occasions, whether it's date night, a business meeting or a casual bite while passing through the Sea-to-Sky."
Further details on The Salted Vine Kitchen + Bar, including hours of operation and food and drink menus, will be revealed in the coming weeks. For more information on The Salted Vine or to stay up to date on its latest developments, go to www.saltedvine.ca, become a fan of /thesaltedvine on Facebook or follow @saltedvine on Twitter and @saltedvine on Instagram.

ABOUT THE SALTED VINE KITCHEN + BAR | Located in downtown Squamish along the picturesque Sea-to-Sky Highway, The Salted Vine Kitchen + Bar is a collaboration between industry veterans Jeff Park and Pat Allan, who were fixtures at Whistler's Araxi Restaurant + Oyster Bar for more than a decade. With a menu of small share plates that place a premium on fresh, sustainable and seasonal ingredients, a full bar featuring an array of wines sourced both from BC and around the globe, local craft beers on tap and housemade cocktails and a modern-country farmhouse décor that reflects the hardworking spirit of the local community, The Salted Vine offers a contemporary and inspired taste of the Pacific Northwest and a new upscale dining experience in the heart of historic Squamish.
37991 Second Ave., Squamish, BC V6B 0R2 | 604-590-1910 | www.saltedvine.ca