Classic cocktail to be celebrated every week just in time for fall season
As the nights draw in, cozy up at Prohibition to celebrate one of the world's most famous whiskey cocktails, the Old Fashioned, every Wednesday between now and November 23. Each week, both traditional and creative interpretations of the classic cocktail will be on special for $10 CDN, alongside live bluegrass music and all-American food features such as wings and truffle fries.
"We're excited to introduce Vancouverites to a wide variety of innovative Old Fashioned cocktails, while still staying true to – and celebrating – the timeless original," said Prohibition's Head Bartender Robyn Gray. "Live bluegrass entertainment, and our premium selection of bourbons, adds a new dimension to the experience and brings a taste of the Deep South to Vancouver."
Two feature Old Fashioned cocktails will be on special every week, showcasing bourbons from Collingwood, Woodford, Jack Daniels, Gentleman Jack and Jack Daniels 150th anniversary edition. Special cocktails include the World's Best Bourbon Old Fashioned with Woodford Bourbon, gomme, Angostura Bitters, lemon and orange swath and Hoshizake ice cubes; and the Inception Old Fashioned, inspired by Prohibition's signature Inception Negroni.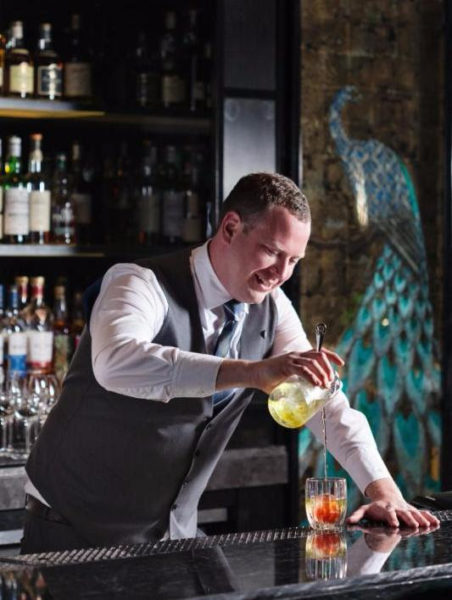 Head Bartenders Robyn Gray and Brad Stanton have also created an exclusive Old Fashioned that showcases the rare Jack Daniels 150th anniversary edition bottle of Tennessee whiskey, which was recently released to celebrate the birthday of the famous spirit. The commemorative Jack Daniels 150th Anniversary Old Fashioned includes a mixture of Canadian maple syrup, the limited edition whiskey, and bitters, that is smoked using wood chips from Jack Daniels barrel staves. The tipple is served tableside in a spectacular fashion, as the concoction is poured out of a smoke-filled decanter into the cocktail glass.
"We wanted to honour Jack Daniels' rich history with a premium creative cocktail," said Gray. "Our Jack Daniels 150th Anniversary Old Fashioned truly celebrates the spirit by showcasing the complex flavours of the anniversary edition, which is barrelled and bottled at 86% proof."
Old Fashioned Wednesdays will be running every Wednesday (8:30pm until 12:30am) from now until November 23, with live bluegrass music every week, including appearances by Viper Central on September 14 and the Bayou Ramblers on September 21 and 28. For more information call 604.673.7088 or visit prohibitionrhg.com.

About Prohibition:
Opened in 2015, Prohibition conjures the ambiance of the speakeasy bars that operated during this iconic era. Situated in the heart of downtown Vancouver in the Rosewood Hotel Georgia, acclaimed Head Bartenders Brad Stanton and Robyn Gray's cutting-edge bar program features a mix of seasonal offerings, creative cocktails, classic sippers and a collection of the finest libations from across the globe. Unique to its home but world-class, the 3,000-square-foot-space draws inspiration from the dark decadence of the early 20th century to create a rich and inviting atmosphere that subtly references the luxury jazz lounges of the 1940s and the secret corners of 1920s' underground bars.
About Rosewood Hotel Georgia:
Since 1927, the Hotel Georgia has represented Vancouver's most stylish and elegant retreat at the beating heart of the city.  The legendary property is located just steps away from long stretches of sea wall, the downtown shopping and business districts and Canada's greenest convention centre.  The 156-room hotel is home to Hawksworth Restaurant, led by visionary chef David Hawksworth; Sense® spa, offering a menu of West-Coast-style treatments; thoughtfully designed meeting facilities; as well as a heritage ballroom and spacious lounges, which act as a tranquil and enticing haven in this radiant downtown hub. In 2015, the Forbes Five-Star hotel was named one of the "Best Canada Hotels & Resorts" and "Best British Columbia Hotels & Resorts" on Condé Nast Traveler's Gold List. The hotel was also included on U.S. News & World Report's "Best Hotels in Canada" list as well as the "Top 25 Hotels in Canada" TripAdvisor Travelers' Choice rankings.