by David Sedaris; adapted by Joe Mantello
A backstage pass into the secret lives of elves!
GTI Theatrical Productions Society, with the generous support of Famous Artists Limited, is thrilled to present David Sedaris' biting holiday comedy, The SantaLand Diaries, at Presentation House Theatre in North Vancouver from Thursday, December 8th to Saturday, December 17th, 2016.
Are your teeth aching from an overload of sugary-sweet Christmas specials featuring impossibly cherubic children and Christmas miracles aplenty?  Are you passing out from pageants?  David Sedaris' masterpiece is guaranteed to add some jangle to your Yuletide jingle.
"The funniest Christmas play ever written", The SantaLand Diaries is a slightly fictionalized account of author and radio celebrity Sedaris' time as one of Macy's department store Christmas elves.  Sedaris' elfin adventures are brought to life onstage for Christmas 2016 by the internationally renowned Alan Marriott as "Crumpet", along with additional characters and live music brilliantly performed by Sandra-Mae Luykx.
Middle aged, out of work, and in need of holiday cash, a writer assumes the role of "Crumpet", one of the magical elves in Macy's New York SantaLand.  Crumpet uses his gift for insight (as writers do) and relies on Alan Marriott's host of wild voices and impersonations to bring to life the hordes of holiday shoppers, bratty kids, overzealous parents, store management, co-worker elves, and even the stout men themselves who don the red suit!  "You don't want to see a Santa undress" he cautions.
From leading the audience in a robust "S-A-N-T-A!" cheer to that point where, as it happens for all elves, the horrors begin, Crumpet takes us on his journey.  Squeezed into a ridiculous costume with what looks like a heavily medicated smile on his face, Crumpet ushers people through SantaLand, even those who have wandered in by accident while shopping for a toaster.  He brings to life shy kids,  crying kids and kids having tantrums – and none of them as bad as their adult handlers.  Crumpet shows us the worst of humanity, and their children.  Will he find anyone to redeem this holiday season?  Anyone?  Anyone?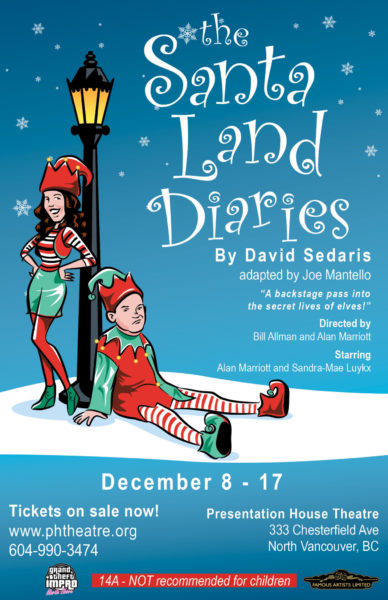 THE SANTALAND DIARIES
Author: David Sedaris
Stage adaptation by: Joe Mantello
"The SantaLand Diaries" is presented by special arrangement with Dramatists Play Service, Inc., New York.
Directors: Bill Allman & Alan Marriott
Cast:  
Alan Marriott stars as "Crumpet".  Alan is a veteran of London's Reduced Shakespeare Company in the UK, Vancouver's TheatreSports, and Will Shakespeare's Improv Musical.  He is a 30 year voice actor best known for Bob the Builder, Band of Brothers, and Dinosaur Train, as well as the loveable disco elf, Bjorn, onstage in Famous Artists' 2013 & 2015 productions of Mrs. Claus's Kitchen (for which he is also the music composer and script co-writer).
Sandra-Mae Luykx appears in a wide variety of supporting roles in characterizations ranging from a drill-sergeant elf trainer to the hysterical mother of an oh-so-precious gaggle of photogenic children.  World-renowned as a musician and songwriter, Sandra-Mae brings a decade of performing experience to The SantaLand Diaries.
Production and Creative Teams:
Production Company: GTI Theatrical Productions Society, with the generous support of Famous Artists Limited
Producer,
Famous Artists Limited:  Bill Allman
Associate Producer,
Famous Artists Limited: Kathleen Gibbs
Stage Manager: Linzi Voth
Set, Props and Costumes: Lasting Impressions Creative Services
Dresser: TBC
Lighting: Matt Latimer
Live Music: Sandra-Mae Luykx
Publicist:Kathleen Gibbs
THE SANTALAND DIARIES
Audiences and critics rave:
"This caustic Christmas carol is a laughter-spiked antidote to the holiday blues!"

"Don't miss this wicked wonderland and exposé of all things elfin."

"David Sedaris' holiday masterpiece is guaranteed to add some jangle to your Yuletide jingle!"
"A sardonic, witty, irreverent accounting of elf training, bad Santas, abusive customers and humiliating working conditions – with proof that Christmas can bring out the best (and the worst) in all of us."
"A delightfully thorny account of working as a Yuletide elf at Macy's.  Priceless observations, both outrageous and subtle.  Destined to hold a place in the annals of American humour writing."
"THE SANTALAND DIARIES" is quite possibly the thirty-one funniest pages of text published in the past quarter century…". 
Venue:
Presentation House Theatre
333 Chesterfield Avenue, North Vancouver (just west of Lonsdale at 3rd Street)
(free parking available; wheelchair accessible)
Show Dates and Times:
Thursday, December 8th to Saturday, December 17th
Media Opening:  Thursday, December 8th
Weekday Performances – 8:00 pm
Saturday, December 17th – 2:00 matinee; 8:00 pm evening
*No Saturday, December 10th or Sunday, December 11th matinees
The SantaLand Diaries will run for approximately 100 minutes with no intermission.
The play contains mature content and is NOT recommended for children. Rated 14A.
Ticket Information:
Adults: $25; Seniors (65+): $20; Students (with valid student ID): $20
Tickets can be purchased online at http://www.phtheatre.org/show/the-santaland-diaries/, by phone at 604-990-3474 or in person at Presentation House Theatre.