Figs and Goat Cheese Soufflé
With beets and maple truffle vinaigrette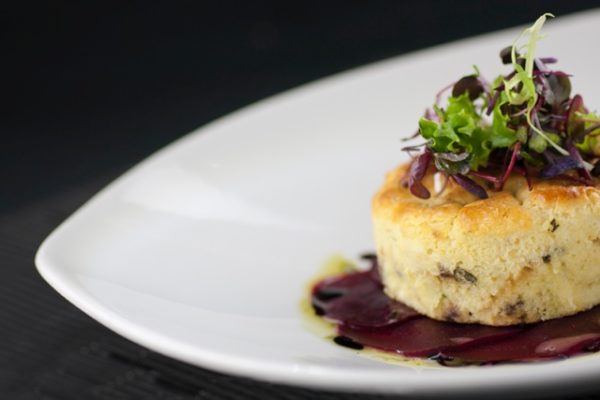 It's often the surprise factor that makes a dish memorable. A sweet and unexpectedly salty lemon soufflé I once enjoyed in Paris fits the category.  My version of that dish for my restaurant started with sweet figs and salty goat cheese, but I ran into the usual challenge.  A soufflé is typically  made fresh to order and takes about 30 minutes from the to plate: its usually worth the wait, but I wanted to find a better, faster way. So I tinkered and tested until I settled on a double-baked soufflé. Par-baked ahead of time and reheat to order in only 10 minutes.
This dish always sells out at the restaurant and the feed back its always great.
Ingredients
4T unsalted butter
1/3 cup all- purpose flour
1-1/3  cup whipping cream
1t Dijon mustard
2 t fresh chopped thyme
4 large eggs
½ lb. Firm goat cheese
½ cup dried figs diced
½ cup maple truffle vinaigrette
Directions
Preheat oven to 375F.  Make sure rack is set to the middle of the oven.
Butter six ¾ cup ramekins and set aside
Crumble goat cheese, set aside.  Separate egg yolks and whites, set aside.
In a medium, heavy- bottom saucepan. Melt butter over heat and whisk in flour to form a roux .
Whisk in whipping cream, bring to a boil and than simmer, stirring occasionally for about 3 minutes. Remove from heat.
Add figs, thyme, mustard, egg yolks and two-thirds of the goat cheese. Whisk until cheese has melted. Season to taste.  
Transfer mixture into a bowl and set aside to cool.
In another large mixing bowl, beat whites until they hold stiff peak. Season with pinch of salt.
Stir a quarter of the egg whites into the mixture and blend together. Gently fold in the remaining egg whites and the goat cheese.
Bring about 2L water to a boil in a kettle.
Divide the soufflé mixture among ramekins.  Arrange them in a deep baking pan, just large enough to comfortably hold all of them in place.
Prepare oven by opening door and than pulling the rack out half way.
Place tray of ramekins on the oven rack.  Slowly add hot water from the kettle until it reaches half way up the side of the ramekins. Gently push baking pan into middle oven and close door.
Bake soufflé until slightly puffed and golden brown- about 40 minutes. Transfer to a rack. Let soufflé stand uncovered for 30 minutes. The soufflés will fall slightly.
Lightly butter a small baking sheet. Run a thin knife around the edge of the soufflés.  Invert each soufflés onto the palm of your hands and carefully put them upside down onto a baking sheet.
Plating: Preheat oven to 425F. Bake soufflés in the middle of the oven, right side up until slightly puffed and heated through about 5-10 minutes.
Serve with salad and maple truffle vinaigrette
Serves 6
Maple Truffle Vinaigrette
2T shallots, finely chopped
2t Dijon mustard
2T whit wine vinegar
3 parsley spring
½ cup extra-virgin olive oil
1t lemon juice
salt and peeper to taste
Add shallots, parsley, Dijon, maple syrup and vinegar to blender or food processor and pulse until well combined, with machine on low, slowly add olive oil through the feed tube.  Add lemon juice.  '
Turn blender to medium- high for 10 seconds to emulsify and aerate. Season with salt and pepper to taste. Refrigerate