On a night that was supposed to be the beginning of three massive storms, Guilt & Co hosted a full house to Malcolm and his band's unveiling of their new CD "NEW FUTURES".  Guilt and Company is a small underground live music bar underneath the Chill Winston restaurant in the heart of Gastown. It has earned itself a reputation for being a cool new place for trendsetters, tastemakers, artists, and moneyed professionals to go after a day's hard work. In the soft candlelight, Malcolm plays the trumpet with his three fellow musicians against the red lit background on stage. Pumping out relaxing yet fresh melody that is befitting of his crowd.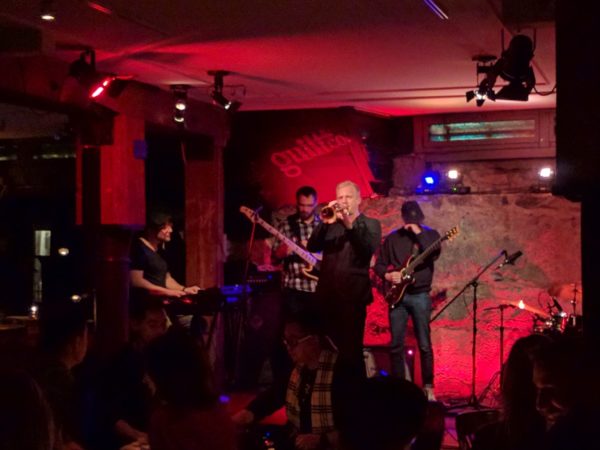 He's accompanied by guitar, bass and keyboard, and the band quickly captured the audience's attention. You could hear the quite murmur in the audience, a clink of "cheers", and sometimes the distinctive shutter "click" of women taking selfies.  Most of the audience was contently enjoying this auditory feast of jazz, electronic styles with elements of pop thrown in.
Malcolm and his band played two sets with a thirty minute break in between.  He was dressed in all black, in round neck black t-shirt with a form fitting sharp black suit.  Most of the audience was in T-shirts and jeans, and there was a constant a line up outside.  Everyone enjoyed the lively atmosphere and soaked up the sexy vibe.