It was perfect.
Outside a dull, dreary, and rainy Vancouver afternoon.
Inside, an appreciative audience captivated by the lyrical outpourings of 30 young men; members of the world-renowned, The Choir of King's College, Cambridge.
Great choirs require the ability to effortlessly move and sequence from one piece of music to another. There has to be total harmony and a precision-like transition to the next note of music, all the time moving effortlessly between the soprano, alto, tenor and bass sections of the choir.
For its Vancouver performance the choir performed works by European composers spanning four centuries including Byrd, Mundy, Gibbons, Ravel, Messianen, Fauré, and Durufle as well as Poulenc, Gabrieli, Purcell, Bruckner, Stanford, Whitlock and Brahms.
And it was done with aplomb and precision, a magical experience, a myriad of musical masterpieces that lifted your soul to a heaven-like experience, given that many of the masterpieces had strong biblical overtones and themes.
In a sold-out show at the Chan Centre, a presentation by Early Music Vancouver, dedicated to foster understanding and an appreciation of music from the Renaissance, Baroque, and classical period, the choir hit its musical heights time after time.
Especially memorable were the last two pieces, each receiving standing ovations, the audience fully appreciating their luscious, grand, and rousing musical elements.
The choir was "founded by King Henry VI in 1441, The Choir of King's College, Cambridge has been a center for musical excellence for over 600 years. Its alumni include literally hundreds of important musicians who, in their time as choir members, received a unique and rigorous training preparing them for professional careers in music," explained Matthew White, Early Music Vancouver Artistic Director.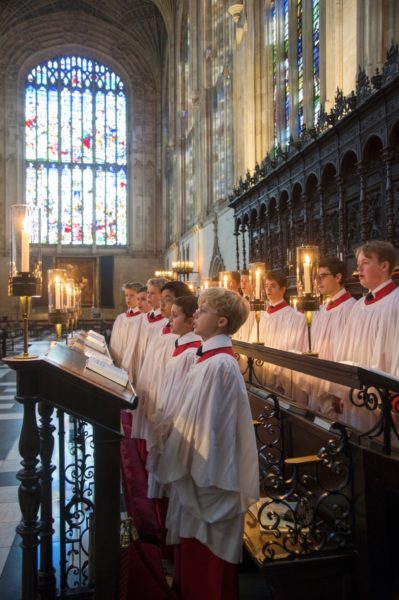 The Choir of King's College, Cambridge, dressed in iconic red and white robes, is one of the world's most recognized all-male choral ensembles.
On Christmas Eve, the choir garners a world-wide audience of more than 30 million people tuned in to listen to the ensemble perform the legendary "Festival of Nine Lessons and Carols" service.
Broadcast by the BBC since 1928 it has helped make the choir known all over the world, resulting in sold-out performance wherever it travels.
The choir is consists of 16 boy sopranos or "trebles" (aged between nine and 13 years), 14 male undergraduates who sing the alto, tenor and bass parts, as well as two organ scholars. Its current director is Dr. Stephen Cleobury.
The choir has released more than 100 albums, selling millions of copies worldwide.
At the end of it all the choir gave the audience what all great musicians do, lifted you into another world of magic and make belief, no matter what the weather was like outside.
A review by George Froehlich