As we approach cold and flu season, many of us are interested in what we can do to naturally support our immune systems. The answer? Learn about herbal medicine and holistic support for stress and fatigue!
In this timely and helpful event hosted by Integrative Naturopathic Medical Centre and curated by local medicinal herbalist Katolen Yardley, find out how to support your body and increase its resiliency in the face of a hectic lifestyle, and gain an understanding about how nutrition can either add energy and fuel the body or deplete the body.
This event will also cover key nutritional supplements and herbal medicines for stress support and energy enhancement.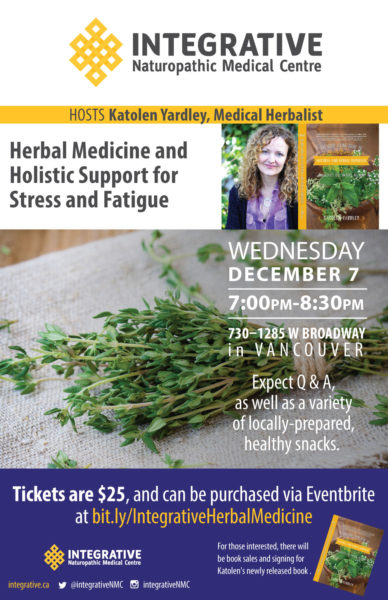 For those interested, there will be book sales and signing for Katolen's newly released book The Good Living Guide to Natural and Herbal Remedies after the talk. Expect a Q & A session, as well as a sampling of locally prepared snacks by Vancouver's own Blue Heron Creamery!
Book your seat(s) now via Eventbrite; this event has limited space.
Details
When: Wednesday December 7, 2016 from 7-8:30pm
Where: Integrative Naturopathic Medical Centre at 730–1285 West Broadway, Vancouver
Cost: $25.00
About Katolen Yardley:
Katolen Yardley, MNIMH is a medical herbalist in private practice in Vancouver and Post Moody BC. She is an instructor with Boucher Naturopathic Institute, Dominion Herbal College and the president of the Canadian Herbalist's Association of BC. Katolen is the author of the newly released book The Good Living Guide to Natural and Herbal Remedies.
See you there!