TASTE OF YALETOWN
ICONIC BC RED WINE TASTING
THURSDAY | FRIDAY | SATURDAY | SUNDAY
OCTOBER 17-20, 2019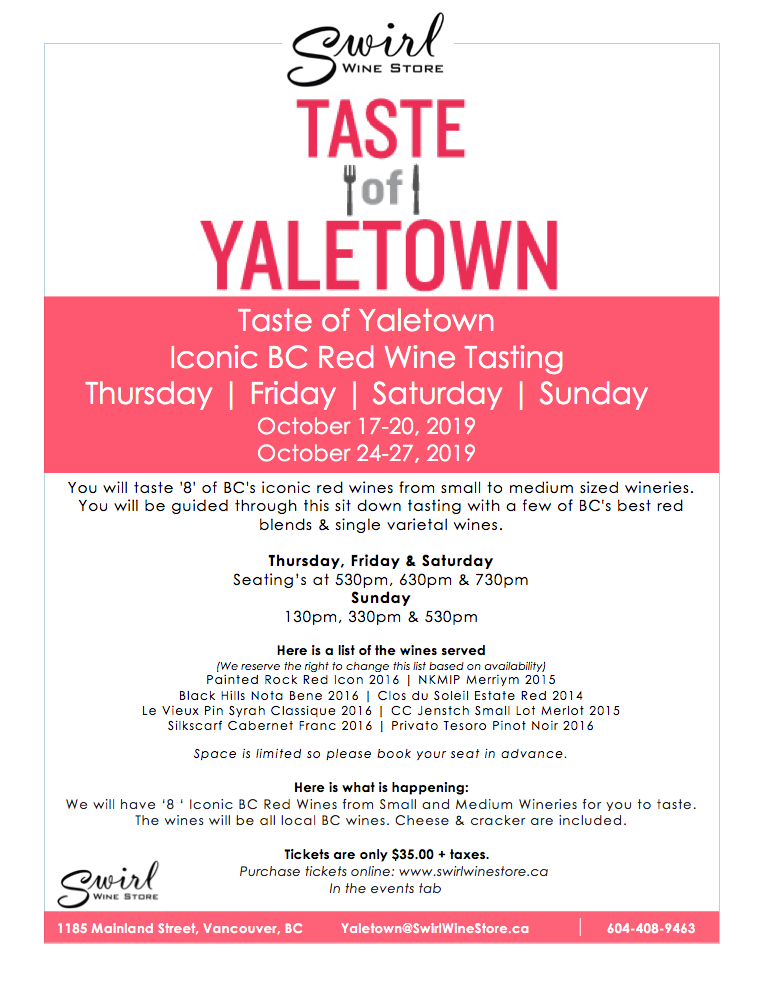 You will taste '8' of BC's iconic red wines from small to medium sized wineries.
You will be guided through this sit down tasting with a few of BC's best red blended & single varietal wines.
Thursday, Friday and Saturday
Seating's at 530pm, 630pm & 730pm.
Sunday 230pm & 530pm
Here is a list of the wines served
(We reserve the right to change this list based on availability)
Painted Rock Red Icon 2016 | NKMIP Merriym 2015
Black Hills Nota Bene 2016 | Clos du Soleil Estate Red 2014
Le Vieux Pin Syrah Classique 2016 | CC Jenstch Small Lot Merlot 2015
Silkscarf Cabernet Franc 2016 | Privato Tesoro Pinot Noir 2016
Space is limited so please book your seat in advance.
Here is what is happening:
We will have '8 ' Iconic BC Red Wines from Small and Medium Wineries for you to taste. The wines will be all local BC wines. Cheese & crackers are included.
Swirl Wine Store is a  retail wine shops that specialize in British Columbia VQA Wine. The store is located in  Yaletown (Vancouver), B.C.
We carry an inventory of over 750 varieties of B.C. wines. One of the largest selection in the province, along with, glassware, decanters, wine aerators, cork screws, cookbooks, wine books, cheese, savory food items, crackers, chocolates, wine bags, gift baskets and gift certificates.
The store is open 7 days a week and offers complimentary wine tastings daily with winery tastings on Saturday and Sunday.
Taste of Yaletown is also presenting Iconic BC Red Wine Tasting by Swirl Wine Store. Enjoy 8 iconic BC wines from small-medium wineries during certain dates. To learn more, check out the participating list below.
Purchase tickets online: www.swirlwinestore.ca
1185 Mainland St, Vancouver, British Columbia