On the kick-off evening that started Taste of Yaletown 2019 I joined a group of media types to sample the cuisine of three restaurants.
All three were different in decor, menu and atmosphere but all three were excellent. Everybody is looking for a different experience so depending on your pleasure you will find just the right spot!
This year's Taste of Yaletown is embracing Vancouver's Happy Hour culture with their #MyHappyHour theme. Participating restaurants will offer Happy Hour menus for Taste of Yaletown, giving diners the chance to experience small dishes and select drinks from their menu. With #MyHappyHour, diners now have the choice between having a 3-course menu or grabbing a few bites and drinks after work. New this year, #MyHappyHour FREE public Wi-Fi will take you directly to the best Happy Hour spots in Yaletown.
First we started at The Banter Room. This is a fun loving place with really good casual food. Nice relaxed atmosphere with friendly staff. Grab a seat on one of the sofas and you immediately start to relax. The main point of Taste of Yaletown and their new #MyHappyHour is to have a good time and eat well. Here then is what we enjoyed at The Banter Room.
Next up was Wild Tale. Everytime I go to Wild Tale the food is so good I think "why am I surprised, it's always this good!". Not casual but not exactly fine dining either, just great food, nice atmosphere with no pretention. If you haven't been before then this is your chance.
Yaletown restaurants will offer special menus and pairings for a limited time, making Taste of Yaletown the perfect time to celebrate and savour Vancouver's best dining district, revel in the longstanding restaurants and pre-book reservations for holiday parties.
Here is what we enjoyed at Wild Tale:
The third restaurant was West Oak. Of the three this one was the closest to "fine dining" but as always with just the right amount of Yaletown casual and relaxing atmosphere. The dining room is a large open space but just so slightly tucked around a corner near the back is a great round table meant for a crowd. It was the perfect spot for our media group as we enjoyed dish after dish from both their $45 menu and $55 menu. The food was fantastic and I recommend a reservation.
Suggested BC wine pairing from West Oak: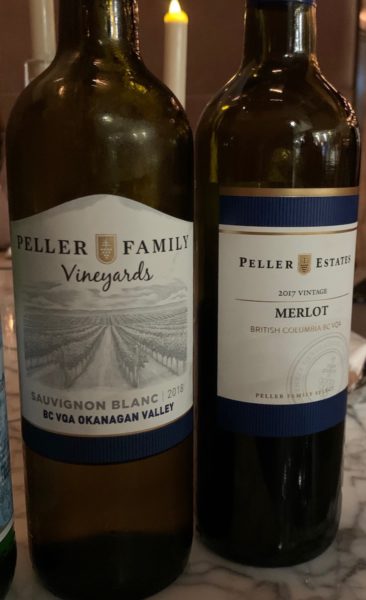 Please visit YaletownInfo for menu details from each restaurant and join the conversation online using the official Taste of Yaletown hashtag: #TasteOfYaletown.
About Taste of Yaletown: Taste of Yaletown invites the public to experience the diverse culinary offerings, delectable wines, and unique atmosphere of Vancouver's premier dining district. Since 2004, Taste of Yaletown has become known as one of the top dining events in the Vancouver calendar, drawing crowds from all corners of the city to experience the best in dining at an affordable price.
For two weeks in October, Taste of Yaletown brings diners featured menus, special tastings and innovative pairings. You have the opportunity to select special offerings from participating restaurants, each with a special offering at $35 • $45 • $55.
Plus, we're thrilled to introduce you #myHappyHour, where participating restaurants provide an exclusive Happy Hour menu for you to enjoy after a long day of work.
1. Call or book your reservation between Oct 17th and 27th with the restaurant of your choice.
2. Enjoy a meal that's been carefully selected by that restaurant.
SPONSORS
Taste of Yaletown festival is made possible in part with the support of our sponsors:
For more information and suggestions on where to dine during Taste of Yaletown see our article here
Dinners and beverages were provided by each restaurant, complimentary to facilitate this review. All opinions are my own.
[wdi_feed id="2″]