Locavore Josh Gale to renew restaurant's Pacific Northwest focus
Juniper Kitchen + Bar is pleased to announce the appointment of its new Executive Chef, Josh Gale.
Blessed with an origin story that's undeniably "peak Vancouver," Josh was born and raised in the Lower Mainland and worked 9-to-5 job until a snowboarding injury laid him up at home, allowing him to discover his talent for cooking.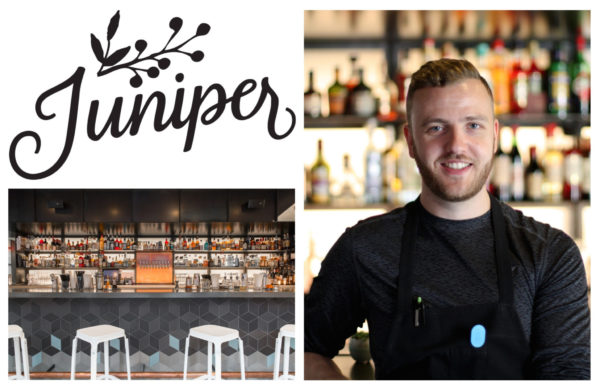 Although self-taught, Josh immersed himself in the culinary world, seeking advice and mentorship from top chefs at internationally acclaimed restaurants such as Vancouver's Hawksworth and Café Boloud and Gramercy Tavern in New York.
With talent and determination, Josh worked his way up the line and into the kitchens of such notable Vancouver restaurants as Fable, Nicli's Next Door and, most recently, the award-winning Wildebeest.
With his Executive Chef role at Juniper Kitchen & Bar, Josh's passion for the bounty of our region has found a new home where it dovetails perfectly with the restaurant's philosophy.
"I want to continue to build upon Juniper's Pacific Northwest and Cascadian focus, because my food philosophy is strongly tied to time and place," Josh explains. "I believe that a good restaurant, much less a great restaurant, must be an expression of where and when it exists."
With that in mind, game meats will play an important role in the kitchen in dishes such as Elk Tartare with blueberries, juniper, burnt hay aioli; Bison Short Rib with creamed brussels sprouts and a bone marrow jus; Braised Venison Agnolotti; and Crispy Duck Wings and a Whole Duck Breast served with sticky beets — both of which highlight the outstanding duck available in British Columbia.
On the surf side, locally sourced seafood will take pride of place: Octopus served with bone marrow, crispy potato, apple and sea asparagus; Humboldt Squid with preserved lemon and white beans, albacore tuna in a nori emulsion with charred broccolini and buckwheat porridge; and Salish Sea Mussels prepared with wild boar bacon, apple cider and tarragon.
Those with a taste for fields and foraging will be tempted by homemade pickles, Beet and Burrata Salad, Roasted Heirloom Carrot and Brussels Sprout Salad, and Potato Gnocchi accompanied by leeks, almonds, black trumpet mushrooms and black truffle.
Diners will be able to preview Josh's new Winter Menu during Dine Out Vancouver, taking place Friday, January 20 to Sunday, February 5. The three-course tasting menu is priced at $40 per person.
The full Winter Menu will launch Monday, February 6, with most mains in the $19 to $27 price range.
JUNIPER
185 Keefer Street, Chinatown
Vancouver, British Columbia
V6B 6L4 Canada
Hours: 4pm 'til late, Monday to Sunday | Happy Hour: 4pm to 6pm daily
SOCIAL MEDIA
Instagram: @junipervancouver
Twitter: @eatatjuniper
Facebook: /junipervancouver
Website: www.junipervancouver.com