BC's annual Icewine harvest has arrived just before the holidays, with the cold temperatures prompting wineries in the Okanagan Valley and Similkameen Valley to start picking grapes early for what can be expected to be a larger vintage than 2015.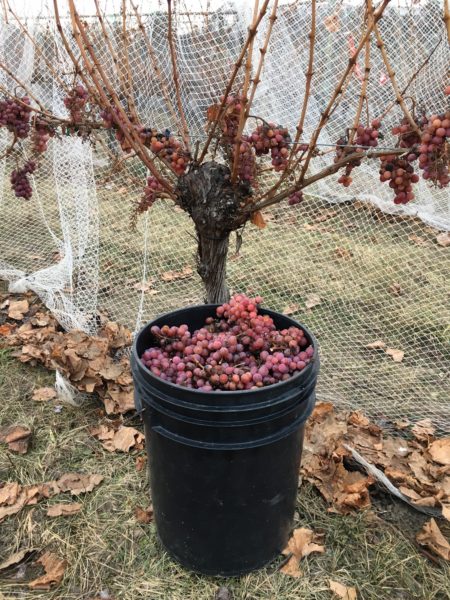 Icewine harvest began on December 6, 10 days later than last year's start date of November 25. For three days, temperatures remained below -8˚C (17.6°F) throughout the Okanagan Valley allowing wineries whose grapes reached the required 35 Brix to start picking. Pickings resumed on December 12 through 16 for all areas in the Okanagan Valley and Cawston in the Similkameen Valley.
The first 2016 Icewine grapes were picked in West Kelowna on December 6 around 8:00 PM with temperatures ranging between -8°C (17.6°F) and -9°C (15.8°F), by Kalala Estate Winery which brought in 1.5 tons of Chardonnay, 3.5 tons of Riesling and four tons of Zweigelt. They resumed pickings for Merlot and Cabernet Franc on December 8, 14 and 16. Based on the 33 tons of grapes brought in, Winemaker Karnail Sidhu expects 10,000 to 12,000 litres of Icewine for their 2016 vintage. "If we can pick our grapes before the start of winter, it usually means a very good vintage for Icewine." notes Karnail.
There are 23 wineries registered with the BC Wine Authority to pick an estimated 896 standard tons of Icewine grapes on an estimated 205 acres. 18 wineries have started harvest and an estimated 600 tons have been brought in so far, which is already 224 more tons than last year.
"Wineries make a big investment into Icewine harvest and they hope to pick what they anticipate for every year. It comes down to temperature, the earlier freezing temperatures arrive the better chance wineries have to bring in a full crop," notes Lorrie Zander, BC VQA Coordinator of the BC Wine Authority, which regulates Icewine.
For Inniskillin Okanagan (in Oliver, in the south Okanagan Valley) the early harvest has secured an average to larger crop than past years. Viticulturist Troy Osborne said his crew began picking Riesling on the morning of December 8, and finished the morning of December 9. "It's nice to get the grapes off the vines early so we minimize the risk of losing them to issues such as dehydration, degradation or wildlife." With temperatures averaging -12˚C (10.4°F), Osborne was pleased with the concentration of the fruit they brought in averaging 42 Brix. "The grapes went through a couple of freeze thaw periods before picking which gives the flavour characteristics we want for Icewine."
Red Rooster Winery began picking Riesling at 1:00 AM on December 8 when temperatures in the Naramata Bench vineyard reached -9°C (15.8°F) bringing in fruit at 40 Brix. They picked again for Riesling and Cabernet Franc on December 13 at -10°C (14°F), finishing harvest at 44 Brix. Although a fair bit of their crop this year was lost due to extreme winds, Karen Gillis, Winemaker at Red Rooster Winery says the overall quality of the grapes is very good. "With days of cold weather, the berries were quite frozen, so although yields were average, what came out of the frozen marbles was a sticky delectable treat…. or it will be when I'm done with it."
Echoing the delight of other Okanagan and Similkameen wineries, Gillis is thrilled with the early arrival of Icewine harvest this year. "It's nice to have a rest at the holidays, we hope every year for this scenario. It is a welcome treat and after a long fresh fruit season, to have Icewine come before Christmas is a great way to cap off a fantastic year." notes Gillis.
The Icewine varieties picked are diverse in BC, ranging from aromatic whites to tannic reds.
The following grapes have been picked for Icewine: Cabernet Franc, Cabernet Sauvignon, Chardonnay, Ehrenfelser, Gewürztraminer, Kerner, Merlot, Oraniensteiner, Petit Verdot, Pinot Blanc, Pinot Noir, Riesling, Roussanne, Syrah, Vidal, Viognier and Zweigelt.
With the arrival of the Icewine harvest, wine lovers across BC can look forward to an excellent crop of new Icewine releases in 2017.
To keep up-to-date on the harvest, follow @winebcdotcom, #BCHarvest2016 and #Icewine on Twitter and Instagram.
WINES OF MARKED QUALITY ICEWINE REGULATION
The Wines of Marked Quality Regulation closely controls the production of BC VQA Icewine. The key stipulations are that harvesting takes place at temperatures of -8˚C (17.6˚F) or lower, and the pressed grape juice is a minimum of 35 Brix. Artificial refrigeration of grapes, juice, must or wine is strictly prohibited.
Producers must contact the BC Wine Authority to report the time harvesting begins, and to confirm prior reported tonnages and exact areas of vineyard left for Icewine production.
VITICULTURE
Harvest dates: Can be as early as November or as late as February. Producers track weather systems for early warnings of imminent cold weather.
Permitted varietals: The most common are Riesling, Vidal, Ehrenfelser, Pinot Blanc, Pinot Noir, Merlot, Cabernet Franc, and Gewürztraminer, though Zweigelt, Maréchal Foch, Cabernet Sauvignon, Kerner, Lemberger, Oraniensteiner, Gamay Noir, Muscat and Merlot are all used as well.
Viticultural techniques: Most vineyards are netted against predators, particularly birds.
Harvesting method: Principally by hand. Usually takes place during the night or at dawn.
Harvest temperatures: Although regulation states the temperature must be at least -8˚C (17.6˚F), producers often wait for -10˚C (14˚F) or lower before harvesting.
ICEWINE VINIFICATION
The following are general production techniques.
Pressing: The frozen grapes are brought as quickly as possible to the winery where they are pressed. One press cycle can last up to six hours.
Yields: Yields can range from 150 to 300 litres per ton (compared to approximately 600 litres per ton for dry table wines).
Fermentation: Temperatures generally range from 15 to 20˚C over a three- to 12-week period, depending on the Brix and strain of yeast. Fermentation is generally stopped using cold temperatures resulting in alcohol levels between 9 and 12 per cent.
Acidification: Icewines can be acidified or deacidified.
Yeast: Icewine is inoculated, generally using strong fermenting yeast such as PDM.
Cold and heat stabilization: Icewines are stabilized before bottling.
Filtration: Generally using an earth and a pad filter, as membrane filters can easily clog.
Bottling: Generally, within 6 to 9 months of the harvest.
Ageing potential: Icewines, particularly from Riesling, can age for more than 10 years but are often preferred young and fresh.
About British Columbia Wine Institute
Since 1990, the BCWI has played a pivotal role in taking BC's wine industry from a vision to an internationally recognized niche region producing premium wines and providing exceptional wine tourism experiences.  The BCWI markets the wine and regions of BC; delivers quality trade, media and consumer tastings; and acts as the voice of BC's wine industry by advocating to government on behalf of industry that contributes $2 billion in provincial economic growth annually.
The BCWI represents all wineries in British Columbia to grow the premium market share for the Wines of British Columbia, while driving awareness of our world-class wines and tourism product – currently drawing 800,000 visitors with $476 million in tourism and tourism employment related economic impact every year. For more information about BC Wine Institute's programs and services, please visit: WineBC.com
For details on BC VQA and the Wines of British Columbia, go to WineBC.com or like the Wines of British Columbia Facebook page and follow  @WineBCdotcom on Twitter.
Feature image:
Tantalus Vineyards Icewine Harvest 2016 from BC Wine Institute