What's your BC Wine Country Story?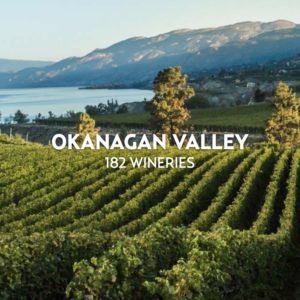 THE OKANAGAN VALLEY
Boasting 84% of the province's vineyard acreage, the Okanagan Valley is BC's premier grapegrowing region. With an ever-changing panorama, the valley stretches over 250 kilometres, across sub-regions, each with distinct soil and climate conditions suited to growing a range of varietals from sun-ripened reds to lively fresh and often crisp whites.
With quiet family-run boutique vineyards to world-class operations, the Okanagan Valley wineries are rich in tradition and character, consistently ranking among the world's best at international competitions.
COMMON VARIETALS
MERLOT
PINOT NOIR
CABERNET SAUVIGNON
CABERNET FRANC
SYRAH
PINOT GRIS
CHARDONNAY
GEWÜRZTRAMINER
RIESLING
SAUVIGNON BLANC
For the complete list of Okanagan Valley wineries click here or scroll to the bottom of this page.
Like the landscape, each bottle of BC wine delivers a diverse sensory experience that is as extraordinary as the province itself. Every sip is a genuine reflection of the people that created it and the land from which it is crafted.We invite you to discover BC Wine Country and encourage you to visit some of the lesser travelled regions.BC's thriving wine industry attracts talented winemakers from around the world. Each of these trained professionals has brought his or her knowledge, passion and fresh ideas to our wine communities helping to shape an identity and style unique to British Columbia.
In 2017, BC wineries won more than 2,000 medals in national and international competition. With each new accolade, our wine regions continue to expand their reputation for quality and solidify their place amongst the best in the world.
#Visit and #Vote and you could be a winner!!
Cast your vote in the following categories!
Best BC Sparkling
Best BC Rosé
Best BC White Wine
Best BC Red Wine
Best Overall Culinary Experience
Best Local Food Product
Best Restaurant Showcasing Local Foods
Best Winery Restaurant
Best Architecture
Best Winery Pet
 Best View
Best Tasting Room
Best Patio
Best Winery Experience Overall
Best Winery Tour
Best Place to Bring Out-of-Towners
Best Kept Secret
Best Winery Accommodation
Vote* for your Best of BC Wine Country and enter to win #BestofBC18 here: www.surveymonkey.com/r/bestofBCwine18
Remember, all you need to do is vote and post! Voting ends at midnight, August 17 PST. Thank you for supporting the BC Wine Industry and BC wine country.
Please click here to see the official rules and regulations for "The Best of BC Wine Country 2018"
When visiting BC Wine Country before you go: Do your homework and a bit of research about the wineries you wish to visit. Check the winery website to find out their months, days and hours that their Tasting Room is open. Know if you need to book your tasting in advance of your visit. Many wineries are now so busy there may be times that they are unable to accommodate you. It will be a much better visit if you have a confirmed appointment. Be on time. Expect to pay for your tasting, some, but not all wineries refund all or a portion of the fee if you purchase wine. Plan ahead for a designated driver or use the services of a wine tour company. Limit the number of wineries you visit in a day. A more leisurely timeline will increase your enjoyment. For the best overall experience, I like to limit my daily visits to three, maximum two wineries if a winery lunch is on the agenda.
About British Columbia Wine Institute
Since 1990, the BC Wine Institute has played a pivotal role in taking BC's wine industry from a vision to an internationally recognized niche region producing premium wines and providing exceptional wine tourism experiences. The BC Wine Institute markets the wine and regions of BC; delivers quality trade, media and consumer tastings; and acts as the voice of BC's wine industry by advocating to government on behalf of industry that contributes $2.8 billion in provincial economic growth annually.
The BC Wine Institute represents all wineries in British Columbia to grow the premium market share for the Wines of British Columbia, while driving awareness of our world-class wines and tourism product – currently drawing 1,000,000 visitors with $600 million in tourism and tourism employment related economic impact every year. For more information about BC Wine Institute's programs and services, please visit: WineBC.com.
* Be sure to check the winebc.com website to be sure your choice is on the eligible list.
The Province of British Columbia announced in July, 2018 that all four regions have been approved as Geographical Indications, meaning soon you will see confirmation on labels that your certified BC wine is from one of these regions: Thompson Valley, Shuswap, Lillooet, Kootenays.
For details on BC VQA Wine and the Wines of British Columbia, go to WineBC.com, like the Wines of British Columbia Facebook page and follow  @WineBCdotcom on Twitter.
Here are the Okanagan Valley wineries to visit:
| | |
| --- | --- |
| | Rosé, Red Wine Blend, White Wine Blend |
JoieFarm

Sparkling Wine, White Wine Blend
Lang Vineyards

Icewine, Sparkling Wine, Late Harvest, Fortified Wine, Red Wine Blend, White Wine Blend
Quails' Gate Winery

Rosé, Meritage, Icewine, Late Harvest, Fortified Wine, Red Wine Blend, White Wine Blend
The Hatch

Rosé, Red Wine Blend, White Wine Blend
The Vibrant Vine

Rosé, Icewine, Sparkling Wine, Red Wine Blend, White Wine Blend
Stats and images courtesy of Wines of British Columbia