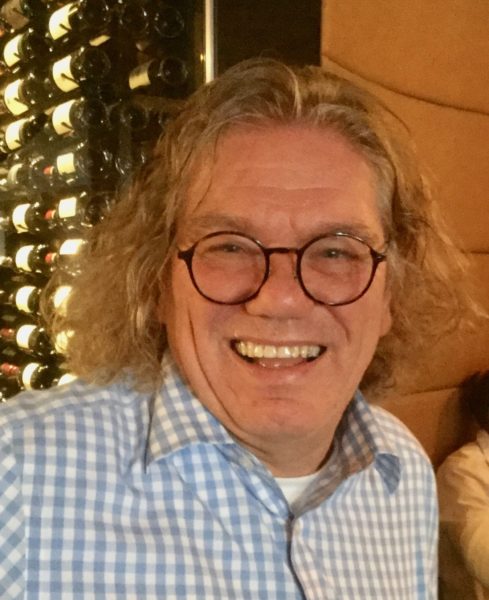 I was thrilled to be invited to an intimate tasting with Germany's iconic Ernst Loosen, winemaker at Dr. Loosen wines.  In 2001, he was recognized as "German Winemaker of the Year" and four years later, Decanter magazine named him "Man of the Year".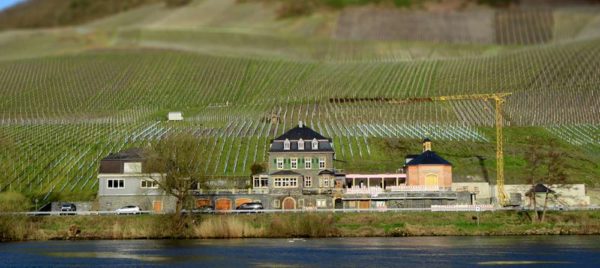 The Dr. Loosen estate, located on the Mosel River, the oldest wine region in Germany, has been family owned for over 200 years.  It is one of the largest producers in the region with an annual production of around 70 000 bottles.  This is the land of steep slate covered slopes and terraced hillsides which face either south or south-west.  Once Ernst took over the operations, quality improved and the accolades soon followed and he winery is now a member of the German VDP, an association of top rated wineries, as one of the 10 best estates in Germany.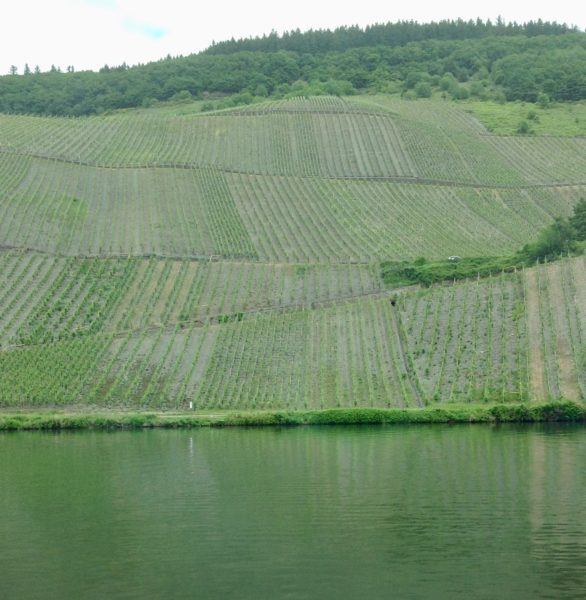 GG, or Grosses Gewächs the German equivalent of Grand Cru, is a designation given to top quality dry wines from all regions.  Dr. Loosen is fortunate to have six classified GG vineyards – Graacher Himmelreich, Graacher Domprobst, Wehlener Sonnenuhr, Urzinger Würzgarten, Erdener Treppchen and Erdener Pralat.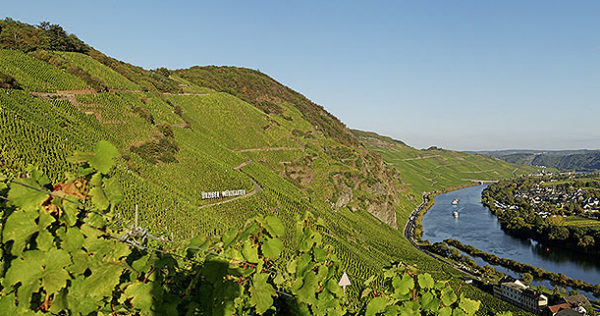 Interestingly, Dr. Loosen has family ties to another iconic German winery, J.J. Prüm located in Bernkastel-Wehlen, just a few kilometres downstream.  The Prüm family produce the traditional fruity styled wines – Kabinett, Spätlese, Auslese, Beerenauslese, Trockenbeerenauslese and Eiswein.  They, too, are excellent.
Ernst took over the family winery in 1988.  After many years of making only traditional sweeter styled wines, Ernst decided in 2008 to take the advice of his Opa or paternal grandfather who always maintained that Riesling from the Mosel, should be made dry as they were in earlier years. His grandfather never touched a Riesling that was less than 15 or 20 years in the bottle.  Traditionally, wines were fermented with wild yeasts in big neutral oak barrels and left for long periods of time – two years or more and sometimes up to 8 years in the best years.  Two hundred years ago they were often left in barrels for twenty to thirty years.  Sterile filters, which allow for sweeter wines to be made without refermenting, have only been around since 1932.  Before that the wines were always dry.  In fact, the term Kabinett was only introduced in 1971.  Before then, such wines were labelled 'Naturwein' or natural wine.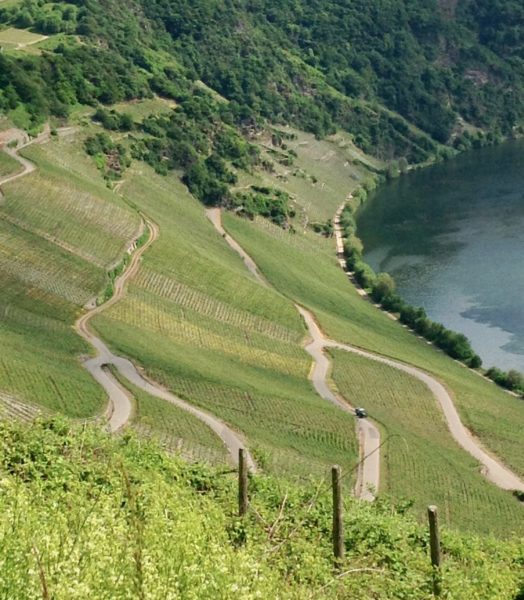 In 2008, after sampling some of his Opa's amazing collection including a 1944 vintage, Ernst was convinced.  He returned to making dry wines designed for long term aging.  He began to make his top-quality wines differently – leaving the wines on the lees with no battonage or stirring, and in barrel for two, and sometimes as much as eight, years.  The wines are topped up monthly.  This helps the wines become perfectly mature yet not oxidized.  He told of a case where a wine spent twenty-seven years in barrel and still had freshness.
The GG wines are made dry but Loosen also makes sweeter style wines people are familiar with.  The sweeter wines have about 10 grams per litre of acidity and 2.9 – 3.1 pH.  The drier wines are 7 grams per litre acidity.  Sweeter wines are not aged on the lees, since this would result in refermentation.
Ernst mentioned that due to the soil composition, the well-drained middle Mosel never experienced phylloxera, even though it was a problem in regions to the east and west.  This means that the vines here were never ripped out and replanted.   The vines are very old and have very deep roots.  In the five GG vineyards, the vines are a minimum of one hundred years old, resulting in loose bunches of small berries with thick skins, which offers protection from disease.    Accordingly, the grapes produce much less juice and the resulting wines are darker in colour.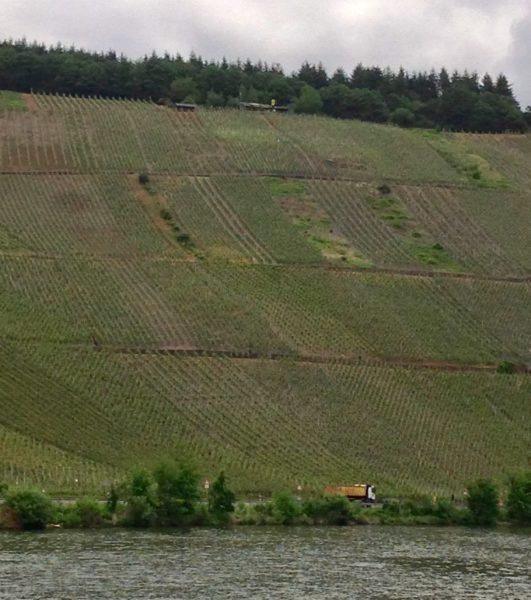 Slate is very high in potassium, a natural fertilizer.  Every three years they add a bit of organic matter to keep the microbial life of the soil healthy.  The old vines have low vigor, so the grapes never get more than 12 or 12.5% ABV with 120 – 140 days hang time.  They get perfectly ripe, but not over ripe.
Ernst believes in decanting aged Rieslings and recommends not serving them cold.  He once had a bottle that had been open for six weeks and it was still fine.
Guests invited to West Oak, one of Yaletown's top-rated restaurants, tasted the following highly acclaimed wines: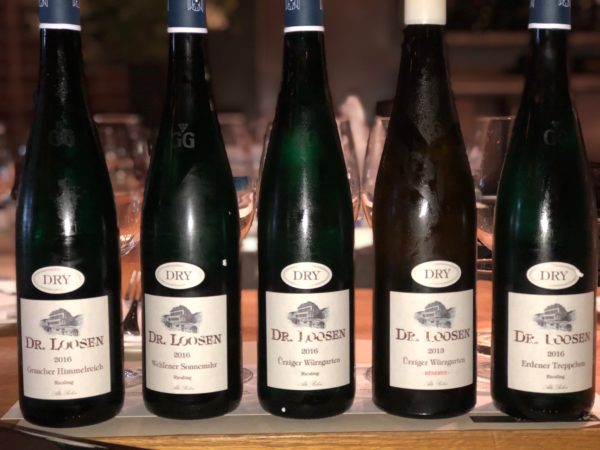 Graacher Himmelreich Riesling GG Old Vines
Lots of blue slate give this wine a minerality and an aging potential of many decades.  Natural yeasts, natural clarification through extended maturation.  Twelve months on full lees in neutral oak barrels.  Production is small 2500 – 3500 bottles per year.
Wehlener Sonnenuhr Riesling GG
The wines from this comes from un-grafted vines on a steep and rocky vineyard.  The blue slate produces delicate wines with noticeable minerality and crisp acidity with flavours of white peach and lemon with floral, herb and spice notes.
Erdener Treppchen Riesling GG
The name means 'The Little Staircase of Erden' after the stone staircases built into the hillside so workers could get into the vineyard.  The red slate soil produces more masculine wines.
Ürzigner Würzgarten Riesling GG
'The Spice Garden of Ürzig' is a steep sided, red volcanic soil vineyard with un-grafted vines.  One year in the barrel.  Earthy and spicy with grapefruit, pear and herbs.
Ürzigner Würzgarten Riesling GG Réserve
An older vintage of the above wine.  The vineyard has red volcanic soil, not slate.  The Réserve spends two years in the barrel with full lees contact with no battonage and another two years of bottle age resulting in a wine that is more elegant with more finesse.  Best when opened for three days.
Ernst Loosen is a passionate winemaker and a gregarious and animated storyteller.  In addition to all the other wines in his cellar, he is a big fan of Burgundy and has 10 000 bottles of Burgundy in his collection.  If you should ever find yourself traveling through the Mosel, I'd recommend getting in contact with Ernst.  He is always happy to see people from Canada and I have no doubt you'd hear a good story or two as you sampled some top-quality Riesling.