Chicken Breast and Cabbage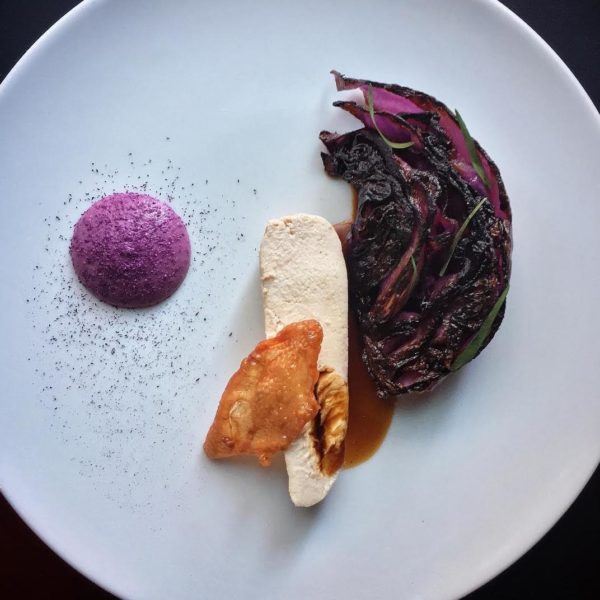 Serves 4
Ingredients:
2 boneless skinless chicken breasts
1/4 cup buttermilk
2 sprigs tarragon
2 small purple cabbage
1/2 cup vegetable stock
2T red wine vinegar
2T butter
Canola oil
Method:
Bag chicken breasts with a sprig of tarragon and buttermilk. Poach at 160F for 40 minutes.Cut one head of cabbage into quarters, dice up the other. Add the dice to a pan on medium high heat. Sautée until tender and add vegetable stock. Let simmer for 10 minutes then add to a blender and purée until smooth.
Sprinkle the quartered cabbage with salt and canola, add to a hot pan on high heat. Sear for 5 minutes until charred, then flip and sear the other side. After two minutes, add butter, tarragon and red wine vinegar, baste.
Plate the cabbage and purée, slice chicken breast and drizzle with the butter sauce from the cabbage.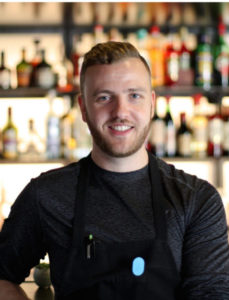 A born-and-bred Vancouver native, Josh Gale takes immense pride in highlighting seasonal, high-quality ingredients from local farmers, foragers, purveyors and producers across the Pacific Northwest.
Originally self-taught, Josh caught the kitchen bug after being laid up with a snowboarding injury. Deciding to forge his own path, he promptly left his 9-to-5 job and immersed himself in the culinary world, seeking advice and mentorship from top chefs at internationally acclaimed restaurants such as Vancouver's Hawksworth and Café Boloud and Gramercy Tavern in New York.
With talent and determination, Josh worked his way up the line and into the kitchens of such notable Vancouver restaurants as Fable, Nicli's Next Door and, most recently, the award-winning Wildebeest.
In his Executive Chef role at Juniper Kitchen & Bar, Josh's passion for the bounty of our region has found a home where it dovetails perfectly with the restaurant's Cascadian and West Coast focus.
Follow Josh on Instagram: @thechefoutwest