28th Annual Vancouver Magazine Restaurant Awards
Gold, Best Upscale Restaurant 
Held yesterday at the Sheraton Wall Centre, Vancouver Magazine announced the results of their revered 2017 Annual Restaurant Awards. Hawksworth Restaurant is honoured to have received Gold in the category of 'Best Upscale Dining' for the 6th consecutive year.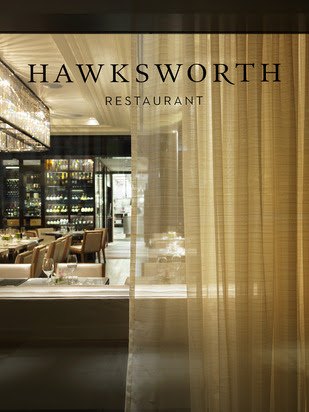 "[Hawksworth] continues to perfect a mélange of imaginative food, an amazing wine list and note-perfect service that make it the obvious choice when the occasion – be it a 50th wedding anniversary or an impromptu Tuesday night – demands that everything be just so," explains Vancouver Magazine.
Among excellent company, such as CinCin, Cioppino's and The Pear Tree, this accolade speaks to the restaurant's ongoing commitment to exceptional cuisine, service and an unparalleled dining atmosphere in Vancouver. This year also marks the first year with Chef Chris Stewart at the helm of the Hawksworth kitchen as Chef de Cuisine and has since become an essential member to the hardworking and dedicated team. Also to thank are Pastry Chef, Wayne Kozinko and Director of Operations, Chad Clark, both of whom have been integral supports since the restaurant's opening in 2011.
"Despite Hawksworth being the name of the restaurant, I have an entire team – from chefs to servers to dishwashers and managers – to thank for this", says David Hawksworth. "Their dedication, hard work and gusto for their industry is incredible to witness and I'm truly honoured to have them be a part of the restaurant's success."
Hawksworth Restaurant would like to congratulate all the winners of the 28th annual Vancouver Magazine Restaurant Awards and thank the magazine itself for their continued support and recognition of Vancouver's flourishing culinary scene.
Website: www.hawksworthrestaurant.com 
Facebook: /HawksworthRestaurant 
Twitter: @HawksworthRest 
Instagram: @HawksworthRest
About Hawksworth Restaurant: 
Located in the heart of downtown Vancouver, Hawksworth Restaurant embraces contemporary Canadian cuisine with a goal of setting forth a culinary legacy rooted in regional produce that celebrates the cultural diversity of Vancouver. Six-time winner of Vancouver Magazine Restaurant Award's Best Upscale Restaurant and rated best restaurant in western Canada by Canada's 100 Best, Hawksworth Restaurant is grown up and glamorous, yet relaxed and welcoming, ready to deliver an array of memorable dining experiences. Approachable menus reflect seasonality and spontaneity, whilst demonstrating the highly skilled technique and relentless drive for perfection that has become Hawksworth's trademark. Three distinctive rooms, including Hawksworth Cocktail Bar are complemented by two elegant private spaces, designed to reflect the vibrancy, creativity and quality of the cuisine.
Open daily for breakfast, lunch and dinner. Call 604.673.7000 for reservations or visit www.hawksworthrestaurant.com