Twenty- four hours of blissful relaxation, decadent dining, sumptuous surroundings and top rate entertainment at Tulalip Resort Casino. Easily one of my favourite getaway spots, I had an opportunity to experience a bit more of the resort than I had in previous trips.
Tulalip Resort Casino makes a terrific spot if you're thinking play-cation, stay-cation, quick unplanned getaway and a chance for all out fun times. Recently having completed an extensive renovation which turned some pretty nice accommodation in to luxe accommodations worthy of a four diamond winner your stay at Tulalip Resort Casino will not disappoint. In fact be prepared to have the time of your life!
From the moment you step off the elevator into the spacious corridors walking on carpets featuring original designs and past walls with traditional artwork and artifacts you begin to appreciate the history of the Tulalip Tribes and their proud heritage it represents. The rooms are opulent and spacious well beyond what you would expect from a destination hotel. It appears no expense was spared in the process of turning all 360 rooms into some of best equipped, beautifully decorated and comfortable hotel rooms I've ever stayed in.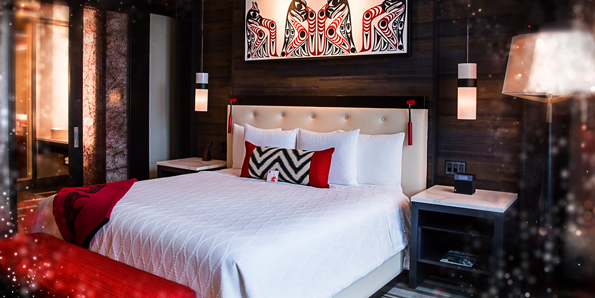 Featuring many amenities that you may not expect. While many hotels have forgone all but the simplest amenities Tulalip has added more. Plush wool carpeting, in-room refrigerators, LED reading lamps, and USB power outlets throughout the room: easier to use heating and cooling controls, no-fog mirrors, Blue Tooth enabled media hubs, 55" 4K OLED Smart TV's, and  new instant-access high speed WIFI. 
The bathrooms are meant to share with a separate w.c., two sinks, a vanity station and a rain shower big enough for two. The bathroom features good lighting, ample room for all your toiletries and an abundance of soft, fluffy towels and plush robes in addition to the basics like a hair dryer, quality soaps, shampoos, body lotions and a selection of samples from the TSpa. 
With a minimum of 500 square feet you have more than enough space to get comfortable. Adjacent to the floor to ceiling windows sits a cozy sofa with a desk in the corner if you really have to spend some time surfing the internet.
I think one of the best features of the rooms is the feeling of serenity and relaxation. The art work in each of the rooms is unique and more like art you would expect to see in a gallery.
I loved the small touches, comfort pillow, wool throw and the plush bench at the end of the bed. I appreciate the thought that went into features such as independently activated pendant lights and the integrated reading lights. What I have been raving most about is the king size bed that is absolutely heavenly with quality linens, down pillows and cozy duvets.  No matter whether you dance the night away or you're an early to bed early riser you'll enjoy a great night's sleep in the most comfortable bed ever.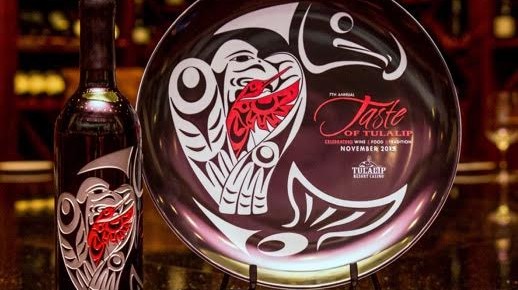 Wine lovers take note that a limited number of Taste of Tulalip 2015 showcased Côte Bonneville wine is still available for purchase and on display in select rooms.Not only is the wine excellent but the artwork on the bottle makes it a true collector's item. 
Here is what Washington Tasting Room had to say about this limited edition wine:
 "Tulalip Resort Casino's wine guru, Tommy Thompson, and this year's Taste of Tulalip's honorary winemaker, Kerry Shiels, have announced their epoch-making collaboration for the 7th anniversary Taste of Tulalip Wine Blend. Creating a unique blend of wine that showcases the remarkable grapes of DuBrul Vineyard and exceptional winemaking of Côte Bonneville was the driving force, in partnership with the aesthetic expression of the Tulalip culture—conveying a sense of place, time and teamwork.
This celebratory wine is made from 100% DuBrul Vineyard fruit, blended specifically for the two-day event by Shiels and the Tulalip wine team. It is composed of traditional Bordeaux grapes — 80% Cabernet from various terroir within the 45-acre DuBrul Vineyard, 10% Merlot, and 10% Cabernet Franc. It is matured in French oak (50% new) for 10 months and is approachable now, but will continue to improve with time."
This is only one aspect of my 24 hours away at Tulalip Resort Casino earlier this month. More about what I ate, what I drank, what I found entertaining and how I spoiled myself, to come…