On August 19, 2017, the BC Pinot Noir Celebration returns with 34 top Pinot Noir producers coming together with five of Western Canada's top chefs for an unforgettable evening of wine and food at Kaleden's famed Linden Gardens.
Now in its fourth year, the BC Pinot Noir Celebration (BCPNC) is bigger than ever before. In total, 47 wineries submitted their wines for the event. After a rigorous tasting by a panel of discerning judges of some of Vancouver's top sommeliers (DJ Kearney, Lisa Haley, Jason Yamasaki, Kurtis Kolt, Michaela Morris, Keith Nicholson, Roger Maniwa, Mark Taylor and Sebastien Le Goff), the field was whittled down to 34 Pinots which guests will have the chance to sample at the celebration.
In addition to increasing the number of wineries, the event will also see more chefs in order to highlight the pairing versatility of Pinot Noir. Returning chefs Cameron Smith and Dana Ewart (Joy Road Catering) will be joined by Alex Sielmann (Frog City Café), Matt Batey (The Nash) and Mike Bernardo (Vij's Restaurant) who will treat guests to an exquisite cocktail-style dinner.
"The idea behind this event was to celebrate Pinot Noir and showcase the number of top quality producers we have in BC," said David Paterson, Winemaker/GM at Tantalus Vineyards and BCPNC President. "We are extremely proud to see how much this celebration has grown and how it has really solidified Pinot Noir as one of BC's signature varietals."
Another significant component to the celebration is education and creating an open forum to discuss the varietal and compare the different styles produced. Breakout sessions provide a chance for guests to delve deeper into the tasting experience, while the keynote address provides interesting dialogue and provides perspective on how BCs Pinot Noirs compare with International benchmarks.
Past events have seen the likes of Karen MacNeil (The Wine Bible) and Steven Spurrier (Decanter) delivering the keynote address. This year, we are honoured to have Master of Wine Richard Hemming as our keynote speaker. Richard is an award-winning wine writer and educator from the UK who is a primary contributor to JancisRobinson.com among other influential wine publications. He will share stories of the heartbreak grape around the world as well as his experience with the Wines of British Columbia in general as he explores our beautiful wine region for the first time.
The 2017 event will also feature a sparkling wine reception, salon-style tasting, breakout educational session and live music from renowned local artists Jack and Jill. The 3 p.m. to 10 p.m. celebration will welcome over 300 guests to sip and taste through the best BC Pinot Noirs. Tickets ($175) are available now at BCPinotNoir.ca.
The 2017 BCPNC is proudly sponsored by ATS Healthcare, the BC Wine Institute, Bell Media and Food & Wine Trails Magazine as well as a private anonymous donor who contributed support for the love of Pinot.
Participating Wineries:
50th Parallel Estate Winery
8th Generation Vineyard
Averill Creek Vineyard
Baillie-Grohman Estate Winery
Black Swift Vineyards/ The Hatch
Blue Mountain Vineyard & Cellar
CedarCreek Estate Winery
Church and State Wines
Foxtrot Vineyards
Hillside Winery & Bistro
Howling Bluff Estate Winery
JoieFarm Winery
La Frenz Winery
Laughing Stock Vineyards
Liquidity Wines
Maverick Estate Winery
Meyer Family Vineyards
Mirabel Vineyards
Mission Hill Family Estate
Moraine Estate Winery
Niche Wine Co.
Nk'Mip Cellars
Noble Ridge Vineyard & Winery
Okanagan Crush Pad
Privato Vineyard & Winery
Quails' Gate Winery
Scorched Earth Winery
Spierhead Winery
Stag's Hollow Winery
Stoneboat Vineyards
Summerhill Pyramid Winery
Tantalus Vineyards
Tightrope Winery
Unsworth Vineyards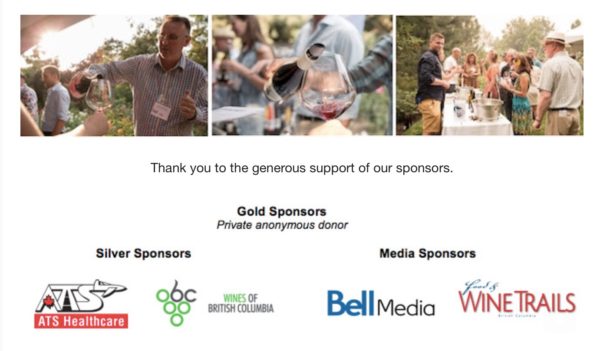 About BCPNC
The BC Pinot Noir Celebration (BCPNC) was conceived in 2013 when a collection of passionate Pinot Noir producers across the province got together (over a pint of beer) to discuss a vision to create an event for an intimate group of winemakers and Pinot Noir lovers. The idea was simply to get together for a casual evening to enjoy great wine and incredible food, and open the dialogue about Pinot Noir in BC, how it compares to benchmarks around the world, and where the varietal is headed. The event is coordinated and managed 100 per cent by dedicated volunteers from the local wine and event industry.