I've said it before, and this will not be the last time, but the BC wine industry is home to some of the nicest people in the province. This is especially true with a very special group of people known as, "The Garagistes". Who are these people you may ask. They are the 'small guys' who produce less than 2000 cases of wine a year. Indeed, I met one who has only made 300 cases in his first year. People who own wineries, who are winemakers, or both, tend to be passionate people, as anyone who has toured wine country can attest to, but this applies doubly to these folks who often hold down day jobs in addition to pursuing their dream.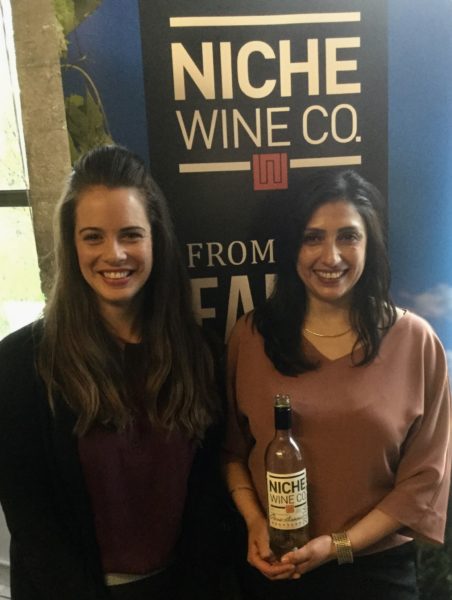 They held their first event on the grounds of Meyer Family Vineyard in Okanagan Falls. For the next two years there was one Vancouver event and one in the Okanagan (either Kelowna or Penticton). Now in their four year, they are including a trip to Parksville as well so wine lovers on Vancouver Island get a chance to discover these 'cult' wineries. Garagiste North is currently home to about twenty 'small guys' and their annual events offer the public an opportunity to sample their impressive wares.
Here is a small sampling of wines I tried at their recent Vancouver event.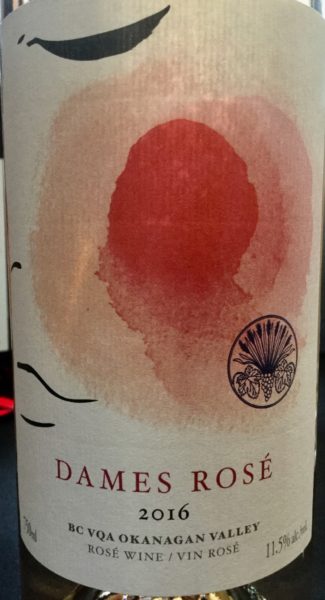 My first stop was to see Mireille Sauve and her latest Dames release, a 2016 Rosé made from Pinot Blanc with a small addition of Pinot Noir. I was impressed. This 11.5% ABV Rosé hits all the right notes with aromas of flowers, ripe wild strawberries, rhubarb, cherries and minerality. Good body and fresh acidity. The wine has lots of fruit and finishes dry. Mireille recommends serving it with Bouillabaisse and it made me think of grilled chicken and Greek salad. Try it and see for yourself, but buy it soon as only 220 cases were made.
I was very pleased to meet Christine Moulson, graphic designer at Strangefellow's Brewing among other things, who was responsible for designing the eye-catching labels for the first three Dames wines.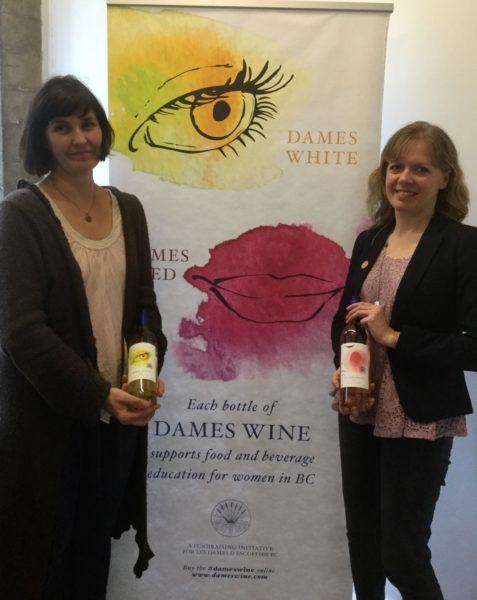 While I was there I took the opportunity for a re-taste of the Dames White and Red.
The 2015 White, a Pinot Blanc dominant blend with 10% Riesling and 10% Gewürztraminer, shows aromas and flavours of lime, apple, peach and subdued pineapple. It is bright on the palate and has good body.
The 2013 Red, now almost 4 years old, displays red and black fruit with black current, cherry and blue berry standing out.   Both wines have aged and improved very nicely since I tasted them upon release. I plan to buy more.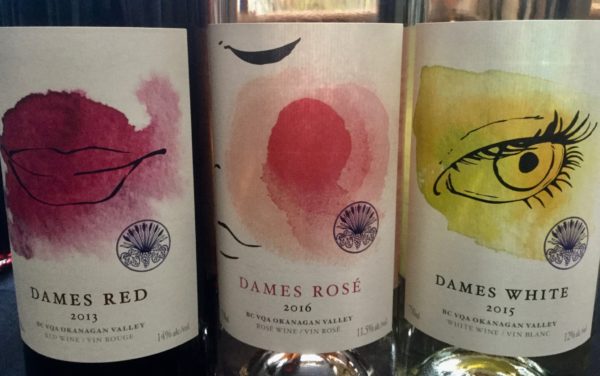 Mireille was also pouring the Carson 2014 Pinot Noir.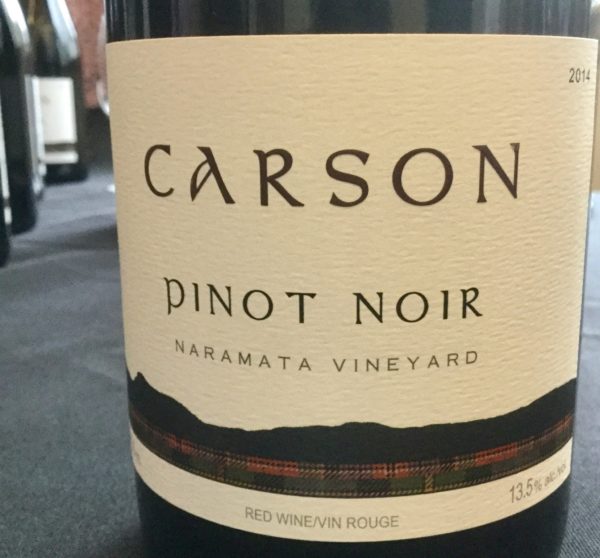 Chris Carson is the winemaker at Meyer Family Vineyard and this is special project wine. The nose is layered with aromas of earth, ripe dark fruit, bright cherry and strawberry. Fresh on the palate followed by a medium-long finish. A great example of BC Pinot Noir.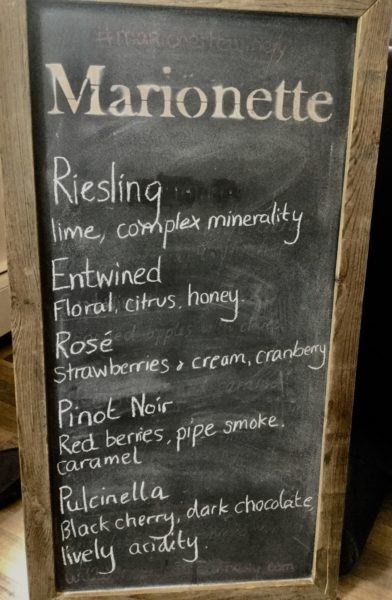 I was pleased to have the opportunity to try the line up from Salmon Arm's Marionette winery.   Amanda Eastwood and Jamie Smith offered five wines: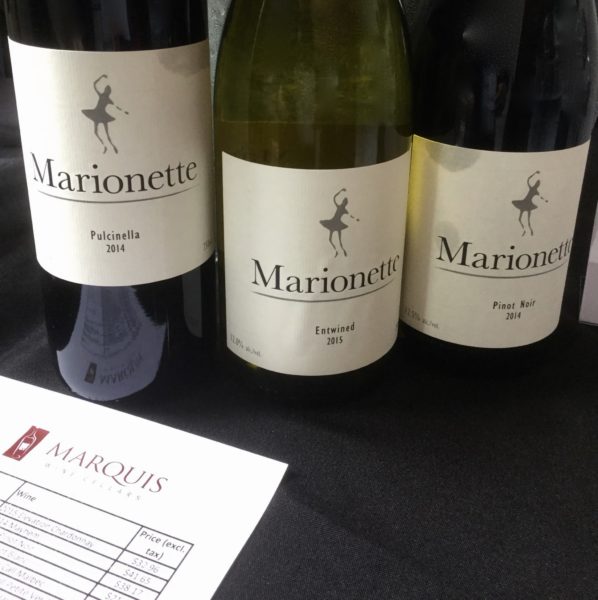 Riesling – 12% ABV – bright and dry with juicy apple and mouth-watering lime.
Entwined – at first I was suspect at a Pinot Gris and Siegerrebe blend. Wow! Delicious.
Rosé – Merlot and Zweigelt. A delicate nose with good balance and a medium-plus finish.
Pinot Noir – from fruit sourced in Peachland. Bright, slightly lean, medium bodied.
Pulcinella – unoaked Zweigelt made in an Italian style, light and bright in way that reminded me of Beaujolais.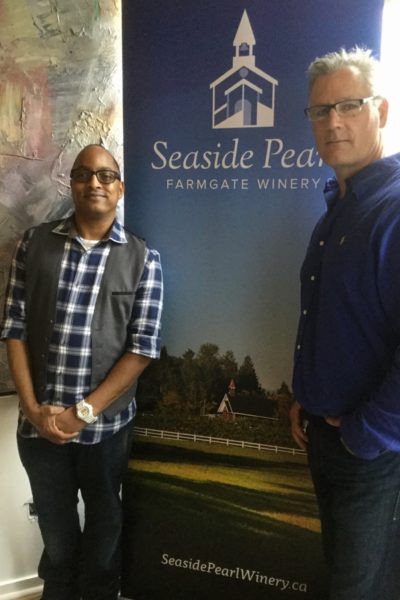 Seaside Pearl – just opened, David Zimmerman's Seaside Pearl is a recent addition to the other two wineries in the Mount Lehman area of Abbotsford. Find them housed in a chapel styled building on Olund Road, just off Harris. BC Wine Studio's Mark Simpson helped them get up and running.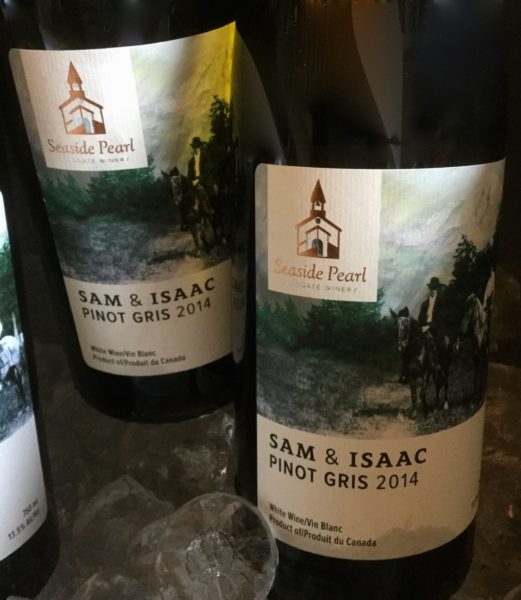 They brought two wines A dry Pinot Gris and a Red blend made from Merlot, Cab Sauvignon and Malbec. Very nice, red fruit forward.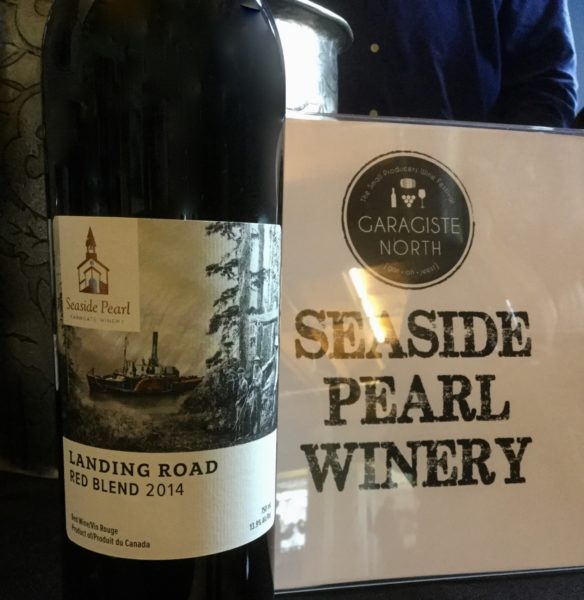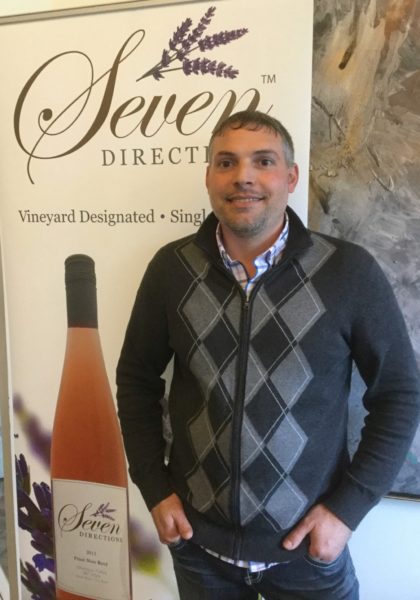 Seven Directions – Kristine Witkowski is all Rosé all the time.   Consultant Daniel Bontorin was on hand pouring a 2016 Cabernet Franc Rosé, which was very pale pink in colour, tinged with just a hint of orange.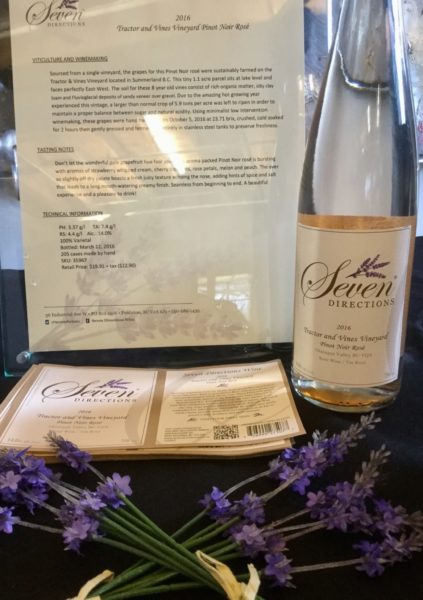 Good mouthfeel and texture and more flavour than the colour would suggest.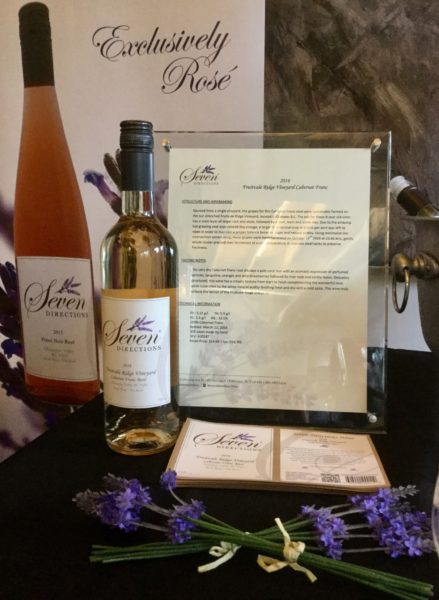 Cherry aromas and flavours dominated the Pinot Noir Rosé, which had a creamy texture and a medium-plus finish. These are terroir driven wines.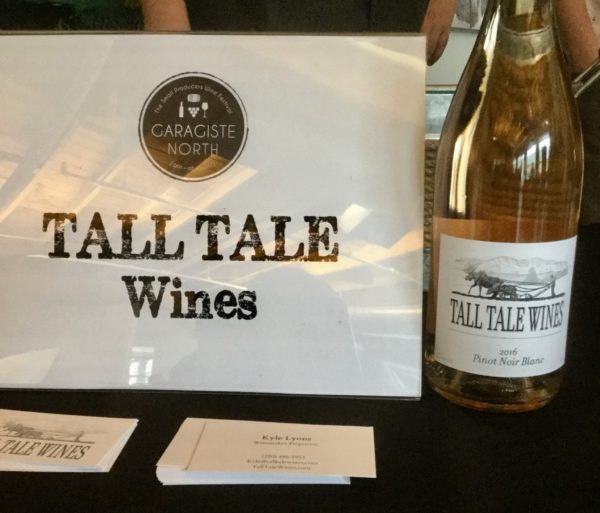 Tell Tale Wines – who? This is the new kid on the block with two new, initial releases. The Pinot Noir Blanc, made from Okanagan Falls fruit, was impressive for a first release with juicy strawberry and cherry on the nose that carries through to the palate. At 13% residual sugar, this balanced wine makes for a great patio wine as well as pairing nicely with a wide variety of dishes. The second wine was very interesting, a 'nouveau' style Syrah (whole cluster and carbonic maceration for the geeks). Wow, a big nose and lots of flavour and a medium-long finish. Apparently this is a popular trend in Australia.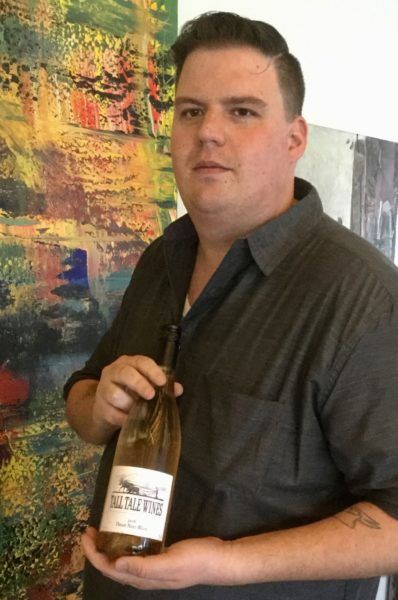 Kyle Lyons, who has thirteen years in the wine industry, makes his wine at Okanagan Falls' Synchromesh winery. Tell Tale's first vintage is only 300 cases.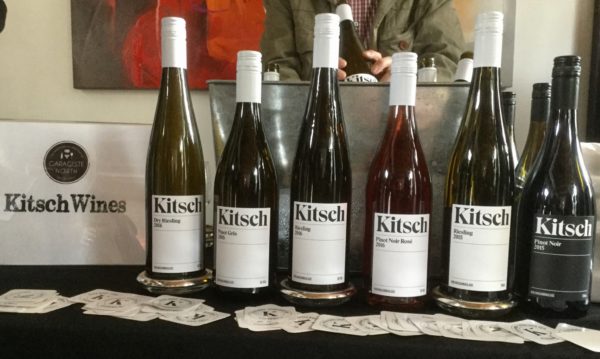 I had heard of east Kelowna's Kitsch Wines some time ago, but have not had a chance to visit or taste their wines until this event.   I was very impressed with their entire flight.   These wines show consistent quality. They brought three Rieslings which ranged from dry to patio in style with 10%, 15% and 20% residual sugar, yet were all very well balanced and each with their own identity. The 2016 Pinot Noir Rosé was delicious and the 2015 Pinot Noir from Lake Country grapes certainly showed a Burgundian influence. One of BC's best. Thanks Chris Turyk for all your help.
(Hmmm . . . It seems I got so wrapped up chatting with Anthony about his Pinots, I forgot to get a photo.  My apologies Anthony.)
Anthony Buchanan – 2016 Pinot Blanc – dry and food friendly with good varietal character.
2014 Pinot Noir – very good, dry, earthy, bright fruit.   I'd age mine for 5 to 8 years.
2015 Pinot Noir – I thought this was much better than the 2014 so I asked about the differences. There were many – different vineyard, different clones, different trellising system, different barrel program and a better year. No wonder they were so different. I'd say Anthony has got Pinot Noir nailed down.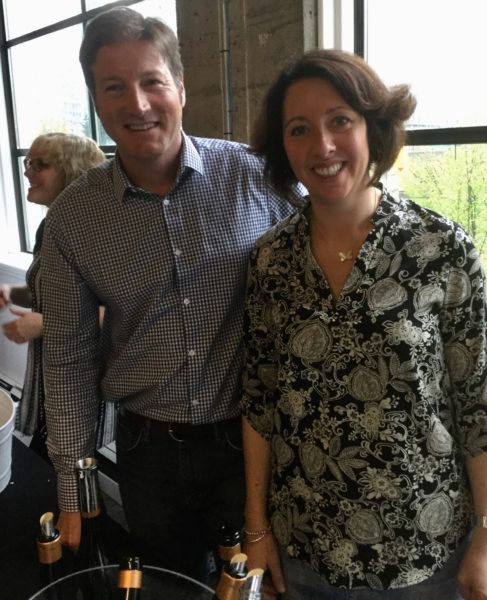 Roche – The self-named Penticton winery of Pénélope and Dylan Roche. Pénélope was born in Bordeaux and has worked in vineyards most of her life. She brings an unbiased outsider's perspective to winemaking and tends to be more experimental as a result. She loves the Okanagan and all it offers a winemaker in terms of climate, soil types and variety.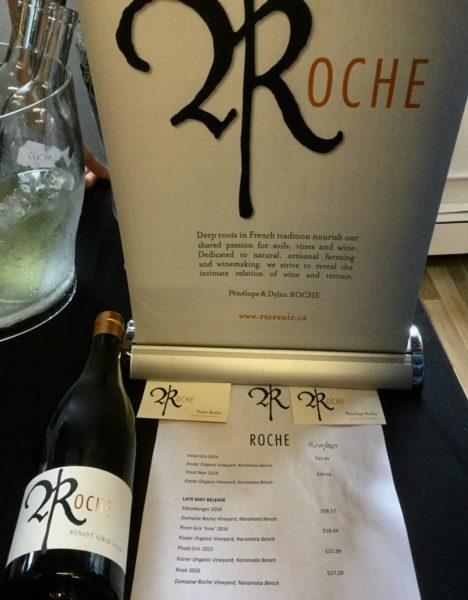 They brought two very different 2015 Pinot Gris wines. The first, fermented in oak, was dry and elegant in an Alsacian style. The other was made in stainless steel and was somewhat similar to a Sauvignon Blanc with bright acidity and citrus notes. The 2016 Schönburger (one of the few who use this grape) again, was dry with elegant stone fruit and finesse. The Rosé was made from Zweigelt and a little aromatic Schönburger. Expect bright juicy red fruit on this very drinkable summer wine. The 2014 Pinot Noir showed classic Burgundian style.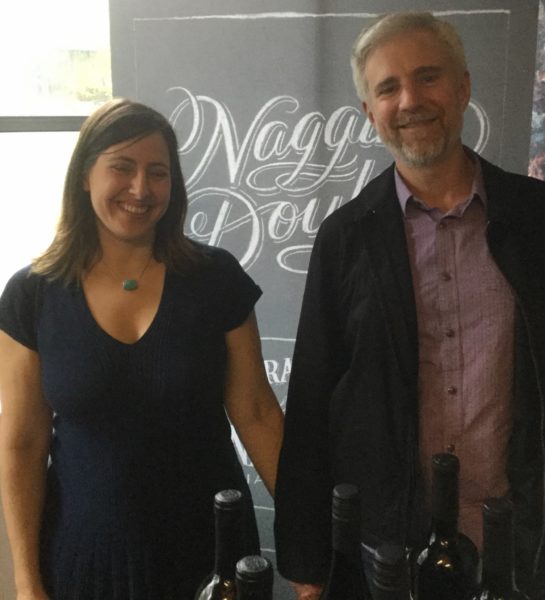 Nagging Doubt – have no doubt about these wines. They are all good.
Rosé – 100% Merlot, this is not a wimpy Rosé.
2015 Pinot Noir – unfiltered, unfined and fermented on wild yeast. Layered with aromas and flavours of earth, forest floor, cherries and minerality. You can taste Burgundy in this one.
2015 Merlot – blackberry, plum and cherry. Very drinkable now but I'd age this one for 3 to 8 years and be greatly rewarded for my patience.
The Pull – a Merlot dominant Bordeaux styled blend. Expect classic Bordeaux character.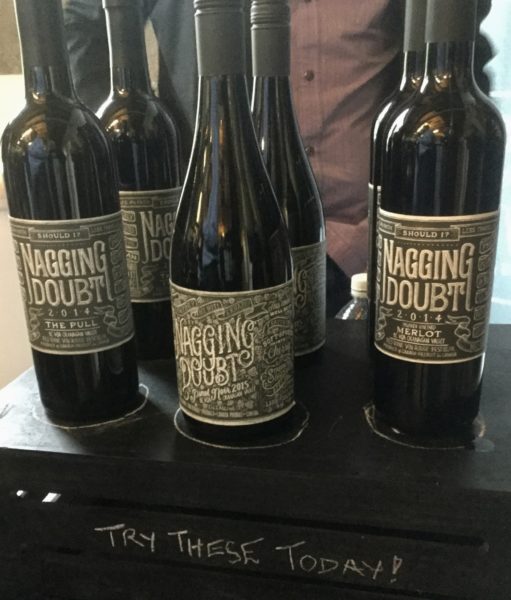 Unfortunately I didn't have the time to get to the remaining eight tables and missed out on some great wines and catching up with good friends. However, this was, without doubt, the best event the Garagistes have put on. Congratulations to all involved, especially Terry Meyer Stone and Jennifer Schell for organizing these events that showcase the amazing wines made by 'the small guys'.
All images: photo credit Sam Hauck