It can be a drag trying to find a balance between quick, fresh and delicious but no more now that Assembli is serving lunch, afternoon break, dinner and late night your way.
Assembli is located on Cambie Street between City Hall and the Cambie Street Bridge and for anyone who is working, shopping or living in the area this is the best place to grab lunch on the fly or sit and take it easy inside their bustling pizza and salad shop. That's right you heard pizza and salad together. Selling one size pizza (a generous 11″) and two sizes of salad.
The best part is that everything is made to order. You can have it your way for both your pizza and your salad. Or you can order from their menu with all the great options and suggestions. If you're still wondering how to fit both a salad and a pizza into your lunch break you'll be pleased to know you can order ahead to pick up.
Looking for a little inspiration? Check our their pizza and salad suggestions. Remember pizzas are one size and one price. Yes, one price, that's remarkable. Of course if you have a smaller appetite choose one of their suggested 6″ pizzas from the menu. Yes of course there is also gluten free for a modest up charge.
Their three menu salads include a protein for no extra charge, and with ten proteins to choose from the biggest challenge may be making up your mind which one protein to choose.
I know I'm a bit fussy so it is great to be able to say: I'll have that and that and that, but not that without judgement. Pizzas and salads can be from the menu list or exactly what you want. You can order online and "build your own" that's waiting for you to take away or enjoy on the spot with a custom or menu suggested salad (in two sizes).
I love this concept and I'm sure it's only going to grow in popularity. Just in case you're looking for more or something else you can try their smoothies, gelato and sobettos. Soft drinks, beer and wine available, special pricing during happy hour.
Of course Assembli is more than a great lunch place, they're open until 10 pm so grab dinner, early or late.
Their story:
"After spending one too many lunch hours hunting for the Holy Grail—a meal that's fresh, fast, and as good as it is good-for-you—we decided to do something. Bring lunch from home. But also put our heads together to create a fast-casual restaurant like no other. We started with salad and pizza, and then we stopped, because who doesn't love salad and pizza?"
Assembli makes it so easy. Order online, or in store if you prefer, select what you want on your pizza or in your salad. Or choose from their popular suggestions. One set price with options and fresh, good for you, quality ingredients. "Build your own", they make it easy peasy.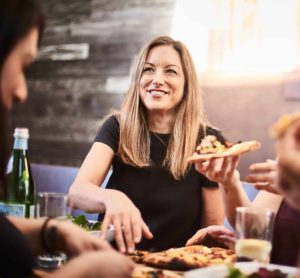 About Assembli's CEO:
Deanna Embury, a Canadian entrepreneur with a love of fresh, good-for-you food. In a chocolate meets peanut butter moment, salad met pizza as Deanna and her background in healthy fresh food joined forces with Mike, Al and Robin from Empresario Partners and their vision of creating Canada's own fast casual custom pizza concept. Together the four entrepreneurs have spent years scouring the world for the best salads and pizzas. Together, they've tested and retested every recipe until it's perfect and curated an impressive selection of toppings in the process.
With a common belief that great restaurants are the guest-centric ones that make the ordering and enjoying process as simple as possible, Deanna and the guys from Empresario are bringing their food service and guest experience expertise to build Assembli for super-busy people who are desperate for fresh healthy food options and want to make their food experience their own.
Assembli on Twitter @myassembli
Facebook Assembli
Instagram myassembli