Okanagan Falls winery earns two awards in global Pinot competition 
Liquidity Wines is raising a glass to their most recent wine world wins. The winery's flavourful 2015 Pinot Noir Estate and 2014 Pinot Noir Equity have earned silver medals at the renowned Mondial des Pinots, the only global competition dedicated entirely to wines crafted from Pinot family grapes.
Now in its 20th year, Mondial des Pinots searches the globe for high-quality wines made from Pinot Noir and other Pinot grapes. Industry experts spend two days tasting over 1,300 wines, which are submitted by more than 460 producers, distributors and importers. The winners are honoured during an annual awards ceremony, which also sheds light on how well these grapes grow in different regions around the world. Liquidity Wines, situated in the heart of the Okanagan Valley, admirably represented British Columbia's exceptional wine country by scooping up two silver awards for their handcrafted Pinot Noir.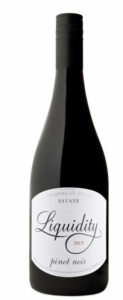 Liquidity's 2015 Pinot Noir Estate is medium-bodied and earthy with notes of red cherry, raspberry, blackcurrant, blackberry and cola. Finishing on a hint of vanilla, the wine explodes with flavours that are bold enough to be enjoyed unaccompanied, but also pair well with salmon, mushroom, roast duck breast and pink peppercorn steak. Enjoy a sample at Liquidity's tasting room or purchase a bottle from the online store while quantities last (priced at $26, plus tax). It is also available at assorted private wine shops and restaurants throughout the Okanagan and Lower Mainland.
The 2014 Pinot Noir Equity is a small-production wine featuring concentrated aromas of strawberry, cherry, raspberry compote, marshmallow, violets and spices. The taste hints at blackcurrant, dark cherries, liquorice, smoke and vanilla, balanced by good acidity and dusty tannins. The Equity is exclusively available for purchase by wine club members, though non-members are welcome to submit a request to join online. Bottles of the 2015 Pinot Noir Equity can be purchased at the Liquidity tasting room, or by phone or email.
A certified sommelier with a Master's degree in Oenology and Viticulture, Winemaker Alison Moyes has spent several years exploring and harvesting vineyards in the Okanagan, and previously worked for two of the region's top wineries: Osoyoos Larose and Stoneboat Vineyards. Her talents have helped Liquidity secure a number of awards this year, including a bronze medal for the winery's 2015 Chardonnay Estate and silver medal for the 2015 Pinot Noir Estate, granted by the 2017 Decanter World Wine Awards; as well as a silver medal for the 2015 Chardonnay Estate and bronze medal for the 2015 Pinot Noir Estate at the 2017 International Wine & Spirits Competition. Notably, Liquidity also received a silver medal for the 2016 Viognier and bronze medal for the 2014 Merlot at the 2017 Wine Align National Wine Awards.
Alison and the Liquidity team is dedicated to crafting wines that express the unique personality of their vineyard. The winery's products are showcased in an airy and aesthetic tasting room adorned by rare art installations, and the attached award-winning bistro features farm-to-table fare complemented by stunning views of Vaseux Lake, the vineyard and the valley. Liquidity's property sprawls across 30 acres with vines ranging in age from a 2014 Riesling to 25-year-old Pinot Noir, Chardonnay and Pinot Gris, adding to the repertoire of Great Wines of the Okanagan™.
The Liquidity Wines tasting room is open daily from 11am to 6pm. For groups of eight people or more, or for VIP tasting experiences, please reserve in advance online at Liquiditywines.com. For more information, please call 778-515-5500 x 2.
About Liquidity Wines
Based in Okanagan Falls, the Heart of Wine Country™, Liquidity offers an artisan approach to winemaking – taking you on a journey of the senses that captures the art of winemaking from grape to glass in a stunning space where guests are wowed by the incredible views, eclectic artwork and locally inspired food. Time is spent enjoying these finer things in life, while in the vineyard care is taken to carefully hand-harvest the best fruit and artfully blend them into fine wines. Liquiditywines.com