TIME Winery announced as Official Wine Partner to the Calgary Flames
TIME Winery is pleased to announce its partnership with the Calgary Sports and Entertainment Corporation and South by Southwest Wine Imports of Calgary. This partnership is exciting for all organizations as it combines an offering of exclusive Okanagan wine to Flames fans while supporting the Flames Foundation. Penticton's TIME Winery will be the official wine supplier of the Calgary Flames and the Flames wine will also be sold at local retailers in Calgary.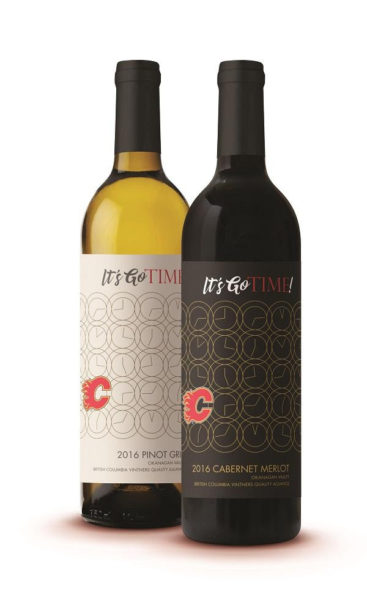 TIME Winery's co-branded It's Go TIME Calgary Flames Pinot Gris and It's Go TIME Calgary Flames Cabernet Merlot ($19.99 SRP each) will be the wines of choice at licenced venues across the Scotiabank Saddledome, the home of the Calgary Flames.
Christa-Lee McWatters Bond, director of sales and marketing for TIME Winery, said this is a perfect partnership for hockey fans on both sides of the provincial border.
"Penticton is the summer home of the Flames and their fans, with some team members having summer homes here. They come to relax, enjoy outdoor activities, take in our dining scene and of course, explore Okanagan wine country."
Gord Norrie, VP Sports Property Sales and Marketing for the Calgary Sports and Entertainment Corporation said, the Calgary Flames have chosen to partner with TIME Winery considering the history of the McWatters family as pioneers in the British Columbia wine industry and pedigree of their wine making ability and brand building prowess.
TIME Winery, along with ENCORE Vineyards Ltd's sister labels, Evolve Cellars and McWatters Collection, were introduced to Alberta this spring via South by Southwest Wine Imports, an industry and community leader with sponsorship involvement with many other charities in its community.
Special retail promotions for the co-branded wines will be launched in Calgary, with proceeds supporting the Calgary Flames Foundation.
About TIME Winery:
While the literal definition of TIME may be elusive, it is an observed phenomenon which allows us to honour key moments in our shared journey through life. With 50 vintages of experience in the South Okanagan, the team knows that our unique terroir can offer the right wine to celebrate any occasion. TIME Winery is committed to creating wines that express the unique flavours of Okanagan wine country.
Built within a revitalized historic theatre in downtown Penticton, the heart of South Okanagan wine country, the new TIME Winery opens in 2017.
Sip the latest vintages, which offer expressive and elegant flavours of Okanagan terroir while you explore the inner workings of a fully-functional winery. Complete the experience at the tasting bar and lounge, or with your guests on the intimate outdoor patio. TIME Winery's full kitchen and event space provide a unique venue for your next public or private event.
For more information, visit timewinery.com.