Three of the Lone Star State's Proud Singer-Songwriters Share the Stage for the First Time
The Chan Centre for the Performing Arts at the University of British Columbia (UBC) presents Ruthie Foster, Jimmie Dale Gilmore, and Carrie Rodriguez, the Lone Star State's diverse and celebrated songwriters on November 8 at 8pm in the Chan Shun Concert Hall. Performing as part of the Texas Troubadours project, these three distinctive voices come together for the first time to swap songs and collaborate.
"I have always wanted to present a Texan songwriter circle," says Joyce Hinton, Co-Managing Director of the Chan Centre. "Texas is a hotbed of great music where some of the most legendary and beloved songs have been produced. I was particularly drawn to these three artists: not only because they are superb performers and writers, but also because—more than any other grouping I have seen to date—they are so beautifully reflective of the diversity of Texan artists working in this genre today. Each will offer a different take on their home state's songwriting tradition as one exceptional trio."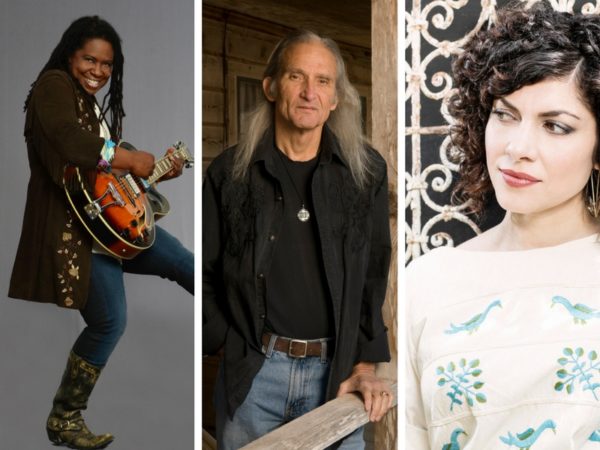 Born and raised in the small town of Gause, Texas, Ruthie Foster has been described by Rolling Stone as "pure magic to watch and hear." Taking inspiration from such singers as Mavis Staples and Aretha Franklin, she developed her own soulful sound tied to several southern-rooted styles. After her short stint serving with the Navy and living in New York, the music drew Ruthie back to Texas where she was soon snapped up by label Blue Corn Music. With Blue Corn, she recorded three GRAMMY-nominated albums: The Truth According to Ruthie (2010), Let it Burn (2012), and Promise of a Brand New Day (2014). In 2017, Foster released Joy Comes Back, an album showcasing her power-house voice on honest and heartfelt songs blending blues, folk, soul and gospel.
Hailing from the West Texas town of Lubbock, Jimmie Dale Gilmore's career spans more than five decades. Like Foster, his inspired music cannot be categorized but combines elements of folk, rock, country, blues and bluegrass. Growing up, Gilmore's first musical memories were of his father playing honky-tonk guitar in a bar band. Later, he remembers influences such as Buddy Holly, Bob Dylan and The Beatles. Gilmore went on to form his own group, The Flatlanders, with childhood friends, Butch Hancock and Joe Ely. Together, they are often credited as founders of the modern alt-country movement. Gilmore pursued his first solo project, Fair & Square (1988), and from there recorded several more albums which brought international success, and resulted in Rolling Stone naming him 'Country Artist of the Year' for three consecutive years. His latest solo album, Come on Back (2005), was dedicated to the memory of his late father, and garnered him a GRAMMY nomination.
Carrie Rodriguez, an Austin native, began her musical journey as a classical violin prodigy, having by the age of 10 already performed at Carnegie Hall. Following a year studying in the classical department at Oberlin Conservatory, she pledged herself to her true love: the fiddle. Rodriguez's career took flight when she joined forces with Chip Taylor (the songwriter of Angel of the Morning and Wild Thing) to produce four critically-acclaimed duet albums. Since then, she has recorded five solo albums, each filled with her signature fiery fiddle playing, stirring vocals and vibrant sound drawn from her proud Mexican-American heritage. For her latest release, the 2016 Spanish-English album Lola, Rodriguez looked to the legacy of her great aunt –1940s-era Chicana singing sensation Eva Garza. The album was recognized by NPR as one of 2016's top 30 releases.
https://www.youtube.com/watch?v=Vj_xCJ71G1g
Chan Centre Connects Events (chancentre.com/connects)
A series of ancillary events programmed in conjunction with Chan Centre performances, exploring the role of arts and artists in society.
Pre-Show Talk – Wednesday, November 8, 2017, 7:15pm @ Royal Bank Cinema, the Chan Centre. JUNO award-winning songwriter and multi-instrumentalist Shari Ulrich discusses the power of "the song," shedding light on this fascinating art form from an artist's perspective.
About The Chan Centre for Performing Arts at UBC (chancentre.com)
Since 1997, the Chan Centre for the Performing Arts in UBC's Arts & Culture District has earned an international reputation for its striking design, stellar acoustics, and exceptional programming. Artists, critics, and patrons alike are unanimous in their praise of the facility, winning it a place among North America's premier performing arts venues. The Chan Centre boasts three unique venues: the superb Chan Shun Concert Hall, the dramatic Telus Studio Theatre, and the intimate Royal Bank Cinema. From classical, jazz, theatre, and opera to world music, the Chan Centre is a vital part of UBC campus life where artistic and academic disciplines merge to inspire new perspectives on life and culture. Past performers and guest speakers include Wynton Marsalis, His Holiness the Dalai Lama, Renée Fleming, Dan Savage, Yo-Yo Ma, Buena Vista Social Club, Sigur Rós, Mavis Staples, Anoushka Shankar, Trombone Shorty, Chick Corea and Herbie Hancock. This season the Chan Centre is celebrating two decades of world class performance. Visit their 20th anniversary archives at chancentre.com for memorable stories and never-before-seen photos from the past twenty years.
LISTING INFORMATION Chan Centre presents:
Texas Troubadours featuring Ruthie Foster, Jimmie Dale Gilmore, and Carrie Rodriguez 
Date: Wednesday, November 8, 2017 at 8pm
Ticket Prices:  From $38
Address: Chan Centre for the Performing Arts
University of British Columbia
6265 Crescent Road
Vancouver, BC  V6T 1Z1
Box Office: 604-822-2697 / chancentre.com
In person at the Chan Centre ticket office
Open Tue-Sat, 12pm-5pm
Website: chancentre.com