How Star Wars Saved My Life written and performed by Nicholas Harrison
December 6-10, 2017 at Performance Works
(1218 Cartwright Street, Granville Island)
How Star Wars Saved My Life is an empowering true story of courage from an adult survivor of childhood sexual and physical abuse from priests. Using the power of pop culture's iconic Star Wars, this play reveals how the film was integral to this child's coping with abuse, giving a sense of hope that good can triumph over evil. Through the play, the silence of this taboo topic is challenged and ultimately shattered. With Valerie Methot's direction, this important Canadian play boldly confronts the issues around abuse and reinforces that victims are not responsible for the abuse they endure. Through the playwright's own experiences, the play takes us on a journey of transformation and of post-traumatic growth and bravery.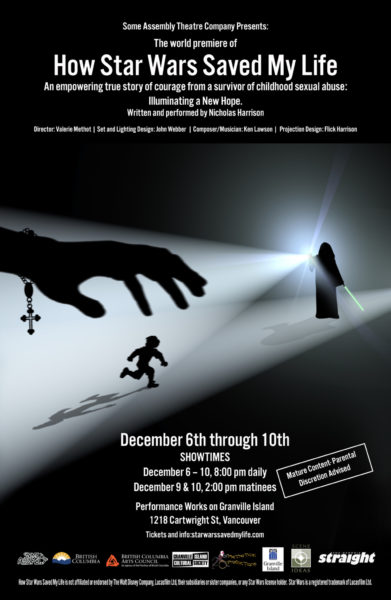 With Nicholas on the path of the Jedi and his faithful droid as his companion, we escape into a world of healing and inspiration. How Star Wars Saved My Life is a testament to Nicholas's strength and resiliency. This brilliant story reveals how the magic of the Star Wars Universe helped guide him as an artist, father, and compassionate human being.

"Maxima debeteur puero reverentia" – It is the children to whom we owe the greatest respect.
Some Assembly Theatre Company is now in its 17th year of creating and producing original plays that promote awareness, wellness, prevention, and dialogue about diverse issues facing youth. How Star Wars Saved My Life is the first Some Assembly production from the point of view of an adult raising awareness to issues facing children and youth as well as adults. Audiences are invited to participate in talkback sessions after each performance.
How Star Wars Saved My Life is created thoughtfully, dramatically and theatrically, using humour in appropriate moments. The artistic team includes Nicholas Harrison (writer/actor), Valerie Methot (dramaturg/director), John Webber (set/lighting), Ken Lawson (music/sound), Flick Harrison (video), and Ken Hollands (technical director/production manager).
Performance Times:  Dec 6, 8pm | Dec 7, 8pm | Dec 8, 8pm | Dec 9/10, 2pm & 8pm
For more information on Some Assembly Theatre Company and How Star Wars Saved My Life, please visit the following platforms:
Website: www.someassembly.ca 
Facebook: www.facebook.com/starwarssavedmylife
Twitter: www.twitter.com/hswsml
Instagram: www.instagram.com/howstarwarssavedmylife
Limited seating. For more information and to purchase tickets:
Community Partners: Survivors Network of those Abused by Priests (SNAP), BC Society for Male Survivors of Sexual Abuse, UBC Department of Theatre and Film
Supporters and Sponsors: Scene Ideas, Methotical Productions, BC Arts Council, Granville Island Cultural Project Program, The Georgia Straight, Private Donors.