Whether you're a seasoned craft beer connoisseur or a craft brew newcomer you won't want to miss the 23rd annual Okanagan Fest of Ale taking place in Penticton April 13 & 14, 2018.  A favourite for patrons and participants alike for over 20 years, this "must attend event" is one of the largest and longest running beer festivals in the Pacific Northwest. The 2-day festival features 65 brewer booths and over 175 craft beers, craft ciders, and cask ales to enjoy, fabulous food, live entertainment and more.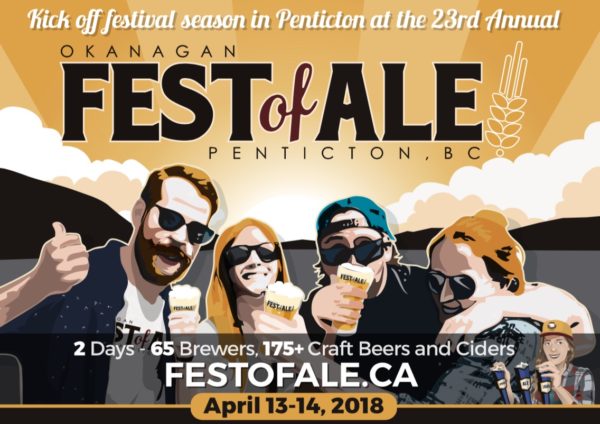 Guests of the #FestofAle2018 can look forward to tastings from 68 breweries from BC and beyond.  10 of the breweries participating are new to the event, 5 will be featuring craft ciders, and a selection of gluten free beers will be available. Find a favourite? The crew from Clancy's Liquor Store will be setting up a pop up shop making it easy for guests to take home their favourite festival finds.
12 local restauranteurs will be serving up an amazing array of delicious dishes and a number of them will be offering special food and beer parings.  Watch for Cannery Brewing paired with Brodo Kitchen, Howling Moon Cider paired with Craft Corner Kitchen, Tin Whistle Brewing paired with Nest & Nectar and Tree Brewing paired with Surf Side California Street Food.
On the entertainment front, The Thursday Night Jazz Band will be returning to the main stage for the 23rd time, with the popular Dung Beatles also set to take to the main stage on Saturday.   Throughout the weekend, DJ Nathan Shakes will be spinning tunes in between lively performances from an eclectic mix of craft beer loving single and duos.
Festival goers with a thirst for knowledge may want to plan to stop by the at the Trellis and Vine Crafthouse Brewing Education station, while those with a passion for fashion are encouraged to "get crafty" and come to the event in their best team-tees. The friendly folks from Travel Penticton will be onsite Friday, camera ready to capture team-tee tasters with prizes for Best Team Tee and bragging rights up for grabs.
Organizers report tickets sales to date are more than double what they were this time last year. Don't' be disappointed, mark your plans to kick off festival season in Penticton at the Okanagan Fest of Ale today!
Tickets to the event are available online at www.ValleyFirstTix.com
Or in can be picked up person at the Valley First Box Office at the SOEC
Single Day Admission $29; 2-day Weekend Pass $49 (inclusive of tax and fees)
Groups of 12 or more enjoy 10%+ off single day or weekend passes
Ticket & Accommodation Specials starting at $135/couple at www.FestofAle.ca
2018 Participating Brewer Vendors
4 Mile Brewing Co., Victoria
Backroads Brewing Company, Nelson
Bad Tattoo Brewing, Penticton
Barley Mill Brew Pub, Penticton
BC Brew Company, Lake Country
BC Tree Fruits Cider, Kelowna
Beau's Brewing, Vankleek Hill
BNA Brewing Co., Kelowna
Bomber Brewing, Vancouver
Boneyard Beer, Oregon
Boundary Brewing Co, Kelowna
Britannia Brewing Co, Richmond
Cannery Brewing Co., Penticton
Crannóg Ales, Sorrento
CrossRoads Brewing, Prince George
Dageraad Brewing, Burnaby
Dead Frog Brewery, Aldergrove
Detonate Brewing Company, Summerland
Dieu du Ciel, Quebec
Dominion Cider Co., Summerland
Elevation 57 Brewing Co, Big White
Fernie Brewing Company, Fernie
Firehall Brewery, Oliver
Foamers' Folly Brewing Co, Pitt Meadows
Four Winds Brewing Company Ltd, Delta
Fuggles & Warlock Craftworks, Richmond
Glutenberg, Motreal QC
Hathi Brewing Co., Abbotsford
Highway 97 Brewing Company, Penticton
Howe Sound Brewing, Squamish
Howling Moon Craft Cider, Oliver
Hoyne Brewing Company, Victoria
Kettle River Brewing Company Ltd, Kelowna
Lighthouse Brewing Company, Victoria
Longwood Brewery, Nanaimo
Luppolo Brewing Company, Vancouver
Mariner Brewing, Coquitlam
Marten Brewing Company, Vernon
Moody Ales, Port Moody
Moon Under Water Brewery, Victoria
Mt Begbie Brewing Company, Revelstoke
Naramata Cider Co, Naramata
Nelson Brewing Company, Nelson
Old Yale Brewing Co., Chilliwack
Parallel 49 Brewing, Vancouver
Persephone Brewing Co., Gibsons
Phillips Brewing & Malting Co, Victoria
R&B Brewing, Vancouver
Ravens Brewing Co, Abbotsford
Red Arrow Brewing Company, Duncan
Red Collar Brewing, Kamloops
Red Racer, Surrey
Red Truck Beer Company, Vancouver
Spinnakers Brewpub, Victoria
Steamworks Brewing Co., Burnaby
Steel & Oak Brewing Co., New Westminster
Strange Fellows Brewing, Vancouver
Summerland Heritage Cider Co., Summerland
The Parkside Brewery, Port Moody
Tin Whistle Brewery, Penticton
Torchlight Brewing Co, Nelson
Trading Post Brewing, Langley
Tree Brewing Co., Kelowna
Twin Sails Brewing, Port Moody
Two Wolves Brewing, Vancouver
VI Brewing, Victoria
Whitetooth Brewing Company , Golden
Yellow Dog Brewing, Port Moody
2018 Okanagan Fest of Ale Participating Restaurants
Brodo Kitchen
Craft Corner Kitchen
Euroweenie Sausage Co.
Murray's Pizza
Opah Greek Foods
Samosa Express
Smoking Hot Donairs
Surf Side California Street Food
Tacos del Norte
Thai on the Fly
The Nest & Nectar