The Vancouver Symphony Orchestra is delighted to welcome the Juno and Grammy nominated, multi-platinum award–winning singer and songwriter CARLY RAE JEPSEN for a single, not-to-be-missed performance of her music, accompanied by the VSO and conductor Lucas Waldin at the Orpheum Theatre on Monday, June 25 at 8:00pm. Tickets go on sale to the public on Tuesday March 6 at 10am. To the delight of Ms. Jepsen's fans and VSO buffs alike, the evening includes orchestral arrangements of some of the artist's greatest hits, including songs from her critically acclaimed album E•MO•TION.
The VSO concert marks something of a homecoming for Carly Rae Jepsen. She was born in Mission, BC, where she was exposed to music at a very young age, listening to artists such as Leonard Cohen and Van Morrison. She also developed a passion for musical theatre, later attending the Canadian College of Performing Arts in Victoria, BC, where she immersed herself in all things music and dance. In 2007, Jepsen took third place in Season 5 of Canadian Idol, developing a national profile from coast to coast to coast. Following her breakout success with the single "Call Me Maybe," she has also been wowing audiences and critics alike, with her singing and acting on Broadway, television and film. Her latest albums, E•MO•TION and E•MO•TION Side B, are doing much the same, receiving critical acclaim from all over the globe—including E•MO•TION being nominated for the Polaris Music Prize, and her hit single from the album, "I Really Like You", being Certified Platinum.
The collaboration with the VSO is a follow up to Carly Rae Jepsen's performance in June 2017 as part of the Toronto Symphony Orchestra's Canada Mosaic—a Canada 150 Signature Project. At the 2016 Polaris Prize gala, Carly Rae Jepsen, guitarist/music director Tavish Crowe, and a string quartet from the TSO performed her 2015 song "Your Type" in an arrangement by the Toronto composer Christopher Mayo. Mayo was subsequently commissioned by the TSO to re-fashion several more of Jepsen's synth-pop hits such as "I Really Like You," "Run Away with Me," and the breakout tune "Call Me Maybe" for the concert under the musical direction of Canadian conductor Lucas Waldin. Fans can hear Carly Rae Jepsen performing her iconic hits with full orchestra, plus in intimate sets featuring guitar and string quartet.
In an article in the Globe and Mail, Carly Rae Jepsen described the experience of viewing her own work from new angles. "With an orchestra, I think the emotions could fly even higher, It's getting to a less pop-and-polished place, a more raw and serious one – more authentic to what those lyrics are saying."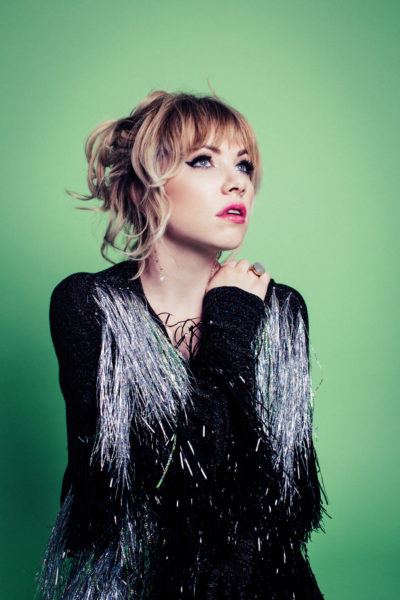 About the Artists
 Carly Rae Jepsen, vocalist
Multi-platinum Grammy, Juno and Polaris Prize nominated singer/songwriter Carly Rae Jepsen's 2015 album E•MO•TION earned a host of rave reviews with several outlets – including TIME, Entertainment Weekly, Pitchfork, People, Stereogum, Vulture, Complex, and Noisey– declaring it the pop album of 2015. The set featured the platinum selling single "I Really Like You." One year later, Jepsen released E•MO•TION Side B as a gift to her fans and saw it immediately rise on the charts. Jepsen's U.S. debut album Kiss featured the blockbuster break-out hit "Call Me Maybe" which climbed to No.1 on the iTunes Singles charts in over 47 countries, has sold over 20 million singles worldwide and is certified Diamond in the United States. It earned Jepsen 2012 Grammy nominations for Best Pop Solo Performance and Song of the Year, as well as three Juno awards. Jepsen spent much of 2014 starring in the lead role in the Broadway production of Rodgers & Hammerstein'sCinderella. Jepsen also starred as the iconic Pink Lady, "Frenchy," in FOX's four time EMMY award-winning musical GREASE: LIVE and most recently voiced the character of Odette in the animated movie LEAP! (aka Ballerina ) The same film featured Jepsen's song "Cut To The Feeling" which has been hailed by critics as a top song of 2017 showing up on year-end lists for Rolling Stone, Pitchfork, Billboard, Noisey and more. Carly Rae Jepsen is currently working on a new studio album.
 Tavish Crowe, music director / guitar and vocals
Fresh out of high school, in 2009, Tavish met Carly Rae Jepsen and has been playing guitar for her ever since, and serves as her Musical Director. Tavish is credited as a co-writer on multi-platinum selling "Call Me Maybe." He has been busy touring the world since the release of Carly Rae Jepsen's record Kiss and continues to write new material for the band.
Lucas Waldin, conductor
Lucas Waldin is a dynamic and versatile conductor whose flare for audience engagement and passion for performance have delighted audiences across North America. With an ability to slide easily between styles and genres, the Edmonton-based conductor has worked with a range of pop and crossover artists including Carly Rae Jepsen, Ben Folds, Chantal Kreviazuk, the Barenaked Ladies and Buffy Sainte-Marie. In addition to conducting presentations such as Disney in Concert, Blue Planet Live, and Cirque de la Symphony, Lucas has been a guest conductor for numerous orchestras in Canada and the U.S., including the Kitchener-Waterloo Symphony, the National Arts Centre Orchestra, the Toronto Symphony, the Louisiana Philharmonic and the Houston Symphony. A native of Toronto, Ontario, Lucas received degrees in flute and conducting from the Cleveland Institute of Music.
Orchestrations by Christopher Mayo, commissioned by the Toronto Symphony Orchestra, with financial support from the Government of Canada for performance during the 150th Anniversary of the Confederation of Canada ( June 2017).
The Vancouver Symphony Orchestra presents Carly Rae Jepsen LIve with the VSO
Monday, June 25, 2018 at 8:00pm
Carly Rae Jepsen, vocalist
Tavish Crowe, music director/guitar & vocals
Lucas Waldin, conductor
Vancouver Symphony Orchestra
TICKETS ($55–$99 adult) are on sale to the public on Tuesday March 6 at 10am.
Call the VSO ticket line at 604.876.3434 or order tickets online at vancouversymphony.ca/carlyrae
photo credit: Matthew Takes