"The gentle breeze floats the delicate pink petals of cherry blossoms like a soft snow in the sunlight, sending traces of sweet and subtle floral fragrance in the air. Sakura; a symbol of renewal and hope; marks the grand arrival of Spring and new beginnings with a remarkably beautiful spectacle."
When the cherry tree blooms, transforming ordinary avenues into phantasmagoric arcades of blush coloured petals, one of Spring's most anticipated teas of the season will grace your cup with  the delicate sweetness of wild cerise enveloped by lingering notes of romantic floral. The TWG Tea Always Sakura Tea is  a joyous addition to the Spring 2018 Haute Couture Tea Collection®.
Brilliantly blended with notes of wild Rainier cherry and rose blossoms, this marvellous green tea from the Haute Couture Tea Collection® yields an exceptionally fresh and fruity infusion with a subtle floral aftertaste. Encased in a limited edition tin adorned with lush hues of emerald, gold and blush pink, this warm sophisticated shade of the nature announces life, renewal and hope.
Produced in limited quantities, the Always Sakura Tea in the Haute Couture Tea Collection® will be available at the TWG Tea Salon & Boutique in Vancouver from 2 April 2018 and retails at $50. Canadian orders can also be made online at www.VanSingDG.com.
Accompanying the transient beauty of hanami this spring, TWG Tea introduces a limited edition Always Sakura Tea infused macaron for the sweet pleasures in life. Showcasing a smooth and crisp ruby pink almond shell, the macaron is filled with luxurious chocolate ganache accented by notes of green tea and cherry. The Always Sakura Tea infused macarons are available at the TWG Tea Salon & Boutique in Vancouver in macaron gift boxes of 6, 12 or 24 and are priced at $18, $36 and $60 respectively.
Seizing the delightful moment when Spring arrives, TWG Tea launches an exclusive Sakura Tea Set featuring an array of Japanese tea-infused savouries and patisseries paired with an extensive selection of TWG Tea's exclusive tea blends perfect for Spring. Elevating a new afternoon tea experience, the Sakura Tea Set is perfect to share with friends and family this cherry blossom season.
TWG Tea's Exclusive Sakura Tea Set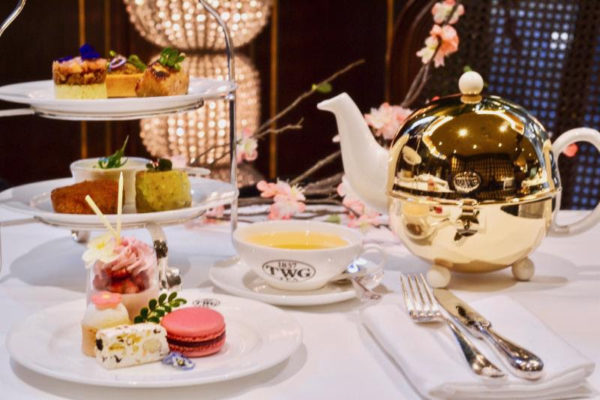 The Sakura Tea Set is exclusively available at the TWG Tea Salon & Boutique in Vancouver now until 30th April 2018.
King's Centre, 390 Havelock Road, #05-01, Singapore 169662 Tel: +65 6733 7997 Fax: +65 6737 9030
Singapore – Tokyo – London – Hong Kong – Dubai – Kuala Lumpur – Bangkok – Manila – Jakarta – Seoul – Phnom Penh – Shanghai – Doha – Taipei – New York – Canada
TWG Tea Salon & Boutique on West Georgia
1070 West Georgia Street, Vancouver, British Columbia V6E 2Y2, Canada
All images courtesy of TWG Tea