Restaurant vets bring fine-dining history and a passion for health to new catering and meal-delivery/prep service
Two veterans of professional kitchens and dining rooms throughout Vancouver — and some of the most acclaimed restaurants in North America — have combined their culinary talents and a mutual passion for healthy living to create a meal-delivery and catering service unlike any other in the region.
Fraiche Sheet Foods is the result of one couple's desire to not only elevate the variety, quality and sheer pleasure of meals and treats delivered to people's homes and special events, but to offer unprecedented transparency about the provenance of their ingredients and their nutritional profile. Visitors to Fraiche's website will discover an array of uncommonly imaginative, frequently rotating dishes (made from locally sourced products wherever possible), each of them accompanied by a complete Nutrition Facts panel. From a Vegan Buddha Bowl and Korean-style BBQ Chicken, to Chocolate-Banana Protein Pancakes and Blackened Sustainable Salmon with Quinoa and Peanut Sauce, each menu item has been developed to deliver maximum satisfaction and minimum guilt.
Fraiche's founders, Dennis and Dariya Peckham, met in 2011, when both were part of the opening team at Black+Blue in downtown Vancouver. BC-born Dennis had come from prestigious tenures at Vancouver's legendary Lumière and the two most famous eateries in Chef Thomas Keller's globally lauded restaurant group, the three-Michelin-starred Per Se (New York) and The French Laundry (Napa Valley). Dariya, who moved to BC from Bulgaria after high school, became a front-of-house master at various Glowbal Group properties and multiple locations of Cactus Club Cafe.
Dennis and Dariya initially worked together only for a short time, but were reunited by chance years later. Now married, they developed a shared determination to become healthier people and to bring their love of the food-and-beverage industry to a venture of their own — one that reflects how they choose to eat and live.
"One of the things we set out to do is give our clients the best product possible," says Dennis. "Our prices are accessible, but we go out of our way to source ingredients that are ethical and that taste outstanding: organic, free-range chicken from Rossdown Farms in the Fraser Valley; certified grass-fed Angus beef; sustainable Lois Lake Steelhead salmon… Dariya and I are very particular about what we serve in our own home, and Fraiche's menus are held to the same high standard."
Whether catering and event planning for hundreds, or a fitness-motivated meal plan for one, Fraiche is here to make it effortless — and delicious.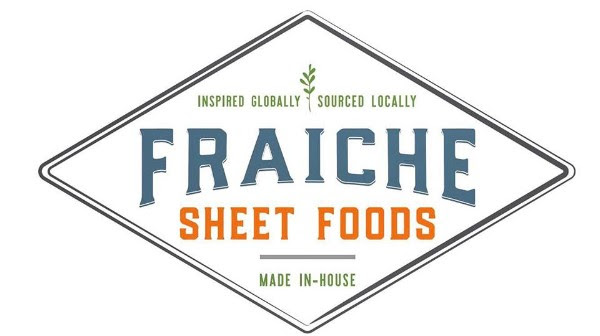 About Fraiche Sheet Foods
Fraiche Sheet Foods is the new catering and meal-delivery company from restaurant veterans Dennis and Dariya Peckham. Offering an array of imaginative, healthful dishes developed by Chef Dennis, each made from local and sustainable ingredients, Fraiche elevates catered events and convenience meals to new heights. fraichesheetfoods.com