Celebrate Canada Day on Surrey Civic Plaza with Dominion Bar + Kitchen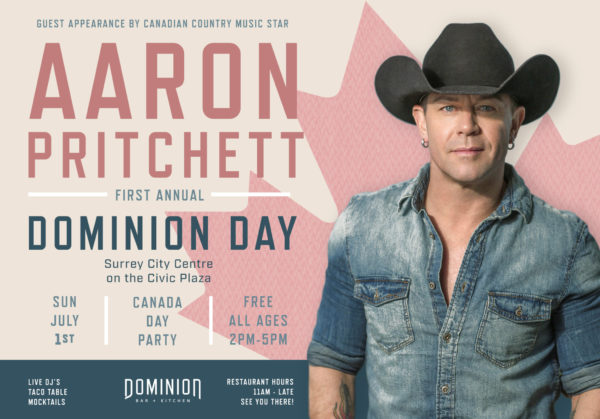 On July 1, 2018, Dominion Bar + Kitchen will host the first annual Dominion Day, a free Canada Day event on Surrey's Civic Plaza. Open to all ages, Dominion Day will run from 2 pm to 5 pm and party goers will enjoy Dominion crafted snacks and mocktails, live music by Vancouver DJ Tails, and a special guest appearance by Juno nominated country music star, Aaron Pritchett. Aaron will perform a 30-minute acoustic set, and music fans can expect to hear old favourites like "Hold My Beer"  and his most recent hit single "Worth A Shot".
Fun fast fact: Dominion Bar + Kitchen is named for the Dominion of Canada and confederation — the idea of 'Unity in a Community of Nations' — that we now celebrate as Canada Day!
What:  Dominion Day
When: July 1, 2018 2pm-5pm
Where:  13475 Central Avenue, Unit D1, on Surrey Civic Plaza. Public underground parking is available beneath Civic Plaza. Access the parking lot from University Drive near the Surrey Public Library.
Stay connected with us on social: Facebook, Instagram, and Twitter: @DominionSurrey Hashtag: #DominionSurrey.
Food and beverage tastings while quantities last.
About Dominion Bar + Kitchen
Dominion Bar + Kitchen is owned and operated by Surrey-based Century Group, a mixed-use real estate development company responsible for 3 Civic Plaza in the centre point for Surrey City Centre. Dominion Bar + Kitchen is located in the lobby of Civic Hotel, Autograph Collection®, the first world-class hotel built in the area in over two decades. With views that overlook Surrey Civic Plaza, a vibrant public square with immediate transit access and pedestrian walkways, Dominion Bar + Kitchen is expected to be the culinary destination for residents of and visitors to Surrey.