Some days serendipity is at play and something wonderful happens.  For me it was at a trade tasting of products from local wine agency, Select Wines.  After tasting through sparkling wines, white wines, red wines and after dinner wines – and finding several very pleasant surprises – I made a last stop to sample a new-to-me brand of Cognac – Tesseron.
Tesseron, in Chateauneuf-sur-Charente, was founded in 1905.  They source eaux-de-vie from two estates in Cognac; one in Grand Champagne and one on Petit Champagne just a short distance to the west.  Tesseron is one of the few cognac houses to use all three original grapes – Ugni Blanc, Folle Blanche and Colombard.  The latter two are used much less these days by most Cognac houses.
Clay and limestone soils add to the characteristic terroir of the region.  "Grapes are harvested in the early autumn and fermented to make a low strength, acidic wine of around 9% volume.  Tesseron Cognacs are double distilled in antique copper 'pot' stills . . . "The 'heads' and 'tails' are discarded leaving only the 'heart' to be used.    "Some of the eaux-de-vie are distilled on lees, providing more complexity to the cognac, giving the cognac, "More body, power, elegance, and a longer lasting finish with great finesse that connoisseurs from around the world have come to appreciate."
The wine is aged in cool damp ancient cellars in Limousine oak barrel where they slowly oxidize and the tannins are absorbed from the oak.  The blending of all these casks is the basis for a great cognac.  Tesseron's special skill has been in the long-term aging and blending of cognacs.
Four bottles faced me.  Though I rarely drink it, I really do enjoy good Cognac, so I decided to sample all of them.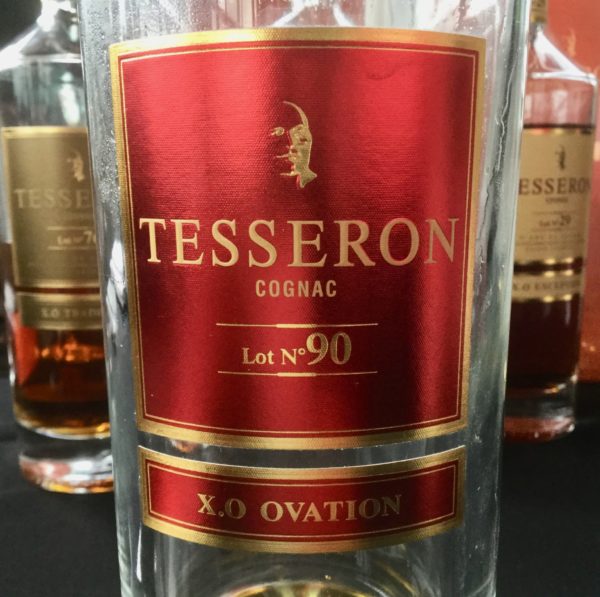 Tesseron Cognac – Lot No 90 XO Ovation                              $210
Very good
"Created from the finest vineyards in the Cognac region, Lot No 90 has been double distilled in small Alambic copper stills and aged in barrel for more than ten years.  It owes its unique character from its terroir and long-term aging., allowing time to infuse this nectar with a warm colour and delicate aromas.
NOSE:  Pear, quince, dried fruits and nuts
PALATE: Firm, focused, powerful, reflecting the aromatics presented by the nose – typical, young, quality cognac.
94 points"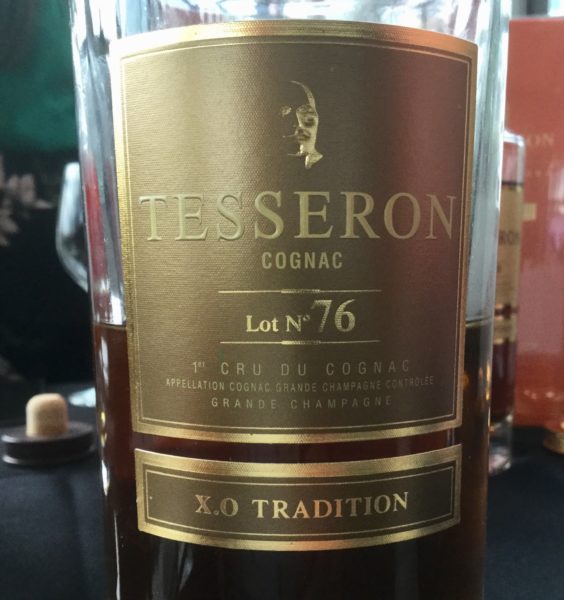 Tesseron Cognac – Lot No 76 XO Tradition                            $262
Wow!  Very impressive.
"Lot No 76 is a unique blend of our finest eaux-de-vie, created from Cognac's Premier Cru vineyards in Grande Champagne.  Carefully aged for more than a generation in oak barrels, Lot No 76 offers aromas of candied fruit, enhanced by its delicate long-lasting finish.
NOSE: Very alluring and expressive with nuts and tobaccos.
PALATE: Generous on attack with wonderful and spicy vitality.
90-95 points"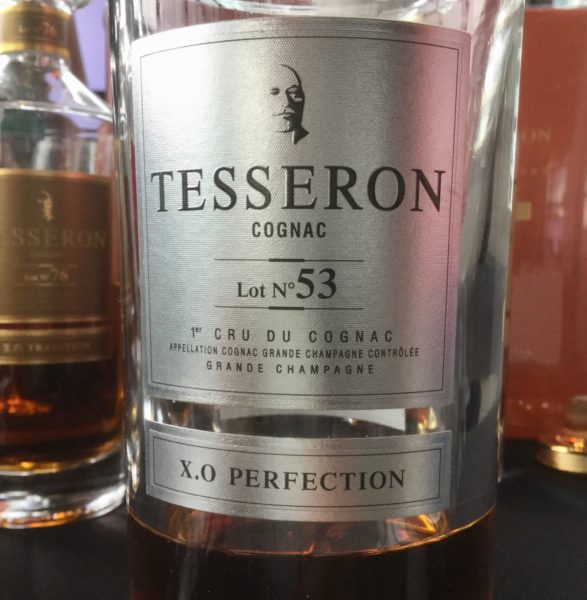 Tesseron Cognac – Lot No 53 XO Perfection                          $890
Even more finesse.  One of the best I have ever tasted.
"Aged for more than two generations in Limousine oak barrels, the Lot no. 53 is a blend of our most sublime stocks of Grande Champagne Cognacs.  This Cognac borders on perfection, finesse and complexity.
NOSE: Hints of wood with a bouquet of plums, figs and marmalades.
PALATE: Extremely opulent and rich attack with aromas of pepper, spices and dark chocolate.
98 points"
Tesseron Cognac – Lot No 29 XO Exception                           $2000
The best ever.  Absolutely 100 points!
"Lot No 29 is a unique blend of legendary Grande Champagne, the cream of our oldest and rarest stocks, lovingly aged for at least three generations.  Balancing power and finesse, Exception holds an elusive elegance – the quintessence of old aged cognacs.
NOSE: decadent layers of honey and exotic fruit.
PALATE Supremely elegant, balanced and complex finish with hints of mocha and cocoa, refreshed by floral aromatics. "
These are truly amazing cognacs.  Whether you have some rich friends or one day win the lottery, I truly hope you have the opportunity to taste at least some of these divine creations.
(All photos – Sam Hauck)