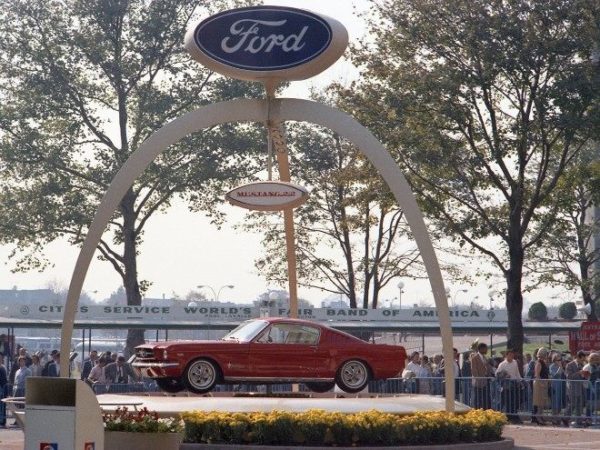 Since its debut at the New York World's Fair in 1964, the Ford Mustang remains an enduring symbol of North American pop culture 50+ years later. The Ford Mustang is more than just a car – it has come to be a symbol of freedom and possibilities for millions of people all over the world. Today the 10-millionth Mustang will roll off the assembly line at our Ford Michigan Assembly Plant, a monumental milestone for one of North America's most celebrated sports cars. Aside for its more than 3,300 cinematic appearances in TV and film, and its popularity among celebrities, athletes and enthusiasts, Mustang's lasting impact on North American culture is significant. It is part of our cultural fabric – its design, performance and personality have made it a pop culture icon for more than five decades.
Key Dates in History
1964 – Mustang debuts at the New York World's Fair
1964 – First Mustang was sold in Canada during a cross-country tour by mistake to Captain Tucker (a pilot) in Newfoundland. He gave it back to Ford in exchange for Mustang No. 1,000,001. It is now in The Henry Ford museum in Dearborn, Michigan
1966 – Within 2 years of its debut, Ford made and sold 1 million Mustangs
1966 – Songwriter Wilson Pickett releases his hit song "Mustang Sally"
1988 – Kevin Costner added a provision to his contract during the filming of Bull Durham to keep the moonlight blue Mustang that his character drove in the film
1990 – Drivers-side airbags are now standard on all new Mustangs
2013 – The Mustang used during filming of 2000's hit movie Gone in 60 Seconds sold for $1 million
2014 – Mustang celebrates its 50th birthday
2018 – Ford produces 10-Millionth Mustang
By-The-Digits
22,000 – The number of Mustangs sold on the first day of sales in 1964
$2,368 – Starting price of the first Mustang model
10 – The number of years that Ford did not sell a convertible version of the Mustang (between 1973-1983)
600 – In 1971, Ford introduced the biggest Mustang ever, weighing 600 pounds heavier than the original
3,300 – The number of movies and TV appearances the Mustang has made to-date – examples include James Bond's Goldfinger and Steve McQueen's Bullitt
$1.3 million – The price of the most expensive Mustang ever sold, the 1967 Shelby GT500 Super Snake (May 2013)
300 – The number of Mustang enthusiast clubs around the world (16 in Canada alone)
CALIFORNIA SPECIAL RETURNS; ENTHUSIAST UPDATES FOR 2019 MUSTANG INCLUDE REV-MATCHING, B&O PLAY AUDIO SYSTEM AND NEW COLOURS
California Special returns with a new limited-edition design package for 2019 Mustang GT that commemorates visual cues of the 1968 original while celebrating modern Mustang performance and style
Legend of innovation continues with addition of rev-matching technology for powerful 5.0-litre 6-speed-equipped Mustang GT that ensures smoother, more spirited day-to-day driving with an accessible manual mode for enthusiasts; class-exclusive quad-tip fully variable active valve performance exhaust added for EcoBoost®-powered Mustang
First-ever B&O PLAY audio system for Mustang is customized to the acoustics of the interior to deliver an impressive 1,000 watts of power through a 12-channel speaker system and connectivity to SYNC® 3
DEARBORN, Mich., March 12, 2018 – North America's favourite sports car gets even more style and technology for 2019 thanks to the revival of the legendary Mustang GT California Special, new features including rev-matching on 5.0-litre 6-speed manual-equipped models, the first-ever custom-tuned B&O PLAY premium audio system for Mustang, and three new vintage-inspired colours.
"No doubt, 2019 is an exciting year for Mustang enthusiasts, especially fans of our California Special and BULLITT models," said Corey Holter, Ford car group marketing manager. "This year further targets hardcore enthusiasts who want even more performance from BULLITT, while new technology – including rev-matching on manual transmission-equipped Mustang GT and active valve performance exhaust on the EcoBoost® model – means even more thrills."
California dreaming
When Mustang first hit the streets in 1964, owners clubs sprang up around the country, with many regional dealers creating their own personalized pony car designs. One – inspired by the 1967 Shelby GT notchback coupe prototype – came to be called the California Special.
That original version featured blacked-out grille, fog lamps and a side racing stripe that ended ahead of a new rear fender scoop. It wore a Shelby-inspired spoiler, custom taillamps and twist-lock hood fasteners. Impressed, Ford put a limited number of California Special cars into production for 1968. Before long, the California Special had joined the ranks of Shelby, Boss and Mach 1 special-edition Mustangs.
Today, the 2019 California Special for Mustang GT is a visual standout, featuring a trademark fading stripe that traces from the 5.0 side badge to the rear fender scoop. A signature Ebony Black and Race Red script California Special badge adorns the trunk lid. At the front, the car follows the blacked-out open grille and picks up the Mustang Performance Pack 1 splitter. The California Special wears unique five-spoke painted machined wheels.
Inside are rich black Miko® suede-trimmed seats with embossed GT/CS insignia and contrast red accent stitching, along with custom embroidered GT/CS floor mats. Signature California Special script badging appears on the passenger-side dash panel.
"Few things are more satisfying than dropping the top on a California Special and taking a drive down the majestic Pacific Coast Highway," said Mark Conforzi, Ford designer. "This signature design takes its cues from the original California Special, while enhancing the personality of today's Mustang."
Rev-matching to level the field
Mustang GT's powerful 5.0-litre V8 engine packs 460 horsepower and 420 lb.-ft. of torque and tops out at 155 mph.* When that torque gets delivered to the pavement via 6-speed manual and available Performance Package, you better hold on, because that's where rev-matching gives Mustang drivers a leg – or a heel and a toe – up.
Advanced rev-matching helps smooth out shifts by first predicting shifts then quickly matching engine rpm – similar to the heel-and-toe methods the pros use. On downshifts, engine rpm instantly kicks up to smooth out the transition between gears.
Sensational B&O PLAY audio
Like Ford Mustang, Bang & Olufsen is an innovator in both iconic design and heart-racing performance across its line of audio products. And now, for the first time, the B&O PLAY audio system comes to Mustang with a stunning 10-channel amplifier producing 1,000 watts across 12 high-performance speakers.
Customized to the car's interior environment, sound engineers tuned the B&O PLAY audio system to take both the static and dynamic states of Mustang into account to elevate the senses regardless of driving conditions. B&O PLAY audio connects to the optional SYNC® 3 system, which allows Apple CarPlay compatibility.
Active valve performance exhaust now available on EcoBoost models
When the class-exclusive quad-tip fully variable active valve performance exhaust hit the streets for Mustang GT for 2018, critics and customers alike raved over the deep throaty sound of the 5.0-litre V8 engine. What took everyone by surprise was its driver-controlled, fully active exhaust mode and quiet start mode, also known as good neighbor mode.
Now, a fully variable active valve performance exhaust brings an aggressive snarl to 2019 Mustang equipped with EcoBoost. This class-exclusive quad-tip exhaust system can be controlled by the drive mode system or via personalized MyMode settings with the 12-inch all-digital LCD instrument panel, as well as through the standard 4.2-inch cluster.
More personalization than ever; new colours
Mustang enthusiasts now have more opportunity to personalize their car than ever before, with exciting new vintage-inspired colours including Velocity Blue, Need for Green and the iconic BULLITT model's exclusive Dark Highland Green.
"These intense new colours trace back to Mustang's classic colours of the late 1960s and early 1970s," said Holter. "While colours like Shadow Black and Magnetic Gray will still be popular for those who prefer to go stealth, these new colours pack a brighter, more vibrant punch for 2019."
The 2019 Mustang goes on sale this summer.
BULLITT and all related characters and elements© & TM Warner Bros. Entertainment Inc. (s18)
*Horsepower and torque ratings achieved with 93-octane fuel. 
About Ford Motor Company of Canada, Limited
Ford of Canada's operations include a national headquarters, three regional offices, three vehicle assembly and engine manufacturing plants, and two parts distribution centres. Ford employs approximately 8,000 people in Canada, while an additional 18,000 people are employed in the more than 400 Ford and Ford-Lincoln dealerships across the country. For more information, please visit www.ford.ca.
About B&O PLAY
Firmly grounded in decades of design excellence, craftsmanship and product innovation from Bang & Olufsen, B&O PLAY interprets the same values for a new type of contemporary product aimed at design-conscious urbanites with an active lifestyle. The B&O PLAY portfolio is made up of products, that are intuitive to use and easy to integrate into your daily life in order to make beautiful music at home or on the move. B&O PLAY sound is translated to the car cabin by the automotive audio experts at HARMAN. For further information regarding B&O PLAY and Ford, visit www.beoplay.com/Ford