A rare whisky half a century in the making, The Balvenie Fifty: Marriage 0962 is a limited offering with only two bottles available in Canada and 110 across the globe.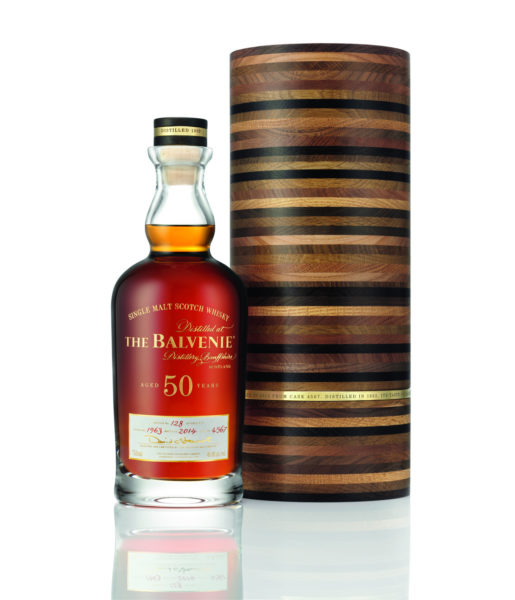 The Balvenie Fifty: Marriage 0962, one of the world's rare whiskies, comes to Canada's whisky market this Fall 2018.
An expression of exceptional quality that typifies the skill and knowledge needed to marry significantly aged single malt Scotch whisky, The Balvenie Fifty: Marriage 0962 is comprised of highly rare liquid sourced from four American Oak casks aged 50 years or over.
"Marrying aged whisky stocks is undoubtedly one of the most challenging, yet enjoyable facets of my role as The Balvenie Malt Master," comments David C. Stewart, Malt Master, The Balvenie. "This was a chance to explore the furthest reaches of our precious aged stocks and see how their extremes could be controlled and combined. The creation of Marriage 0962 took months of patience to complete, as we're dealing with liquids with extremes in ABV, taste and age. It's not every day I get the opportunity to work with liquids of such age, it is a huge pleasure to be able to share it with the world."
Marrying whisky of this age is rarely attempted. Liquid given 50 years or more to express itself can develop flavours that are uniquely intriguing, but their extreme variances of taste, strength and depth make the task complex, to say the least. Stewart selected four casks into an exquisite whole that combines and enhances their many delicate notes. The final liquid, bottled at 41.6% ABV, combines malt and oak with brown sugar, toffee and ground ginger on the nose, followed by further oaky notes, maple syrup, tangy citrus and classic honeyed Balvenie sweetness to taste. The finish is long and lingering, with dried fruits and vanilla oaky spice notes.
The Balvenie has a rich history of 50-year-old variants. Its first was a 1937, bottled in 1987, at a time when such vintages were almost unknown. Mirroring today's release, the 1937 was a vatting of four constituent casks, each imparting its own unique and aged flavour. In 2002, the smallest ever release of The Balvenie saw a mere 83 bottles of uniquely rich liquid taken from the famed Cask 191, Balvenie's last cask remaining from the 1950s. In April 2018, one of the last remaining bottles of Cask 191 sold to The Worshipful Company of Distillers auction for 30,000 British pounds, the equivalent of over $50,000 Canadian dollars.
In 2012, The Balvenie's third 50-year-old was drawn from a 1962 European oak sherry hogshead. Only 88 bottles were sold in honour of David's 50th year with William Grant & Sons. In 2014, we saw the twin bottlings of two identical casks from 1963 which had matured with markedly different characters. The Balvenie Fifty: Marriage 0962 continues this tradition of innovation by presenting a 50-year-old with an even more complex story.
Each bottling of The Balvenie Fifty: Marriage 0962 is presented in a beautiful wooden tube comprised of 50 layers, 48 of walnut and two of brass, expertly handcrafted by Scottish wood craftsman Sam Chinnery at his workshop on Bruntlands Farm near Elgin, Scotland. The presentation also includes an etched brass certificate and bottle glorifier, inscribed with the tasting notes of each constituent cask and the taste, palette and finish of the final marriage.  The decanters for Marriage 0962 have been hand-blown from 100% lead-free crystal by Brodie Nairn and his team of expert craftsmen at Glasstorm, based in Tain, Scotland. The bespoke design of the glass decanter is a sleek reinterpretation of the classic Balvenie bottle shape, which itself mirrors the silhouette of the copper stills at the distillery.
"The Balvenie Fifty: Marriage 0962 really shines a new light on the unique skill of The Balvenie Malt Master David C. Stewart MBE adds Jamie Johnson, The Balvenie Brand Ambassador, Canada. "We are thrilled to be one of the limited markets that will receive two of the bottles this Fall."
ABOUT THE BALVENIE
The Balvenie is a gem among all other single malts boasting a unique combination of natural alchemy and centuries old craftsmanship.
Hand-crafted using barley grown in their own fields and leveraging all the skill and experience of a team of onsite coppersmiths and coopers, each expression is unique, but all are rich, luxuriously smooth and underpinned by a distinctive honeyed character.
The Balvenie Malt Master, David Stewart, presides over the all-important maturation process where his unmatched expertise ensures that each expression in The Balvenie range makes the absolute best of the complex alchemy of spirit, wood and time.
ABOUT WILLIAM GRANT & SONS
The makers of Hendrick's® Gin, William Grant & Sons, Ltd. are an independent family-owned distiller headquartered in the United Kingdom and founded by William Grant in 1887. Today, the luxury spirits company is run by the fifth generation of his family and distills some of the world's leading brands of Scotch whisky, including the world's most awarded single malt Glenfiddich®, The Balvenie® range of handcrafted single malts, Reyka® Vodka, Monkey Shoulder Blended Scotch and Milagro® Tequila. Represented in Canada by PMA Canada Agency www.pmacanada.com.
The Balvenie
434 Queen Street East