This past fall I had the opportunity to tour and have a whisky tasting at Shelter Point Distillery in Oyster River on Vancouver Island. Located about half way between Courtenay and Campbell River just off the Old Island Highway and situated on the former UBC research farmlands. It is a beautiful setting and is particularly nice to visit during summer and harvest season. Shelter Point Whisky is one of Our #FavouriteThings Holiday Gift Suggestions that we are recommending for the whisky lover, novice or officiato on your list. We predict you will be the numero uno Santa with Shelter Point under the tree. The Tasting Room is open 7 days a week noon to 5 p.m. for your tasting and shopping convenience.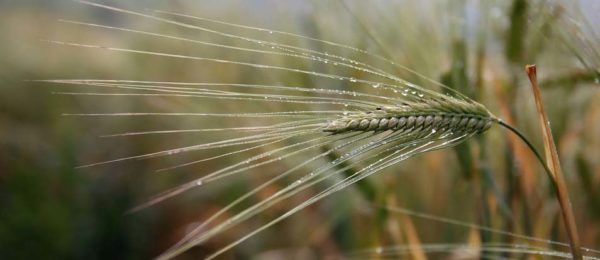 We started with a bit of background on the barreling of whisky. Casks used to produce whisky can run into the $1200 range each, which doesn't make economic sense and as Shelter Point owner Patrick Evans, a third-generation farmer, pointed out as a Canadian whisky distiller it seems appropriate to look closer to home for their needs.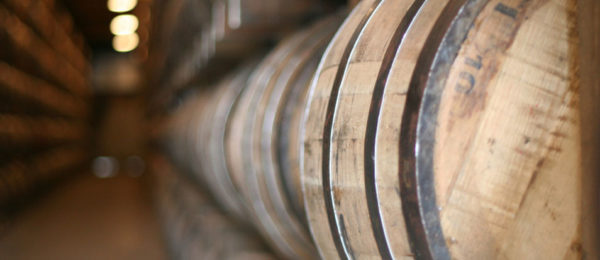 We're BC guys, we're on the Island so we're going to play to the assets that we have in BC. BC has some amazing wineries so I took a trip up to Quails' Gate this summer. Chatted with Ben asking "so what can we do to get some casks" and so we bought a dozen casks. Some Merlot, some Cab, some Foch. We had our aging whisky ready to go and Ben dumped the casks and I was there the next day for pick-up. "Don't rinse them out, don't do anything, just leave them for me to grab. We'll disinfect it with our 63.5% alcohol." We drove home that same day, James filled them the same day. Day before yesterday we went in the warehouse cracked some to get an idea and it was absolutely delightful, amazing over the top. – Patrick Evans, Owner
Traditionally scotch was matured in sherry barrels but getting your hands on sherry barrels has become so difficult that it is documented that distilleries in Scotland are buying barrels of sherry and pouring the sherry down the drain, just to get their hands on the barrels. – Brian Ingels, Tour Guide
The wood has so much influence that we are very particular about the wood we get. Our base is from a Kelvin Cooperage in the States that we start in and I want them fresh, I don't want them sitting around. We can acquire our casks fairly quickly, Coastal Black is close by, Quails' Gate a little longer. – Evans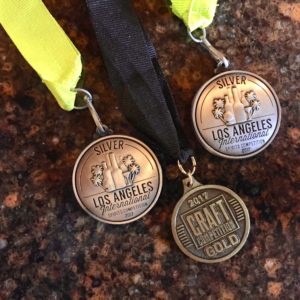 Rating whisky 80 is good, 85 is very good and 90 is excellent and were just short of excellent on our very first release. – Ingels
Their very first release, the Double Barreled Single Malt Whisky is sold out. Shelter Point Whisky is now distributed in Australia, Japan, China, Sweden and Norway. They are shipping out everything they have so far.They have hired three additional support staff, an additional distiller who has been mirroring their existing distiller. Both with different backgrounds, James Marinus the head distiller is very "get 'er done" and Leon Webb is more of an academic who has attended the Edinburgh School of Distilling, a Scot and a younger gentleman living on the farm. With the two distillers, the plant will run seven days a week. Production is accelerating.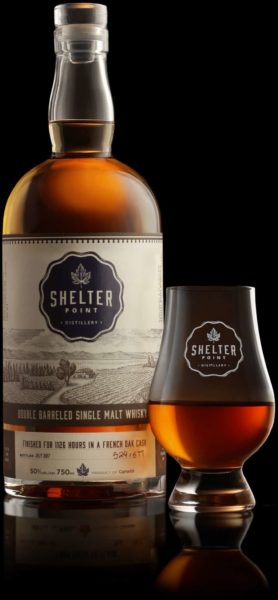 Our first Double Barreled Whisky is a special collaboration with Vancouver Island's Coastal Black Estate Winery. We hand-selected two of our best Single Malt Whisky casks and finished them in two French Oak wine barrels, previously home to Coastal Black's Blackberry Wine. Aged in our American Oak for six years, and then finished for 1126 hours in the flavourful French Oak, Shelter Point Double Barreled Whisky is a sensational marriage of spirits.
Tasting Notes
A nose of brandied bananas, sweet toffee and caramel, with a marvellous hint of lemon sherbet and tobacco leaf. Salted caramel continues to the palate alongside golden treacle and a dash of white pepper. With water, you can find youth in Jolly Rancher sweets, cola, and a creamy vanilla finish.
Sold Out at the Distillery at the time of the tour there were limited quantities available at select local liquor stores.
A bit of a background on the Montfort District 141, Montfort was a New York stockbroker who originally assembled all the pieces that make up the 380 acre farm and he later sold it to the University of British Columbia and Evans purchased the farm from UBC. 141 is the District lot where the grain came from and the latitudes and longitudes are printed on the back label. So it is possible to find the exact spot on the farm where the grain came from to produce the 141.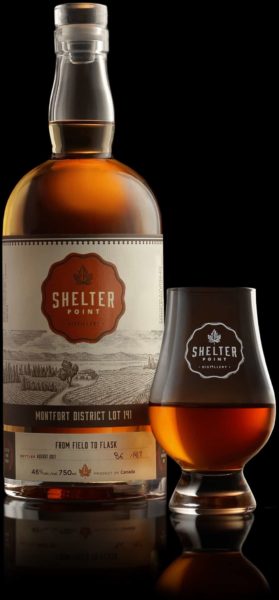 Raised right here on our family farm on Vancouver Island, Montfort DL 141 is a truly unique field-to-flask whisky. The name itself is the very lot in which the single-grain barley was grown, and the coordinates to the exact field are included on every bottle. Distilled in our traditional copper pot stills, aged in American Oak at our oceanfront warehouses, and bottled on-site by the Shelter Point family, Monfort DL 141 is a proud product of our distillery home. This limited-edition run is only 1,400 bottles.
Tasting Notes
On the nose, Monfort DL 141 has a distinct note of quince with almonds, green citrus, and a wash of plum. On the palate is homey fruits candied in sweet syrup, leading to an herbaceous and floral note finish. Add a touch of water to pull that fresh oak into the melody of fruits, and even find a delicate hint of mint.
Each area of the farm is unique with five different soil classifications. Every field will be a little bit different. Wines are influenced by terroir but whisky is influenced by what Evans calls "terra-grain" Things differ, one year there were drought conditions and there was a tighter grain, other years it is plumper, more rounded. Years like that you can work with and not being consistent is a plus giving different variations from year to year. – Evans
In their very first year they entered a few international competitions, big deal competitions, and in their inaugural year, they were awarded two golds, a silver and a bronze. According to Evans the philosophy being if they entered a local competition and if you "went in the toilet" everybody would be talking about it so they shipped some bottles over to Europe and if we failed it's okay because nobody really knows about it. – Ingels
On the other hand, if it works out the way you want it means the whole world knows that we're here. We've got a reputation and then various visitors from all around the world say "oh there's a distiller, let's have a look around" and unlike a lot of distilleries we are very welcoming. There are very few secrets. Little things like the kind of yeast we use, you have to have a little bit of mystique. Then these people take a bottle home and they will write a blog on social media and all of a sudden whisky lovers in Holland, the UK it gets around and it's word of mouth and it's been quite positive. – Ingels
It's an organic growth, it's not a panicked growth, it's been slow and steady. – Evans
It was at this point that we adjourned to the outdoors and Evans pulled up in a well used ATV. I buckled in and held on as he took us on quite the ride through the fields, over bumps and ruts all the way to the edge of the farm which is bordered by the ocean. A truly rustic and beautiful landscape. A short stop to point out the pipe that runs from the ocean up to the working area of the farm where Vancouver Island Salt Company is hard at work rendering ocean water into quality salt for gourmets and foodies. The salt is sold all over the world and Evans points out the "value added" aspect this brings to his farm. Evans met the salt purveyors who were looking to expand and loving the concept of using the natural resources in a productive way, so now the salt company rents a building on the farm. Apparently, one of the benefits being the overage of bulk salt, some containing locally grown herbs, goes to Evans brother for his dairy herd. So now the cows' milk may contain a little grass, a little grain and a little smoked or herbed salt.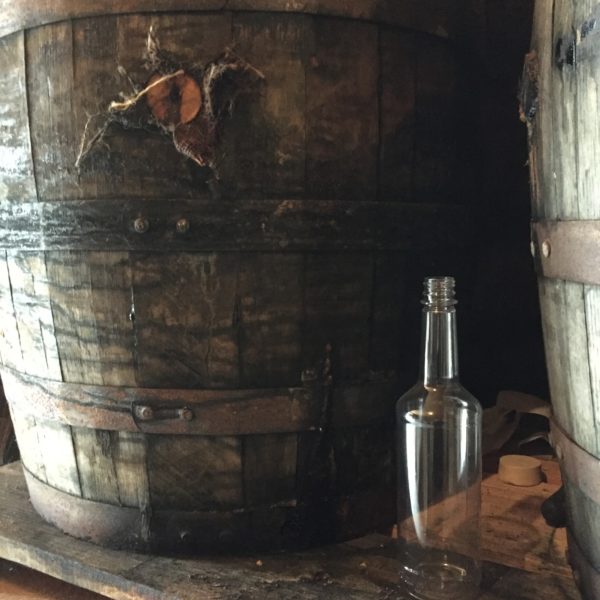 Our next stop is the former cow barn where the barrels are stored. Evans explains that the storage barrels are sourced from former American Bourbon barrels. By law, Bourbon barrels are made from American oak and can only be used once. So the distillery uses these barrels to hold the whisky for a minimum of five years. With patience, there will, in the future, be 12, 15 and 18 year old whisky. When looking for a 2018 release they will take five or six year old whisky they have, single malt, and finish it in one of the locally sourced barrels that they have acquired from places like Quails' Gate.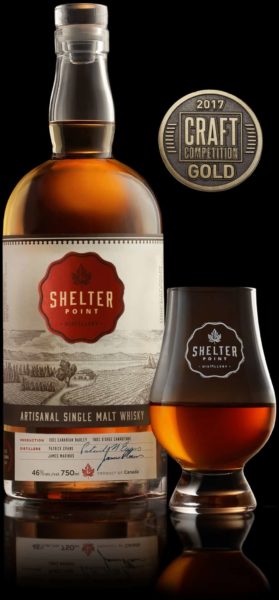 Paradise isn't necessarily a geographical requirement for making great whisky, but we managed to find it at Shelter Point. It's here that we handcraft our 100% Single Malt Whisky, distilled batch-by-batch in traditional copper pot stills from two-row barley, and aged in American oak barrels in our oceanfront warehouse. When it comes to artisanal whisky, every element matters—and in our unique, temperate rainforest climate, even the sunsets and sea air become integral.
Tasting Notes
Experts tell us that the inaugural batch of Shelter Point Single Malt Whisky has a very nice spice with good barrel sweetness, fruit and floral notes and some chocolate on the nose. It's nicely finessed with a good balance of complexity and delicateness. Translation? It goes down very, very smoothly.
Now it's time to taste. We start with one that is a five year old whisky that was aged in the Quails' Gate casks for seven or eight weeks, 63% alcohol so a little water is added before we taste, about 1/3 water is a good ratio. It comes off the still at 88% and brings it down to 63% by adding water then it goes into the casks and is left for 5, 6, 7, 8 weeks and the alcohol strength will be reduced by 1% per week until it gets down to the flavour they are looking for. The perfect way to conclude our tour is to taste more whisky. Courtesy of Shelter Point Distillery images and tasting notes.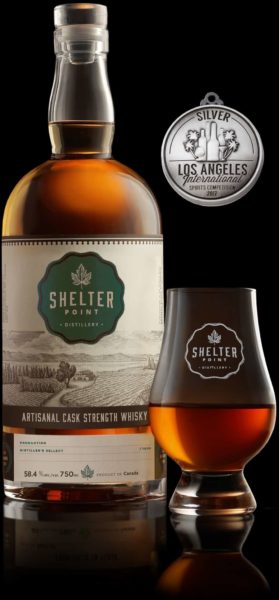 It's a marriage made in whisky heaven. To create this limited edition of only 1,200 bottles, we took five casks of single malt barley aged in American oak and combined them with one cask of single grain rye aged in the same wood. We then finished the mix in a French oak cask, creating an incredibly rich, fruity whisky with layer after layer of flavour. Decadent and smooth, this blend will surprise you with its spicy heat and sweet finish.
Tasting Notes
Shelter Point Cask Strength Whisky is doughy on the nose with a hint of orange cheddar, and creamy like clotted cream with a dab of strawberry jam. The gently toasted oak flavour is enhanced with dill and light sugars. The palate is fruity with a bit of heat, although surprisingly smooth for a whisky of this strength and age. On the back end, the spices take over: candied fennel, licorice, burnt demerara sugar and oily earthy tones. The finish is light, fresh and sweet, drying as it fades.
Where to buy Shelter Point Whisky
Evans daughter Megan asked him to make something a little lighter and he told her he had enough work to do and suggested she try her hand. Using a base of whisky and adding flavours like real maple syrup, choosing between light, medium and dark. The result is the Sunshine Liqueur which bears her signature on the back label. Something a bit unexpected but it is very tasty. Just to make it interesting we added a little bit of the Sunshine Liqueur. You can go as high as 50/50 with the whisky for a different taste.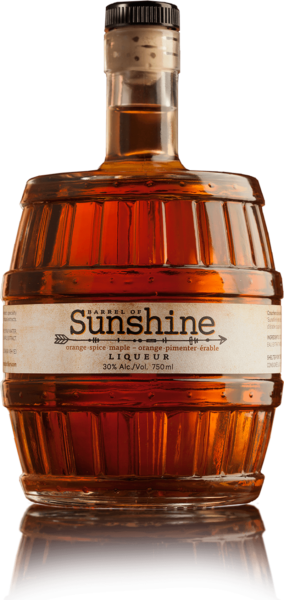 Perhaps if you saw the sunlight dance on the ocean waves near our farm, you'd wonder too: if you could bottle sunshine, what would it taste like? We thought about it and were determined to find out. Our answer: Sunshine Liqueur. Created in 2016, Sunshine is a small-batch, specialty blend of Canadian spirits and pure Canadian maple syrup coupled with a selection of natural extracts bursting with flavour. We call our signature blend, Orange Spice Maple.
SHELTER POINT CANADA ONE ARTISANAL VODKA
Canada's finest handcrafted vodka: there can be only One.

CanadaOne is named after the distiller's cut—the purest one percent of a spirit that is achieved for a brief moment at the peak of distillation. To get to that one percent, we use one grain, from one farm, at one distillery. While seemingly simple, our vodka is unconventional, distilled in the same copper pot stills we use for our whisky, and from barley instead of wheat. Once it's in a glass, there's no mistaking it. CanadaOne vodka is as pure as the barley and spring water it's made from—an unmistakably Canadian vodka.
We first discovered Shelter Point in 2014, read our original article here.
People who visit us say that the journey is almost as delightful as their stay with us, so please, won't you stop in? We're located just south of Campbell River off the "Oceanside Route" or the Old Island Highway that winds its way along the eastern side of Vancouver Island.
4650 Regent Road
Campbell River, BC
V9H 1E3  Canada
Hours
Gift Shop and FREE tastings open to the public:
12pm – 5pm
7 days a week
FREE drop-in tours run:
12pm – 5pm
Wednesday – Sunday