Fraserhood Hotspot Marks First Anniversary by Hosting Exclusive 'Wünderbar' Pop-Up Featuring Oktoberfest-themed Food and Drink Specials, Décor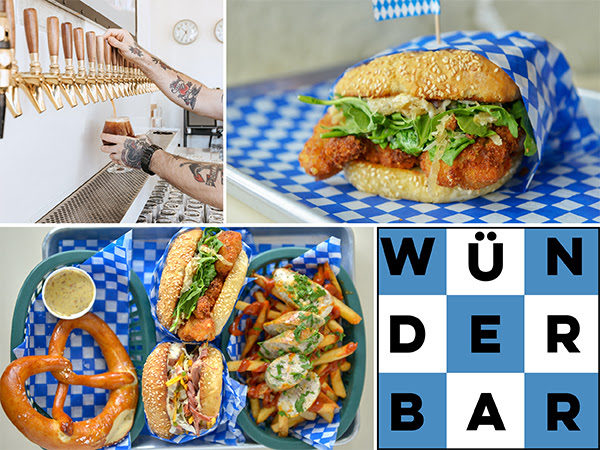 When the clock strikes
midnight
in Munich on
Friday, September 21
at 3 p.m., the Fraserhood hotspot 
Bells and Whistles
will usher
in 17 days
of celebrations and transform into a Bavarian-inspired beer hall to host
'Wünderbar: An Oktobeerfest Pop-Up'
until
Sunday, October 7
.
Gooseneck Hospitality partners James Iranzad, Josh Pape and Nick Miller and the Bells and Whistles team will mark the restaurant's first anniversary by inviting guests to hoist a stein and mark the annual beer-centric celebration with Oktoberfest-themed attire, décor and food and drink specials.
In keeping with the theme, Executive Chef Alessandro Vianello has added a number of specials to the menu, including warm pretzels with tangy honey mustard, currywurst (seared Two Rivers Meats bratwurst, crispy fries, curry ketchup), an Oktoberfest platter (crispy pork schnitzel, Two Rivers bratwurst, rosemary bacon, braised housemade sauerkraut, German potato salad, mustard and pickles) and apple strudel soft serve (caramel apple compote, pie crust).
At the bar, Bells and Whistles will delight fans of classic German-styled beers such as Dunkel and Hefeweizen by featuring local and import brews like Alberta's Fahr Brewing Hefeweizen, Vancouver's Strange Fellows Pilsner, and Oktoberfest beers from Munich's Paulaner and Hacker-Pschorr, Ontario's Beau's Brewing, Delta's Four Winds and New York's Brooklyn Brewing.
"Oktoberfest is the perfect occasion to tap into some unique beer styles and have a little fun with some homespun German-inspired food specials," says Iranzad. "This is the exact type of celebration that really captures the casual-dining-and-beer-hall atmosphere we had in mind when we first envisioned this restaurant."
For more information on Bells and Whistles or to stay up to date on its latest developments, visit bellsandwhistlesyvr.ca, become a fan of /bellsandwhistlesyvr on Facebook or follow @bellsandwhistlesyvr on Instagram.

---
ABOUT BELLS AND WHISTLES
| Located in the heart of Vancouver's burgeoning Fraserhood/Cedar Cottage district, Bells and Whistles is a casual dining and beer hall concept that offers up 3,000 square feet of space with seating for 150, an interactive games room, wrap-around heated patio and big screens showing the best local and international big-league sports action in the city. The latest project from the team behind Gooseneck Hospitality, which has also opened such award-winning Vancouver restaurants as Wildebeest, Bufala and Lucky Taco, Bells and Whistles brings together the best of the local brewery scene as well as import beers, craft ciders, cocktails and wine exclusively on tap. Bells and Whistles' food menu features a range of homespun, locally and ethically sourced dishes such as gourmet burgers and sandwiches, salads and ballpark-friendly fare like chili, nachos and garlic fries as well as a selection of real-milk soft-serve sundaes and floats.
3296 Fraser Street, Vancouver, BC  V5V 4B9 | 604-620-7990 | Daily 11:30 a.m. to midnight |  bellsandwhistlesyvr.ca | @bellsandwhistlesyvr | /bellsandwhistlesyvr