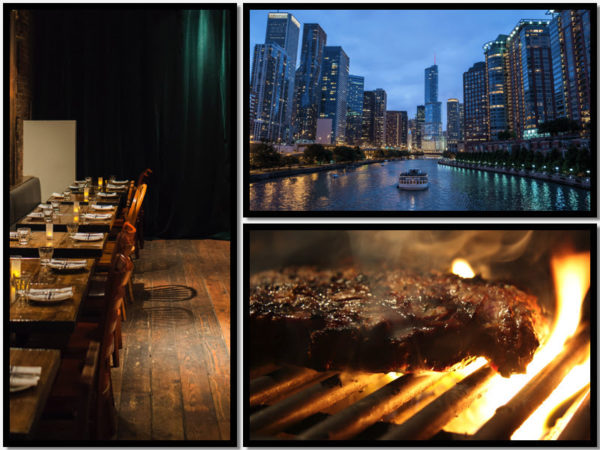 "Chicago Steakhouse" debuts a series of themed, one-night
pop-ups in Mamie Taylor's Chinatown dining room
Mamie Taylor's Chef Jeff Koop is bringing the flavours of the world to Vancouver with an internationally themed pop-up restaurant series. These intimate, ticketed dinners will host 16 curious culinary adventurers at each of two seatings behind the green velvet curtain of the restaurant's private dining room located at 251 East Georgia St. in Chinatown.
A chance for Jeff to "spread his wings," the pop-ups in the ongoing series will explore international and regional cuisines in a creative and immersive manner, but with the fun and laid-back atmosphere Mamie Taylor's is known for.
First up is a tribute to one of the most influential American dining institutions: the Chicago Steakhouse, on Tuesday, April 24, with seatings at 6pm and at 8pm.
Set in the go-go 1980s, guests will enjoy some of the most iconic dishes of the past presented in a very modern way. The menu will reflect the modern apex of Chicago's chophouse culture: A time when The Windy City elected its first female mayor, followed by its first African American mayor; The Bears' Super Bowl XX win catapulted them to international fame; and ballooning corporate expense accounts kept steakhouses packed night after night.
Chef Jeff's Pop-Up Dinner Series:
Chicago Steakhouse
April 24, 2018
Hors d'oeuvres circa 1987 and Welcome Cocktail
Wedge Salad
iceberg lettuce, thyme, stilton
Lobster Ravioli
tomato concasse, asparagus, basil, lobster veloute
45-Day, AAA Dry-Aged Alberta Prime Striploin
smoked onion, potato, broccolette, horseradish cream, red wine sauce
Pineapple Upside Down Cake
amarena cherry, coconut crumble, milk sorbet
Other pop-ups will follow in the coming months, including a vegetarian Tribute to l'Arpege Paris' famed Chef Alain Passard, a traditional Hokkaido-style Kaiseki, wild game from British Columbia, and Shanghai-inspired seafood adventure.
Tickets for the time-traveling Chicago Steakhouse pop-up dinner are $60 per person (service not included) and include a welcome cocktail. Tickets for both the 6pm and 8pm seatings can be purchased online at Eventbrite and are limited to 16 seats.
About Mamie Taylor's:

 At the vanguard of the Vancouver's reinvigorated Chinatown culinary scene, Mamie Taylor's is a modern American restaurant specializing in imaginative, regional comfort food with a killer cocktail list. We also have taxidermy.
Address: 251 East Georgia Street Chinatown, Vancouver, B.C.
Phone: (604) 620-8818
Hours: 5pm-12am Sunday-Thursday
 | 5pm-1am Friday-Saturday
Brunch: 11am-3pm, Saturday & Sunday
Happy Hour: Monday-Friday from 5-6pm, Saturday-Sunday from 3-5pm