Indigenous Spoken Word Artist Challenges Audiences to Enact Social Change
The Chan Centre for the Performing Arts at the University of British Columbia (UBC) welcomes Hawaii's first official poet laureate Kealoha on October 3, 2018, at 7:30pm as part of the Beyond Words series at the Telus Studio Theatre. The innovative artist's one-man show will transport audiences on an exploratory journey of social consciousness as he explores themes of unity. Kealoha will utilize the transformative power of spoken word and movement to present an evening of barrier-breaking, multidisciplinary work.
"When I first heard about Kealoha I was drawn to his piece Dichotomy, which addresses the conflict he feels between his scientific education at MIT and his Indigenous background — he confronts this challenge through his engaging spoken word performance," says Wendy Atkinson, Programming Manager at the Chan Centre and curator of the Beyond Words series. "In programming this series, I look for artists who are curious, inventive, and push boundaries — all of which describe Kealoha and his riveting live performances. His slam poetry helps us make sense of our world, and is a terrific example of the importance of art and storytelling to create a community of informed citizens. I look forward to seeing him share his talents with our community here at the University of British Columbia."
Armed with boundless energy, positivity, and a deep-rooted respect for the environment, the Honolulu native brings his provocative art form to Vancouver audiences. His explorations of social and universal themes stem from personal and philosophical stories of his own life. Kealoha's powerful prose speaks to the complex and challenging narratives of Indigeneity, and is imbued with both sensitivity and urgency.
Vancouver has its own thriving slam poetry scene, and opening the evening's performance will be a series of five local slam poets: Ivan Leonce, mitcholos touchie, Valeen Jules, Anjalica Solomon, and Santiago Ureña. These five commanding artists will bring their diverse backgrounds and unique perspectives to this intensely personal art form — each performing a short five-minute set before Kealoha takes to the stage.
Kealoha graduated with honors from MIT with a degree in nuclear physics, working a series of high-profile jobs for a federal think tank and a highly competitive management-consulting firm in San Francisco early on in his career. Yearning for a greater connection to his community, he started a weekly gathering known as "The Think," exploring fields of study such as architecture, philosophy, music, politics, and economics. Soon after, Kealoha was introduced to slam poetry, and the natural performer veered from the corporate track in favour of open mics. He founded HawaiiSlam's First Thursdays — now the largest registered poetry slam in the world with a regular average attendance of 500 — and immersed himself in a realm where positive messaging inspired waves of change.
Kealoha was featured in HBO's documentary series about youth slam poets Brave New Voices, and has appeared on PBS and National Public Radio. He has organized more than 200 workshops across Hawaii's schools, libraries, and community centres. The prolific storyteller has shared the stage with music icons Willie Nelson, Ben Harper, Jack Johnson, and CeeLo Green, and has performed from the White House to the legendary Green Mill in Chicago. He was also a featured vocalist for Henry Kapono's Grammy-nominated album Wild Hawaiian Experience.
About the Beyond Words Series
The Chan Centre's Beyond Words series was launched in 2012 to explore the power of storytelling through performance as an agent of change and means of igniting conversation. Previous events have included sold-out engagements with avant-garde multimedia artist Laurie Anderson, as well as Inuit throat singer Tanya Tagaq and trailblazing Greenlandic mask dancer Laakkuluk Williamson Bathory. Up next in the series is No Blue Memories: The Life of Gwendolyn Brooks by Chicago-based Manual Cinema, which looks at the work of the Pulitzer Prize-winning poet and educator.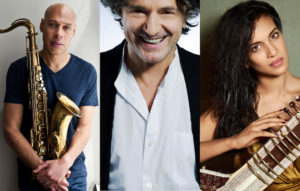 Aida Cuevas: Totalmente Juan Gabriel – September 22, 2018 @ 8pm

Known as 'The Queen of Mariachi', Cuevas and her high-energy band will perform and pay tribute to her late father, signer-songwriter Juan Gabriel.

I'm With Her – September 30, 2018 @ 7pm

Three folk females blaze a trail for women in the male-dominated industry of American country music.

BEYOND WORDS SERIES

Kealoha

– October 3, 2018 @ 7:30pm

Goran Bregovic and His Wedding and Funeral Band – October 21, 2018 @ 7pm

Brass, percussion and vocals meet in a modern spin on traditional Balkan rhythms from eclectic composer Goran Bregovic.

Joshua Redman: Still Dreaming – November 13, 2018 @ 8pm

Jazz cool comes to the Chan Centre stage, with an inventive performance from legendary saxophonist Joshua Redman that honours his equally acclaimed father.

Bobby McFerrin: Circlesongs – February 17, 2019 @ 7pm

Multi GRAMMY award-winning singer Bobby McFerrin makes a rare appearance, inviting the audience to join him in improvisation and spreading infectious joy.

No Blue Memories: The Life of Gwendolyn Brooks – February 24, 2019 @ 7pm

Ladysmith Black Mambazo with Habib Koité and Bassekou Kouyate – March 2, 2019 @ 8pm

Needing almost no introduction, the a-capella group bring their message of peace of love along with two high profile Malian musicians.

Cristina Pato Quartet – April 11, 2019 @ 8pm

Master of the gaita (aka, the Galician bagpipes), Cristina Pato fuses Latin, jazz, pop and contemporary for a genre-defying performance.

Anoushka Shankar – April 27, 2019 @ 8pm

The daughter of the late Ravi Shankar, Anoushka Shankar continues and expands upon the innovations her father brought to classical Indian music.
About the Chan Centre for Performing Arts at UBC (chancentre.com)
Since 1997, the Chan Centre for the Performing Arts in UBC's Arts & Culture District has earned an international reputation for its striking design, stellar acoustics, and exceptional programming. Artists, critics, and patrons alike are unanimous in their praise of the facility, winning it a place among North America's premier performing arts venues. The Chan Centre boasts three unique venues: the superb Chan Shun Concert Hall, the dramatic Telus Studio Theatre, and the intimate Royal Bank Cinema. From classical, jazz, theatre, and opera to world music, the Chan Centre is a vital part of UBC campus life where artistic and academic disciplines merge to inspire new perspectives on life and culture. Past performers and guest speakers include: Wynton Marsalis, His Holiness the Dalai Lama, Renée Fleming, Dan Savage, Yo-Yo Ma, Buena Vista Social Club, Sigur Rós, Mavis Staples, Anoushka Shankar, Trombone Shorty, Chick Corea, and Herbie Hancock.
LISTING INFORMATION
Chan Centre Presents Kealoha
Date:
Wednesday, October 3, 2018, 7:30pm
Ticket Prices:
From $20
Address:
Chan Centre for the Performing Arts
University of British Columbia
6265 Crescent Road
Vancouver, BC V6T 1Z1
Box Office:
604-822-2697 / chancentre.com

In person at the Chan Centre ticket office
Open Tue-Sat, 12pm-5pm

Website:
chancentre.com