Anniversary Menu at Gastown Hotspot Revives Popular Dishes From Tuc's Past Such as Chicken Confit, 'Crop Pot' and Hanger Steak à la Bourguignon
Tuc Craft Kitchen
will dig deep into its culinary catalogue and bring back a number of past comfort-food favourites to celebrate its fifth anniversary when Executive Chef
Roy Flemming
debuts a new fall menu on
Thursday, October 4
.
The lineup of rustic fare on offer at the Gastown destination includes such newly introduced dishes as: acorn & pomegranate salad (acorn squash, pear, cucumber, roquette, ginger & pomegranate dressing); beer & cheddar soup (IPA, gala apple, cheddar, apple cider, oat crumble); beluga lentil falafel (cauliflower purée, pickled beets) and fish stew (Lois Lake steelhead trout, ahi tuna, white wine, chorizo, corn, mint).
While a number of Tuc's most popular menu items will remain — among them, the crispy bacon and egg, which has been ordered more than 52,000 times and counting since the restaurant opened its doors in 2013 — Flemming is also reviving several 'greatest-hits' dishes from years past. Returning dishes will be offered with optional wine pairings from Tuc Co-Owner and Sommelier Colin Ross.
Returning Features
Hanger Steak à la Bourguignon
Braised 63 Acres steak, mashed potatoes, Swiss cheese, blue cheese crumble
Painted Rock 2015 Syrah, Okanagan Valley, BC
'Crop Pot'
Braised black lentils, Guajillo chiles, cauliflower béchamel, mashed potatoes
Coolshanagh Vineyard 2015 Chardonnay, Naramata, BC
Snapper Meunière
BC rockfish, savoy cabbage & ranch, pasta cake
Liquidity Winery 2016 Viognier, Okanagan Falls, BC
Pork Two Ways
Gelderman Farms pork loin chop, pork belly, smashed nuggets, coffee demi-glace
Telmo Rodriguez Winery Mencía, 2014 Gaba Do Xil Mencia, Valdeorras, Spain
Chicken Confit
Hallmark Farms chicken legs, tomato, snow pea, biscuit, chive dust
Tantalus Vineyards 2017 Riesling, Okanagan Valley, BC
The Steak
12 oz. certified Angus reserve rib eye, mushroom crust, roasted carrots, red wine reduction
Kettle Valley Winery 2014 Barber Cabernet Sauvignon, Naramata, BC
"It's a big occasion for the entire Tuc team, both past and present," said Ross, who launched the restaurant with co-owners James MacFarlane and Flemming in 2013. "We're excited to bring back some fan-favourites to celebrate and say thanks to all our longtime friends and family for their continued support."
For more information on Tuc or to stay up to date on all the latest developments, visit tuccraftkitchen.com, become a fan of /TucCraftKitchen on Facebook or follow @TucCraftKitchen on Twitter and Instagram.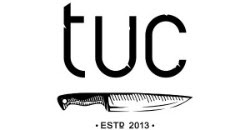 ---
ABOUT TUC | Launched in 2013 in the heart of Vancouver's historic Gastown district by industry veterans James MacFarlane, Colin Ross and Chef Roy Flemming, Tuc Craft Kitchen prides itself on serving rustic, seasonal, farm-to-table fare paired with a carefully curated list of inventive New- and Old-World wines, cocktails, and imported and local craft beer. Reinforcing the notion that sharing good food, drinks and conversation at the family table while surrounded by loved ones is one of life's true pleasures, Tuc features a warm and convivial atmosphere and a rough-hewn décor that offers a nod to the saloon-and-sawmill heritage of the local neighbourhood. Tuc is open for dinner seven days a week from 5 p.m., Happy Hour seven days a week from 4 to 6 p.m. and brunch on Fridays from 11 a.m. to 2:30 p.m. and weekends from 10 a.m. to 2:30 p.m.
60 W Cordova St, Vancouver, BC  V6B 1C9 | 604-559-8999 | tuccraftkitchen.com
Facebook: /TucCraftKitchen | Twitter: @TucCraftKitchen | Instagram: @tuccraftkitchen