One of the steadfast and better known wineries in British Columbia the Burrowing Owl Estate Winery retains it's rightful position as a force to be reckoned with in the #bcwine world.
Set right in the middle of acres of grapes this favourite never disappoints. It is amazing that year after year they produce top quality wines in quantities the market demands.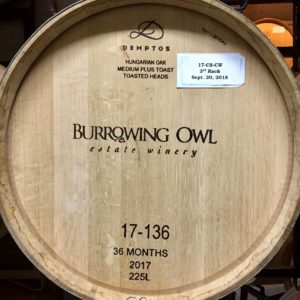 We recently had a wonderful cellar tasting experience which included an opportunity to see the "work in progress" as the grapes were arriving and going into the crusher. It is a symphony of coordination watching the skill of working quickly and expertly in a group.
I really enjoy the cellar tour which encompasses a massive area underground. Just a few years ago capacity was almost doubled with the construction of additional crush pads and barrel storage. Luckily our tour guide, Lisa Baadsvik from Marketing and Events knows her way around the labyrinth of French, U.S., Hungarian, and Russia barrels in the cellar.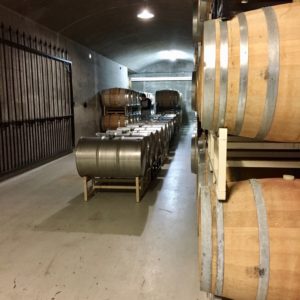 Crafting superior wines is a complicated, multi task job that goes through numerous steps and numerous hands to produce the result of good wine. We retired to a meeting room with a view (almost all of Burrowing Owl comes with a view) and spent the next half an hour tasting a top flight of wines.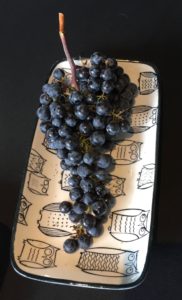 Here is what we tasted and enjoyed: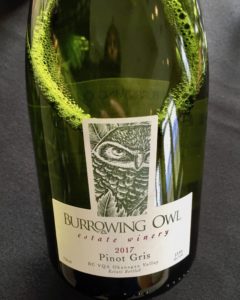 2017 Pinot Gris
Quintessential BC Pinot Gris with intense aromas of pear, honeydew melon and lots of lemon and grapefruit zest. some cilantro, spice, apple and citrus blossom add complexity. The palate is dry, soft and round textured balanced by crisp racy acidity.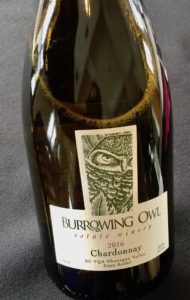 2016 Chardonnay
Ripe fruit and nicely integrated oak meld together in this modern, restrained Chardonnay. Vanilla, nut and popcorn barrel notes mix with white peach, banana, cantaloupe melon, pear and a lemon on the nose. The palate starts with a creamy texture before the crisp, fresh juicy citrus acidity and minerality kick in. Flavours of peach, tropical fruits and lemon verbena last through a long finish.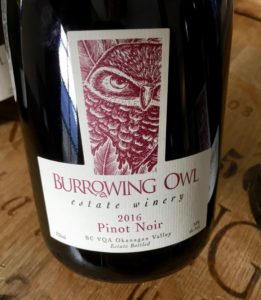 2016 Pinot Noir
A nose of ripe yet juicy strawberry, raspberry and plum with licorice spice, vanilla, cherry pie and some leather, meat, dried sage and toasty oak aromas. The palate is silky textured with light elegant tannins and flavours of ripe cherry, strawberry, some subtle meaty notes and a little savoury dried herb note on the long finish.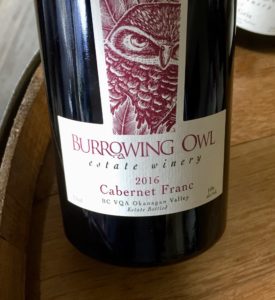 2016 Cabernet Franc
An intense nose of casis, black cherry, spiced black plums, dried herbs, dark chocolate, nutmeg and licorice with the grape's signature floral potpourri, lavender and violet notes. The palate is medium bodied, silky in texture with lovely ripe tannins housing the blueberry, black plum and raspberry fruit and the complex elements of shortbread, pink peppercorns, dried flowers and a graphite minerality on the long finish.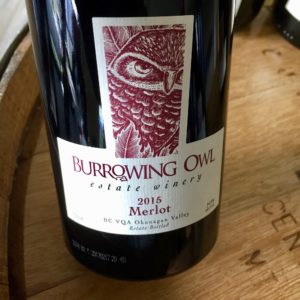 2015 Merlot
Loads of ripe baked plum, black cherry, red berries, licorice and clove spice with complex notes of shortbread, dried sage, cedar and hints of leather in the background. The palate is dry and full bodied with balanced acidity and firm ripe tannins that give structure for aging. Blackberry, black plum, dark chocolate and pie crust with savory leather notes and orange zest make for a complex palate with a long finish that will age for a decade.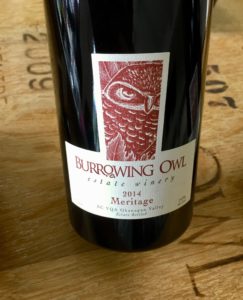 2014 Meritage
An intriguing and complex nose shows red and black currant, vanilla, burlap, tobacco, potpourri, spice and tangy, meaty chorizo notes. The palate is elegant and balanced with ripe tannins, juicy fresh acidity and unfolding layers of flavour through a complex, seamless palate including plum, mixed red and black fruits, orange zest, floral violet notes, leather and spice. It shows restraint yet with plenty of structure and intensity to develop and cellar for a decade or more. Pair it with rosemary and garlic studded leg of lamb.
Wines are available to purchase in the Burrowing Owl wine store or online
When visiting BC Wine Country before you go: Do your homework and a bit of research about the wineries you wish to visit. Check the winery website to find out their months, days and hours that their Tasting Room is open. Know if you need to book your tasting in advance of your visit. Many wineries are now so busy there may be times that they are unable to accommodate you. It will be a much better visit if you have a confirmed appointment. Be on time. Expect to pay for your tasting, some, but not all wineries refund all or a portion of the fee if you purchase wine. Plan ahead for a designated driver or use the services of a wine tour company. Limit the number of wineries you visit in a day. A more leisurely timeline will increase your enjoyment. For the best overall experience, I like to limit my daily visits to three, maximum two wineries if a winery lunch is on the agenda.
Tasting notes: courtesy of Burrowing Owl Estate Winery
Thanks to Ford Canada for providing our transportation to the Okanagan.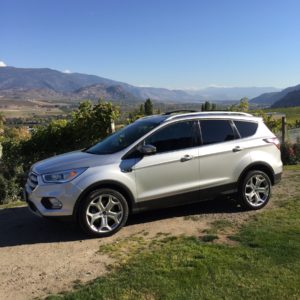 The tasting and the transportation provided by Ford Canada were complimentary. All opinions are my own.