Founded in Vancouver, new concept in fitness opens brand new studio in Gastown
Club Row has introduced an entirely new genre in fitness, bringing forward a fresh concept, with the world's only rhythm-based rowing studio. This workout is not something that you will find in LA or New York; it's an original, founded right here in Vancouver.
Founder, Nathan Morris, created Club Row from his garage in East Vancouver, inspired by the challenge to create something new in fitness, utilizing one of the best, yet most underutilized machines found in a gym. Rowing clubs are traditionally expensive and time consuming, but Club Row offers a more accessible and fun way to experience the indoor rower.
At the core of Club Row is the original method of rowing together in unison while matching the beat of rap music. This is the founding philosophy named the rhythm row. The rhythm row is akin to rowing, as to what spin is to cycling and seen as the next trend in fitness. Targeting the full body, with low-impact, Club Row is a cardio and weighted workout that creates results for the entire body long after you leave the studio. There is an undeniable connection between movement and music, and when synchronized together as a group, it creates a powerful togetherness. This fresh approach offers a more complete movement than what is normally found in a spin class.
Club Row wants to make your workout the best hour of your day, and the most social hour of your day, while offering that feeling of dancing the night away with friends, but in a fitness class at 6am, Monday morning.
"It is incredibly invigorating and humbling to see this new idea grow and spread from one that started in my garage. For more and more people to experience the joy of rowing and the incredible power of rhythm-based rowing that we have created at Club Row is amazing. I cannot wait to share this experience with more people in Vancouver, and beyond!" 
Nathan Morris, Founder of Club Row Fitness
Club Row opens its new flagship studio this month at 163 W Pender Street in Gastown, and will be adding more classes and new instructors to the schedule in November.
30 Days of Rowing Challenge – November
To celebrate the new studio and new trainers, Club Row is launching its biggest challenge yet. For the month of November, rowers are challenged to row as many classes, with as many trainers as possible. From November 1 to 30, take 12 classes or more for the chance to win some incredible prizes:
Grand Prize – row 14 classes with 8 different instructors for your chance to win a 20 class pass and prize from RYU Apparel (3 prizes)
Second Place – row 12 classes with 5 different instructors for your chance to win your own private class for you and 20 friends (2 prizes)
Third Place – row 12 classes for your chance to win a 10 class pass (5 prizes)
Everyone who signs up and completes the challenge, or rowing 12 classes in 30 days, will receive a custom Club Row t-shirt. Sign up in studio and reserve your seat using the MINDBODY app.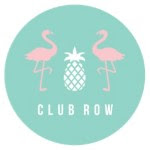 About Club Row 
Founded in the heart of Vancouver, Club Row Fitness offers a new take on studio fitness with the rhythm-based row class. In concert with the heavy beats and group movement, Club Row shifts exercise from something that is endured, to something that is enjoyed. Established in 2017, founder Nathan Morris has created a full-body workout unlike any other. Come experience the newest fitness trend created right here in Vancouver! clubrowfitness.com
Contact
Alissa Horn
Marketing, Club Row Fitness
(604) 812-8718 or nate@nullclubrowfitness.com