Vancouver Cantata Singers highlights Vancouver composers, popular music, and internationally renowned choral composers in Musica Universalis
On Saturday, February 23rd, Vancouver Cantata Singers presents Musica Universalis: Music of the Spheres. This unique choral concert explores music and poetry of the planets and heavenly spheres in the colourful and acoustically pleasing atrium of Blusson Spinal Cord Centre, a world-leading research and care facility for people with spinal cord injury. The ancient Pythagorean concept of 'music of the spheres' regards proportions in the movements of star and planets as assigned musical values. This philosophical concept has inspired many composers to create music of both sacred and secular texts.
Several works by Vancouver-based composers will be featured including JUNO award-winning composer Jordon Nobles (Statis for choir with handbells), current VCS composer-in-residence Craig Galbraith (Axis Mundi), Larry Nickel (Creator Alma Siderum and Constellatio), Stephen Chatman (Thou Whose Harmony Is Music of the Spheres), and Kristopher Fulton with a newly commissioned eight part arrangement of Cosmogony (2011) by Icelandic artist Björk. The Cosmogony lyrics are based on several myths about the creation of the universe. Björk explains: "This song is the 'music of the spheres' song for me… So it's all about copper and rotating things and harmony and equilibrium and the universe and where there's a place for every little thing and we're all taken care of."
Works by internationally renowned choral composers such as Latvian composer, Erik Ešenvalds, Norwegian composer, Ola Gjeilo will also be featured. Lastly, a choral arrangement of Depeche Mode's Enjoy the Silence by American composer, Eric Whitacre rounds out a modern and eclectic collection of music inspired by the heavens.
Tickets prices for the performance are adults $35, students $15, and youth $10. Tickets are available online: musicauniversalis.eventbrite.com and by phone: 604-730-8856.
PERFORMANCE DETAILS
Musica Universalis: Music of the Spheres
Saturday, February 23rd 2019 7:30pm
Blusson Spinal Cord Centre, 818 West 10th Ave. Vancouver, BC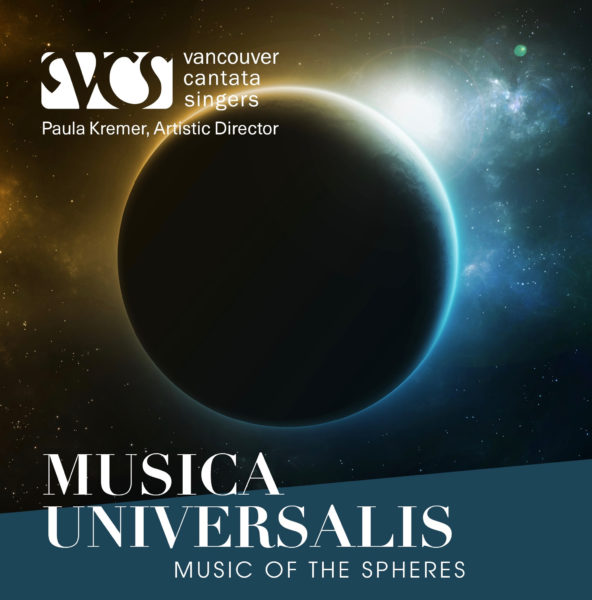 Musica Universalis, or 'universal music', refers to an ancient philosophical concept that the movement of celestial bodies create their own music based the mathematical proportions and vibrations of their inter-relational orbits. This idea, that the universe and galaxies have their own celestial music, has inspired many composers to create choral music of both sacred and secular texts. The Vancouver Cantata Singers brings you a concert of 19th century and contemporary works, exploring the poetry and music of the planets and heavenly spheres. The concert features works by Erik Ešenvalds, Ola Gjeilo, Robert Schumann, and Canadian composers, Stephen Chatman, Craig Galbraith, and Larry Nickel.
ABOUT VANCOUVER CANTATA SINGERS
Vancouver Cantata Singers recently celebrated its 60 anniversary and has become one of Canada's preeminent, award-winning choral ensembles. Vancouver Cantata Singers is known for technical virtuosity, fine blend and exceptionally high performance standards encompassing 500 years of choral repertoire. The Cantata Singers have been awarded the Canada Council's top prize in choral singing, the Healey Willan Grand Prize, more than any other choir in the country. VCS also commissions new works from critically acclaimed composers which have led to extremely successful and innovative collaborations with regional and international artists and ensembles.
ABOUT ARTISTIC DIRECTOR, PAULA KREMER
Born in Vancouver and educated at the Vancouver Academy of Music and the University of British Columbia, Paula Kremer has studied choral conducting in courses and workshops at Eton, Westminster Choir College, the Eastman School of Music and the University of Michigan. Holding an ARCT in both piano and voice from the Royal Conservatory of Music, Paula has also studied voice with Phyllis Mailing, Bruce Pullan, Marisa Gaetanne and Laura Pudwell, and piano from Margot Ehling. A full-time faculty member of the School of Music at Vancouver Community College, teaching voice, solfege, and choir, she was also the director of two Vancouver Bach Choir ensembles for young adults from 2009-17, the Vancouver Bach Youth Choir and Sarabande Chamber Choir. Paula joined the alto section of our choir in 1994 and has been the Vancouver Cantata Singers' Artistic Director since 2013.