Ancora Waterfront Dining and Patio brings its celebrated brand of Peruvian-meets-Japanese cuisine to the North Shore with its second location at 1351 Bellevue Avenue in West Vancouver's Ambleside neighbourhood.
From the moment you step into Ancora Ambleside you are impressed by the natural beauty of the location. Soaring ceilings and tasteful use of mirrors are the backdrop for this elegantly comfortable space that graces the forever views towards First Narrows and Stanley Park beyond.
Currently open for dinner Ancora has quickly become a local favourite for exquisite dining or a casual evening of signature cocktails. With seating for 104 including 17 seats along the bar where you can watch the symphony of activity in the kitchen.
Of course the main feature is the cuisine and each dish we tasted last night was imaginative, delicious and artfully presented. Coupled with the exemplary service Ancora is everything you could want in a fine dining experience.
The evening started with a choice of cocktail and I couldn't resist the Jalapeño Margarita. Served in a diminutive coupé glass rimmed with smoked salt it was a perfect mix of sweet and sour with a spicy bite finish. Passed appetizers included a duo of tuna and caviar sashimi, salmon with cured egg sashimi, and baked oysters on the half shell in a Rockefeller style that was sublime.
The atmosphere was friendly and welcoming as we spent time taking in our surroundings and admiring the west coast styled decor.
With great anticipation we were seated and the dinner began. The dishes were all excellent and we were treated to a number of items from their lunch and dinner menus.
GM Steve Edwards did the honours of pouring a Fitzpatrick Fitz brut sparkling wine to pair with the crab cake which was our first course. A melt in your mouth delicacy, richly delicious.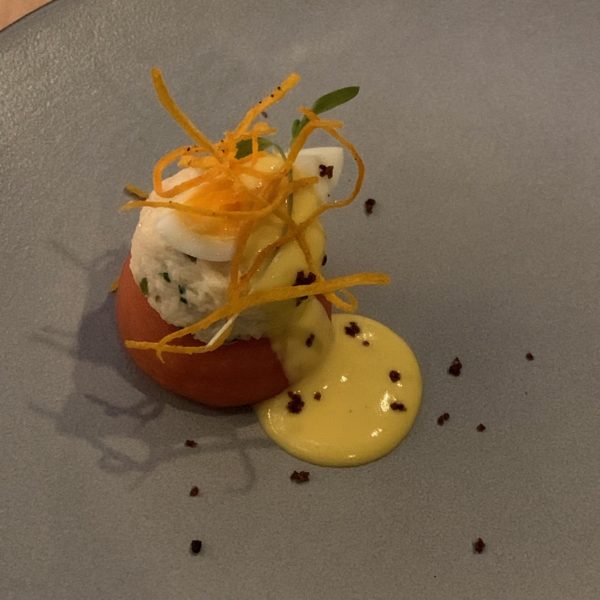 A tuna ceviche paired with an Aveleda vinho verde were a perfect match. Bites of tuna with a tang of fresh lime was offset by the smoothness of the wine. Another winning dish.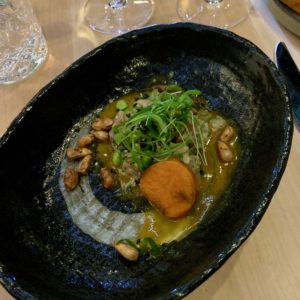 The next dish was a seared sablefish paired with sake. The sablefish was delightfully fresh, flavourful, moist and flaking and of course OceanWise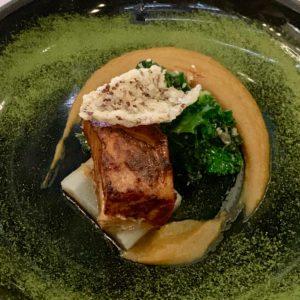 Duck breast with a duck "popsicle" was a real treat. Paired with a Bachelder Pinot Noir from Oregon. The combination for excellent.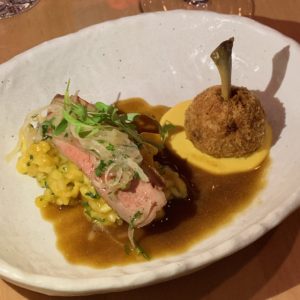 Mouthwateringly tender with crunchy and soft Yucca fries and of course fresh vegetables, paired with a rich, dark Garzon single vineyard Tannat.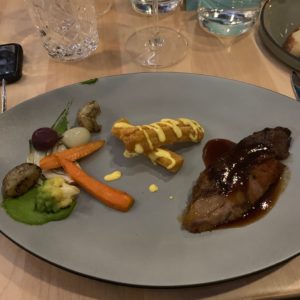 Time for a palate cleanser.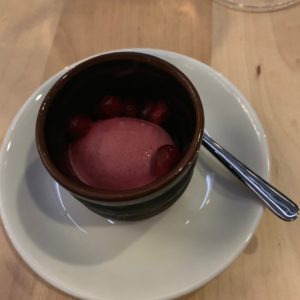 Just when we thought we couldn't eat another bite our will power fanished with the appearance of a to die for dessert of Peruvian donuts and a platter containing a trio of macarons, meringue and shortbread. Paired with Arrowleaf Late Harvest Vidal.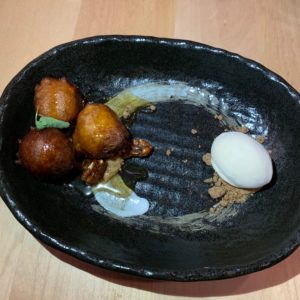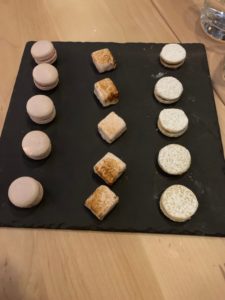 A restaurant serving innovative, creative cuisine paired with first rate wines, thanks mostly due to the stewardship of GM Steve Edwards, and the skill of Chef Ricardo Valverde and a competent kitchen and serving staff.
From the cocktails right down to the final course of desserts everything presented last night was done well, and we were treated to some of what I am sure will be their most popular starters and entrees. Dishes were well executed by skilled culinary genius and presented by experienced servers who made your every wish their command.
This is what modern, fine dining and superb cuisine looks like. For a restaurant that has been open for only a few short weeks it has forged itself a place at the top of the list of exceptional restaurants that grace our fine city.
Prices are moderately expensive and on a par with other high end restaurants in downtown Vancouver.
ANCORA AMBLESIDE
​1351 Bellevue Avenue, West Vancouver BC
604.926.0287    ambleside@nullancoradining.com
Dinner — 5pm to close, Tuesday to Saturday
Thank you to everyone who made dinner possible and also incredible. Kudos to Executive Chef Ricardo Valverde and Chef de Cuisine Jorge Kim, with Brent Kim presiding over the raw bar, and to GM Steve Edwards for another culinary winner.
The latest project for the Viaggio Hospitality Group — which also owns and operates Cibo Trattoria, UVA Wine & Cocktail Bar, and Beach Bay Cafe and Patio — Ancora Ambleside offers guests 104 seats in its expansive dining room and bar and another 38 on a heated patio that features breathtaking views of notable landmarks such as the Lions Gate Bridge, Stanley Park and Vancouver's West Side.
Ancora Ambleside Migrates Signature Peruvian-Japanese Cuisine, Focus on Fine Wine, Signature Cocktails and Coastal-Inspired Décor From Award-Winning False Creek Location
I received a complimetary dinner to facilitate my reviews. All opinions are my own.
[wdi_feed id="2″]