Vancouver TheatreSports™ Launches 'Sea-sational' New Event
Improv Voyage
February 21 at 7:00pm at The Improv Centre 
Ahoy there! Join Vancouver TheatreSports™ (VTS) on Thursday, February 21 at 7:00pm for the maiden voyage of the comedy cruise ship 'yeSyeS TheatreSports' at Improv Voyage – a 'three-hour-cruise' special event. VTS' home theatre, The Improv Centre (located on Granville Island), will be transformed into a cruise ship setting for this immersive, themed evening. On board you'll meet all the crew one would expect to find: the comedic Captain and Cruise Director, along with a host of other embedded characters who will ensure an enjoyable experience of nautical fun for all guests.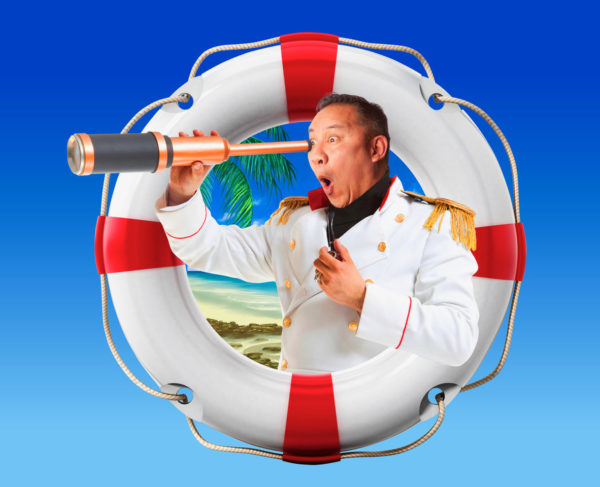 Once you've cleared security, join fellow passengers along the Promenade Deck for the 'Mustard Drill' or meander over to the Atrium to bid on one of the many 'shorex' (silent auction prize) packages offered at the Excursion Desk. Perhaps the Starlight Theatre is more to your liking where musical and improv comedy entertainment awaits your pleasure. Hungry? Wander over to the Captain's Table in the Lounge where the insufferable Maître D' is sure to insult you. If the weather is nice, enjoy the sunset from the ship's bow as you sip on something suitably celebratory. VTS' cruise photographer will be roving the decks to capture your special moments, or you may prefer a more formal portrait taken at the pop-up photo station.
As this 'cruise ship' never leaves port, you don't have to worry about luggage, flights, customs or passports, and there's no possibility of sea sickness. It's smooth sailing all the way as you laugh yourself silly at the antics of the crew and fellow passengers.
Unlike most cruises, this one won't cost you an arm and a leg. Early bird tickets are available now through January 31 for only $45.99; on February 1, prices sail to $59.99. Ticket price includes savoury hors d'oeuvres, a sundae bar, a beverage, and all 'on-ship' activities and entertainment. Book now through the VTS travel agent at 604-738-7013 or online at www.vtsl.com.
This night is sure to be a Titanic hit (minus the iceberg), filled with Captain-approved chuckles. Don't let this ship sail without you. 'Sea' you there. Bon Voyage!
Tickets at www.vtsl.com
For further information on Vancouver TheatreSports™, please visit the following platforms:
Website: www.vtsl.com
Facebook: www.facebook.com/VanTheatreSports
Twitter: www.twitter.com/VanTheatreSport
Instagram: www.instagram.com/vantheatresports
YouTube: www.youtube.com/user/vantheatresports/featured
About Vancouver TheatreSports™ (VTS):
Founded in 1980, VTS has grown to become a well-respected international leader in the improv art form. Voted the '#1 Improv Comedy Company' for the third year in a row at the prestigious '2018 Best of Vancouver Awards', VTS entertains more than 65,000 people per year with 10 shows per week, 52 weeks per year at its own theatre, The Improv Centre. An intimate space located on Granville Island, The Improv Centre is a fully-licensed facility with its own Neil Macrae Bar & Lounge, which overlooks False Creek Marina.
In addition, VTS owns and operates The Improv Comedy Institute – an improv school which offers classes from beginner through professional level, conducts province-wide school tours, and operates Improv for Business – a corporate training division with a diverse portfolio of blue-chip clients.
VTS appreciates the on-going support of season sponsors: City of Vancouver, CMHC Granville Island, The Georgia Straight, and The Granville Island Hotel. www.vtsl.com
Media release and images provided by Teresa Trovato, Teresa Trovato PR.