Nude Launches New Gin Soda Lemon
Vancouver-based ready-to-drink vodka soda brand launches into an entirely
new category with a 5% gin-based beverage
BC's original brand of low calorie Vodka Soda's, Nude, announces the launch of their newest product: Nude Gin Soda Lemon.
"We are thrilled to launch into an entirely new category and believe we have created an amazing product that our customers will love," says Julius Makarewicz, Nude CEO, from the company's head office in Vancouver, BC.
"After receiving hundreds of requests for a gin soda, we decided to take action. We are very excited with what we've created, and believe it will be the next wave in the industry."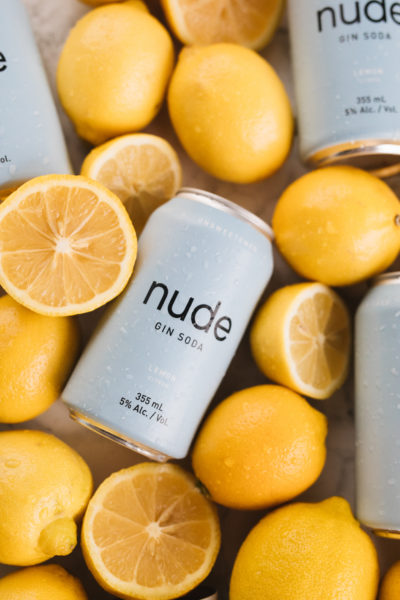 Like all Nude products, Nude Gin Soda Lemon is made with 5% premium Canadian-made spirits, sparkling water and all-natural flavours. Its sugar- and sweetener-free formula is also gluten-free and contains only 100 calories and 0 carbs per 355ml can. Its distinctive robin-egg-blue can sets Nude Gin Soda Lemon apart from the white packaging of Nude's popular Vodka Soda flavours, while still favouring a clean, minimalist aesthetic.
The Nude brand launched in July 2017 with Nude Vodka Soda Strawberry Kiwi, quickly becoming one of the most successful new alcoholic product launches this century in British Columbia, thanks to more than 400,000 x 24-cases sold over the past 12 months.
The brand has since expanded to include five additional Vodka Soda flavours (Cucumber Mint, Classic Lime, Peach, Raspberry Lemon, and Grapefruit). Available at hundreds of provincial and private liquor stores in BC and Alberta, Nude boasts the highest selling rate in its category as well as the #1-selling mixer pack in Canada — despite not yet being available in the country's two largest markets (Ontario and Quebec).
Nude Gin Soda Lemon is available now at all BC Liquor Stores and select private stores.
Find Nude:
Facebook: /nudevodkasoda
Instagram: @nudevodkasoda
Website: nudevodkasoda.com
Media release and images provided by Kate MacDougall, Camber Communications.
[wdi_feed id="2″]