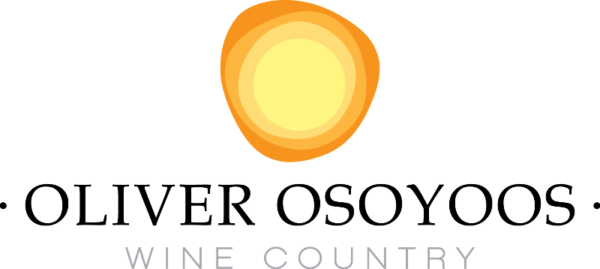 #UncorktheSun… at Home !
We truly hope that you continue to enjoy the experiences that we can share for you to enjoy in the safety and comfort of your own home. Wineries are working hard to prepare to open their doors so that they can welcome you to Oliver Osoyoos Wine Country.  We encourage you to take a little time to plan your next trip in advance as wineries will be offering new experiences to visitors.
#UncorktheSun… at Home with our Virtual Vineyard Tour Experience
Visit Covert Farms Family Estate from the comfort of your home with this unique 360 video tour. Fourth generation farmer and winemaker, Gene Covert, leads a tour of his beautiful 150 acre property in their famous 1952 cherry-red Ford Mercury truck and introduces their organically-grown wine portfolio.
If you haven't watched a 360 video before, make sure you use your mouse or trackpad to pan around every frame of the footage, taking in the blue sky, arid hills, and endless vines of this memorable Oliver Osoyoos Wine Country experience.
Complete the tour by pouring a glass of Covert Farms' Grand Reserve Cabernet Sauvignon and feel instantly transported. Covert Farm is offering free shipping for orders of four or more bottles until the end of May!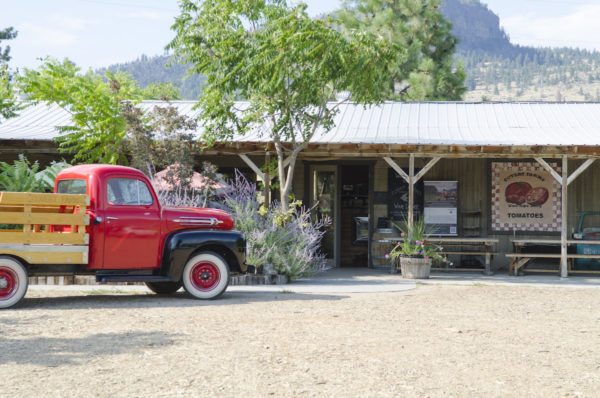 #EXPLOREBCLOCAL
We are looking forward to welcoming guests back to Oliver Osoyoos Wine Country in a way that adheres to the restrictions and requirements set out by the Provincial Government. Some of our wineries have started to open their doors this week and more will continue to do so, all offering advanced reservations, enhanced health and safety measures, and personalized experiences. We will share more details of our wineries' new offerings in the coming newsletters but in the meantime, we have revamped our Wine Country Map to help with future trip planning.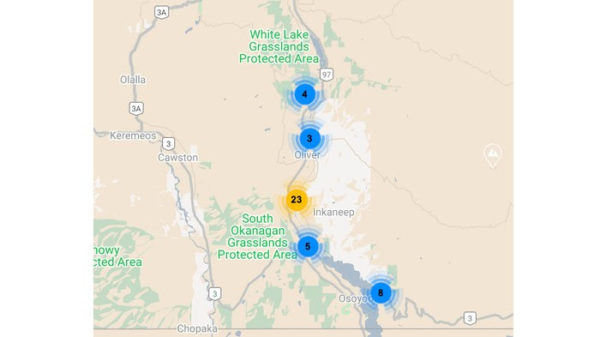 PAIRINGS – Gold Hill Winery
We wanted to thank so many of you for ordering from our Oliver Osoyoos wineries. Whether you purchased a selection from different wineries or went all-in with a case from your favourite, we are here to help with pairing suggestions.
At the southern end of the Golden Mile Bench, Gold Hill Winery is owned by the Gill family and produces award winning wines from a prime location on this famed stretch of the South Okanagan Valley. Farmers by trade, the Gill family knows how to nurture the land to get the best from their grapes. At this location, a magical combination of temperature, elevation, soil and airflow produces high quality grapes, resulting in an enviable portfolio of wines.
Gold Hill offers free shipping to anywhere in Canada, with no minimum orders. What more excuse do you need to order a bottle or two of their vibrant 100% Cabernet Franc Rose to pair with patio appetizers from smoked salmon bites to fresh oysters and calamari.
TERROIR TALK – Osoyoos East
This week, we're diving deeper into the Osoyoos East area as we continue exploring Oliver Osoyoos Wine Country's unique and diverse terroir.
Immediately south of the Black Sage area, Osoyoos East has a few key distinctions. Without the protection of the bluffs that shield much of the northern area, Osoyoos sees stronger winds that complement the area's arid landscape. Deep sands run throughout, while the lake helps balance the nighttime temperatures. Granite is intermingled with the sand, adding mineral depth. Wineries with this terroir include Nk'Mip Cellars, Adega on 45th Estate Winery and Moon Curser Vineyards – well known for their bold red blends featuring Syrah and Cabernet Sauvignon.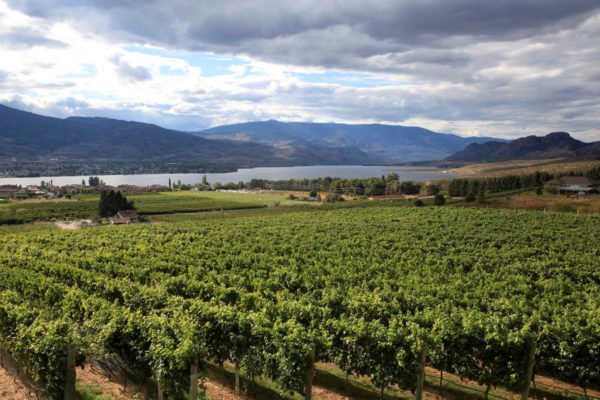 FREE SHIPPING SPOTLIGHT – Red Horses Vineyards
Please join us in welcoming Red Horses Vineyards to our region, as they are soon to open their tasting room on the banks of Tuc El Nuit Lake, just north of Oliver. This small, family run winery benefits from two generations of farming experience, growing signature grapes including Chardonnay, Cabernet Sauvignon and Cabernet Franc. Just a short walk from the town of Oliver and with sweeping views of McIntyre Bluff, this lovely little winery will become a must visit location for wine tasting in Oliver. Stay tuned to their Instagram @redhorsesvineyard and their website www.redhorsesvineyard.ca for more!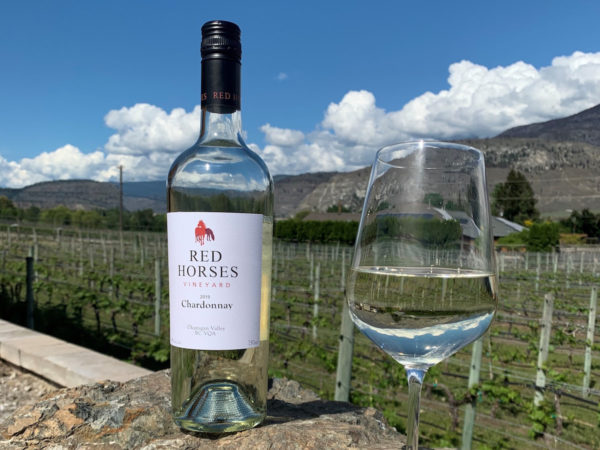 ENTERTAINMENT – Stoneboat Paella
Looking for a tasty recipe that's ready in just 30mins? Look no further than Stoneboat Vineyards' recipe for
Paella in a Pinch,
featuring cupboard and freezer staples and their own delicious Stoneboat Pinot Gris. We'd love to see your version on social media – tag @uncorkthesun and @stoneboatvineyards and we will share!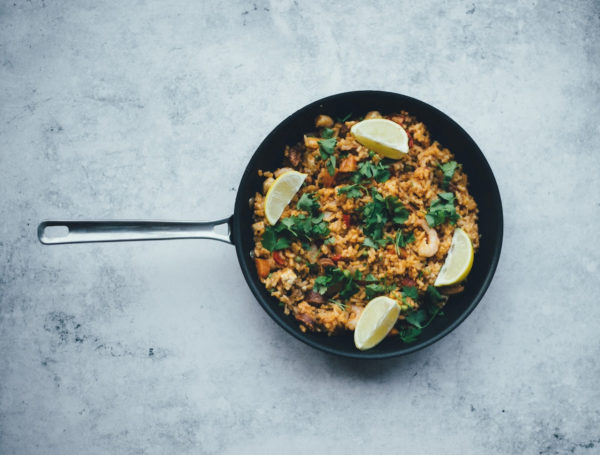 EXPLORE BC LATER – Burrowing Owl Guesthouse
With the hopes of fueling inspiration for a future trip to Oliver Osoyoos Wine Country, we want to continue to share some of our unique winery experiences, to spark your imagination for future trips to come.
Not only is Burrowing Owl Estate Winery known for its wine shop and restaurant the Sonora Room, but the Guest House, nestled into the 140-acre vineyard, is a true sanctuary where you can reconnect, retreat and rejuvenate. Featuring 10 exclusive, spacious rooms with private decks allowing you to soak up the sun and marvel at the desert colours. Take a virtual tour here, and add it to your list of future travel plans!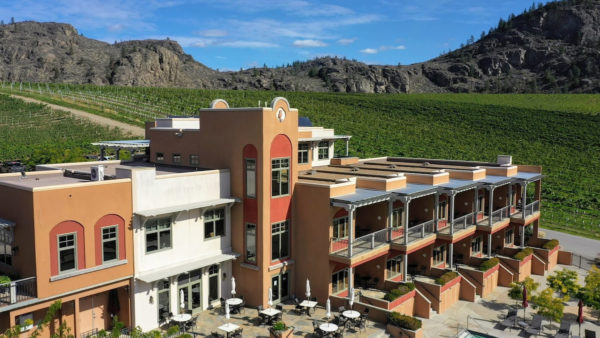 AND FINALLY…UNCORK THE SUN PODCAST AND LIVE TASTINGS
Episode #3 of our popular Oliver Osoyoos Wine Country Podcast Series is now available, along with episodes #1 and #2, via
our website
, iTunes, Spotify or other notable app service. Hosted by Moss Scheurkogel of Oliver's popular wine school, The Vinstitute, Moss explores the nuances of wine barrels and oak aging. Previous episodes focused on developing your personal wine cellar, and terroir.
We can't wait for our next guided virtual tasting, also hosted by Moss, via Facebook Live. Join us on Tuesday, May 26 at 7:15pm PT as we embrace all things rosé and explore other popular spring pairings. Wines include Culmina Family Estate Winery Saignée, Hester Creek Estate Winery Rosé Cabernet Franc, and Hidden Chapel Winery Blushing Bride – we encourage you to purchase from your local liquor stores or from the wineries directly in advance of the tasting. See you there!
Have a moment? Take a watch of our first virtual tasting CLICK HERE.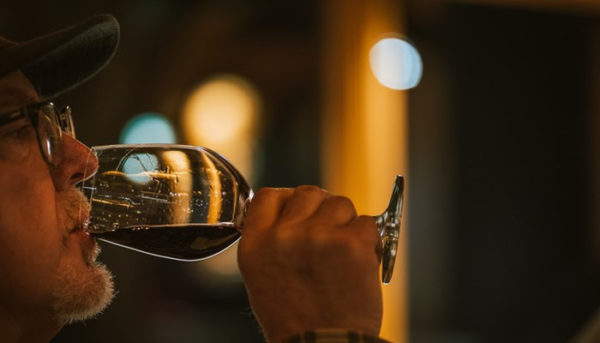 Information and images provided by Oliver Osoyoos Wineries Association