Salmon Girl Offers an Indigenous Perspective
on Protecting our Waterways
Salmon Girl explores the world of water and salmon. Through theatre, dance, music and puppetry, this piece follows the journey of a young girl into a magical adventure where the delicate balance of nature could change her life forever. A visually stunning work that shares a First Nations perspective on the importance of Salmon. Choreographer Michelle Olson from the Tr'ondek Hwech'in First Nation and playwright Quelemia Sparrow from the Musquem First Nation bring together their respective cultural perspectives and stories to create a piece that is both meaningful and delightful to all audiences.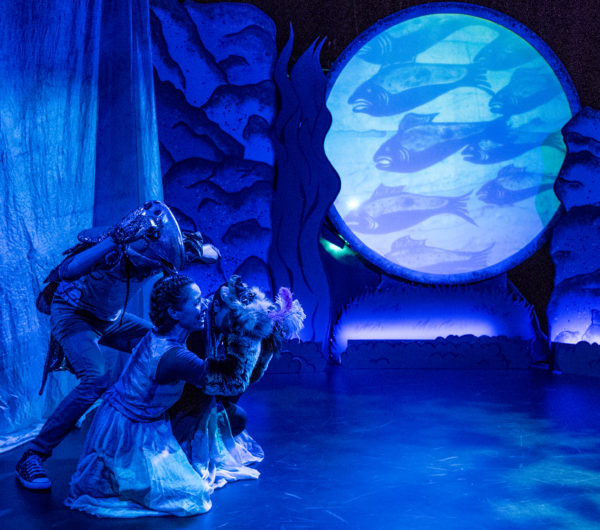 "Salmon Girl invites us to tap into the traditional wisdom of the salmon with the innocence and playfulness of a child's heart and mind."
-Martine Kleissen- Event Coordinator
Salmon Girl is a Raven Spirit Dance production. Created by Michelle Olson and Quelemia Sparrow.
Salmon Girl is directed by Quelemia Sparrow and Michelle Olson and features Tasha Faye-Evans, Jeanette Kotowich, Gloria May Eshkibok, Donna Soares and Taran Kootenhayoo
Writer: Quelemia Sparrow, Choreographer: Michelle Olson, Sound Designer: Kate de Lorme,
Composer: Wayne Lavallee, Lighting Designer/ Technical Director: Brad A. Trenman,
Costume Designer: Jessica Oostergo, Set Designer: Shizuka Kai,
Original Puppet Design and Shadow Puppet Design: Tamara Unroe,
Additional Puppet Designs: Shizuka Kai and Jessica Oostergo, Additional Props and Puppet Rebuild: Heidi Wilkinson, Outside Eye: Kim Selody, Video Support: Chimerik似不像
Salmon Girl is recommended for ages 5 and up.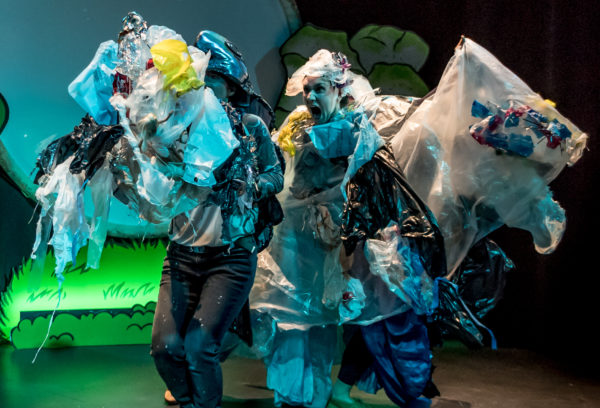 Dates: Run: April 6 – 14, 2019 [April 6, 7, 13, 14 at 11 am and 2 pm]
Relaxed Performance : April 6 at 2 pm
Check www.carouseltheatre.ca for performance calendars and show times
School group matinees available
Ticket prices: Adults: $35; Seniors/Students: $29; Young People (Ages 3-18 years): $18
Address: The Waterfront Theatre on Granville Island
1412 Cartwright St, Vancouver BC
Box Office : tickets.carouseltheatre.ca or 604-685-6217
Running Time: 60 minutes with no intermission
About Carousel Theatre for Young People
Founded in 1976, Carousel Theatre for Young People creates playful, exceptional and accessible theatrical experiences that inspire, involve and educate. Each season approximately 40 000 young people and their families benefit from CTYP's programming. At Carousel Theatre for Young People we believe that the arts play a vital role in a young person's development. We envision a community that empowers people to be more imaginative, expressive and engaged.
Media release and images provided by Jodi Smith, JLS Entertainment. Photo credits: Erik Zennstrom
[wdi_feed id="2″]