The weather was chilly, the chowder hearty, and the beer flowing during the 11th annual Ocean Wise® Chowder Chowdown at the Vancouver Aquarium last night. For the first time in the event's 11-year history, the heated competition ended in a tie, with both Chef Chris Andraza of Fanny Bay Oyster Bar and Chef Welbert Choi of Forage winning the title of Chowder Chowdown Champion.
"It's an exciting event, the chefs take it seriously, and so does the crowd. Everyone was very invested in trying all 14 chowders and voting for their favourite," said Claire Li, acting manager of the Ocean Wise Seafood program. "It's thrilling to see the growing support for sustainable seafood, and for protecting our oceans."
More than 600 people turned out to try 14 chowders from Ocean Wise Seafood partners in B.C., including Chef Chris Whittaker of Quaaout Lodge and Spa, Chef Clement Chan from Torafuku, Chef Jason Labahn from Honey Salt, and Ocean Wise's own chef de parti Stacy Johnston, with Executive Chef Ned Bell playing backup.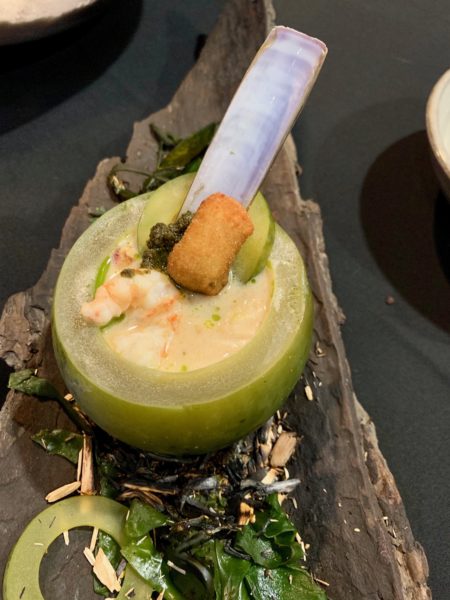 Chef Curtis Demyon, from Langara Fishing lodge, took the coveted People's Choice Award, with his Haida Gwaii Chowder, featuring a smoked salmon croquette and bull kelp pistou. Paired with Postmark's Easy Lager, the dish also won the judge's pick for Best Chowder and Beer Pairing.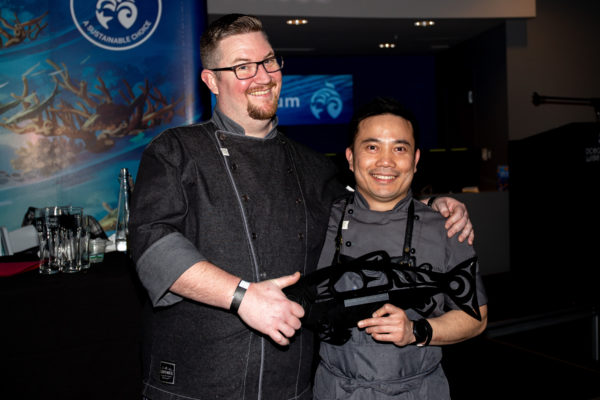 The title of 2019 Ocean Wise Seafood Chowder Chowdown Champion — judged by a panel of industry and media experts — was awarded to two chefs this year, who achieved identical scores based on presentation, creativity and taste.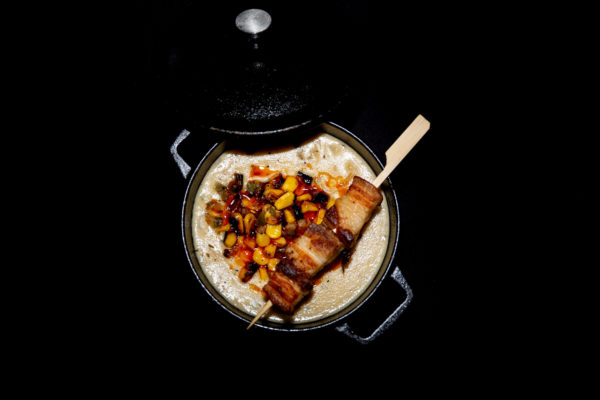 The judges awarded equal kudos to the smoky flavours of Andraza's Manila Clam & Corn Chowder, garnished with smoked pork belly and corn salsa, and to Choi's Barbecue Duck and Berezan Shrimp Chowder with Dungeness crab and shrimp toast.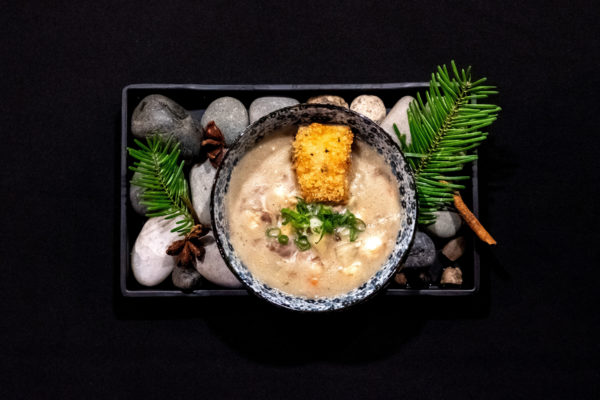 As well as Postmark's lager, guests could sample brews and beverages from Stanley Park Brewing, Red Racer Beer, Steel and Oak Brewing Co., R + B Brewing, Driftwood Brewery, Howe Sound Brewing, Fuggles and Warlock Craftworks, Moody Ales, The Parkside Brewery, Whistler Brewing and Vancouver Island Brewing, Arterra Wines, Peacock + Martin, Lone Tree, Walter Caeasar, Resurrection Spirits, Georgia Bay Spirit Co, Wayward Distillation House and Salt Spring Coffee.
Additional event sponsors include Coastal Shellfish, Albion Farms & Fisheries, Berezan Shrimp, Gindara Sablefish, Planet Shrimp, Organic Ocean, and Transtar.
This year's panel of distinguished judges was:
Gail Johnson, Food Journalist, Georgia Straight and CBC Radio
Nathan Fong, food stylist and Host, Fong on Food
Guy Dean, Chief Sustainability Officer at Albion Farms and Fisheries
Rob Clark, Co-Owner, The Fish Counter
Quang Dang, Chef, Toptable Group
Ocean Wise® Seafood Program
Overfishing is a major threat to our oceans. With thousands of Ocean Wise seafood partner locations across Canada, Ocean Wise makes it easy for consumers to choose sustainable seafood for the long-term health of our oceans. The Ocean Wise symbol next to a seafood item is our assurance of an ocean-friendly seafood choice.www.ocean.org/seafood
Social Media: @OceanWiseLife | #OceanWise
Our vision is a world in which oceans are healthy and flourishing. | ocean.org
Media release and select images provided by Deana Lancaster, Ocean. Feature image: BC Wild Sidestripe Shrimp Chowder, Honey Salt, Jason Labahn photo MyVanCity. 
[wdi_feed id="2″]